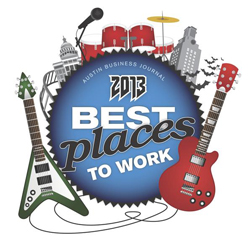 If you like the idea of making a huge impact in a fast-growing company, drop us a note at jobs@outboundengine.com. We're looking forward to hearing from you. Here are the top gigs in Austin:
---
Lead UI/UX Designer
OutboundEngine is one of Austin's fastest growing startups backed by an amazing set of investors from Silicon Valley (Floodgate) and Austin (Austin Ventures, Silverton Partners, and Capital Factory). We automate email and social media marketing for more than 3,000 small businesses helping them grow their business by better managing relationships with customer and prospects. From independent insurance agents to large real estate brokers, our do-it-for-you approach enables them to look professional with beautifully designed templates and stay top of mind with their network with professionally written content without lifting a finger. Our services includes a content marketing calendar, professionally written content, 100% automated email and social campaigns, and a dashboard that helps our customers identify warm leads following each campaign.
This role will be full-time, on site at our downtown Austin office. We offer a great benefit package, stock options, and competitive salary.
Summary
We're looking for an experienced UI/UX designer to lead the redesign and future design of our products. You will work closely with our product, engineering, and customer support team to create an excellent user experience for our customers. From wireframes to PSDs, you will own the entire process to ensure our customers realize the most value from our products.
What You'll Be Doing
Immediately, put your stamp on our existing product by managing the redesign of our existing web app based on our product roadmap and feedback from our 3,000+ customers.
Creating prototypes of new products and features to present and gather feedback from our team and select customers.
Working with our product and engineering teams to ensure designs are properly implemented/tested.
Working with our product and marketing teams to design and implement in-product marketing messages to improve customer engagement and encourage in-product upgrades.
Help define, support and reinforce our brand across all aspects of our business, including product, marketing, and customer support.
The Ideal Candidate
You have a comprehensive design portfolio demonstrating successful design projects across various digital channels.
You love owning design direction and thrive in an environment where you have a great deal of autonomy and don't mind the responsibility of having to be awesome 99% of the time.
You're a passionate student of interactive design and can speak to current trends and why you feel they're good or bad. Also, you can specify several companies, apps, and designers where you gather design inspiration.
You're thoughtful and uncompromising in your design processes, but appreciate the need to get things done quickly in a startup environment and are accustomed to delivery timeframes in terms of days versus weeks or months.
Experience working with and/or designing website, email and landing page templates.
While not required, experience with email marketing, social media, dashboards, and CRM is preferred.
You have enough technical experience to have productive conversations with engineering and avoid designs that are prohibitively expensive/difficult to implement. This includes mastery of PhotoShop and working knowledge of HTML, CSS3, Javascript, mobile/responsive design. Compass and SASS a plus.
If you want to join us in our downtown office, please send your resume along with link to your portfolio to jobs@outboundengine.com.
---
Client Support Analyst
We're a fast growing startup looking for some customer service rock stars to join our support team and help our clients connect with their customers! You'll be responsible for providing fantastic customer service via phone, email and Zendesk for our email and social media marketing service. We're a small group, so you'll be expected to jump in and figure things out quickly. You'll have to be insanely organized, detail-oriented, super nice, and excited to know you can make a very real difference every day in a rapidly-growing business!
Your job will include:
Maintaining high client satisfaction answering incoming support calls and cases and assisting customers with product questions
Guiding new clients through our email and social media marketing product
Assisting clients with exporting contacts from various email platforms
Creating documentation and keeping how-to articles up to date
Desired Skills & Experience
Previous experience on a client support team or other customer service team
Excellent communication skills — in both writing and speaking
Great attitude and love helping others succeed
Ability to multi-task and work under pressure independently without constant guidance
Working knowledge of Excel
Familiarity with the major social network sites
Cool and calm demeanor when clients are neither cool nor calm
Sense of humor
Experience with Zendesk and Salesforce is a plus!
If you want to join us in our downtown office, please send your resume along with a cover letter to jobs@outboundengine.com explaining the following:
Why do you want to work in customer support?
Why is OutboundEngine is at the top of your list of companies to work for?
What is the best customer experience you've had with any company?
We want to see how you write and explain things. Along with your cover letter, please answer the following customer questions as if you were providing customer support for OutboundEngine:
How do I get my contacts out of QuickBooks?
How do I upgrade my account to include the Facebook apps?
Should I use your service and send out my own emails via Mailchimp?
---
Inside Sales Representative
In our first year we landed more than 500 customers and that was with one sales associate! Now we're looking for competitive, high-energy sales associates to help us continue our rapid growth. As an Inside Sales Representative, you'll be selling our marketing tools to small businesses to help them better market their business through email marketing, social media, and online catalogs. Like most startups, OutboundEngine is a fast-paced environment that is always changing, but you'll have a lot of fun, tons of support and the opportunity for huge growth both professionally and financially.
If the stars align and you like us as much as we like you—we will make a spot for you in our office at the corner of Sixth and Brazos in downtown Austin. Now, check out the details of the job below and get started by completing this application if you're ready:
Your job will include:
Making a ton of outbound calls to small businesses everyday
Following up on warm leads from marketing campaigns
Managing your daily call list and leads through the entire sales process
Helping small businesses understand how our marketing services can help them make more money
What you'll get in return:
Guaranteed base with unlimited commission
Insurance (medical, dental, and vision)
Three weeks of paid vacation plus holidays
Support team to help with every aspect of your job including closing tough accounts
Plenty of leads
We like everyone, but we'll like you more if you have these:
Bachelor's degree
Success in other fast-paced environments
1-3 years of sales experience
Self-motivated, positive attitude and a love for hard work
Excellent communication skills and the drive to turn every conversation into a sale
Experience using a CRM system to manage your leads and sales process (Salesforce, etc.)
Knowledge of email marketing and social media
A few people that you've worked with that will verify what you tell us