See our updated post on Marketing Ideas for Mortgage Loan Officers for 2018 here.
With 2015 only a few months away, now is the perfect time for loan officers to start planning marketing ideas and strategies for next year. There are a few simple ways to increase the number and quality of leads you're getting from your marketing efforts in the coming year.
Bonus Content: What's the State of Social?
Last year, I wrote a similar post for loan officers that was a huge hit. This year, I've continued the trend by offering even more strategies to simplify your life and save you time.
Now that you are familiar with automation and simplification of marketing, you can focus on the task of humanizing and personalizing your brand's image.
People like to interact with authentic people and content, not rigid, boring marketing hooks. With this in mind, here's a streamlined list of lead-boosting marketing ideas that loan officers can use in 2015 to help you humanize your brand and automate simple tasks.
1) Revisit Your Email Strategy
Wherever you are in your email marketing process, take a few minutes to assess its effectiveness.
Make sure that the content you're sending is both personal and something that the recipient wants to read. Good content marketing is meant to help, not sell to, your audience. Sending your audience consistently timed emails with compelling content brands you as an industry expert and helps keep your name in their inboxes and their memory.
Borrow the approach we use for our loan officer customers: send content that is adjacent to (but not always directly about) your industry and is engaging, entertaining and informative. The last thing someone wants to read after refinancing their home is another generic email about low-interest rates.
Your time is your most valuable resource and shouldn't be consumed by running your email marketing. There are companies out there like Scripted, Zerys, and Contently that will connect you with freelance writers to do the writing for you. However, if you want to have the emails written, designed, tracked, and sent for you automatically, that's what we do.
Pro Tip: Make sure that all of your emails have some sort of call to action (CTA). Strong CTAs don't divert attention from the email content but give the reader the option of connecting with you at their leisure. See an example here.
2) Embrace Mobile and Responsive Design
Did you know that 66 percent of emails are opened on a phone or tablet? Or that mobile traffic to websites now accounts for almost 30 percent of visits? Needless to say, mobile matters. Loan officers benefit greatly from having responsive websites, especially when it comes to constructing an overall professional brand image.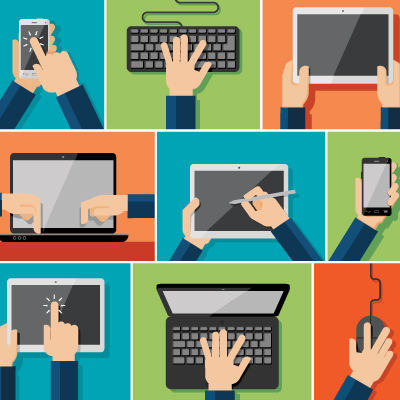 Having a responsive website means that no matter the screen size, the content and design can adapt correctly and be read on any device, typically also adjusting the navigation buttons on smaller screens to make them finger tap-friendly. If you're running your own website or employ someone who does it for you, make sure that each page is tested on multiple browsers and device types.
The emails you send should be correctly designed and laid out to read on any size device or email client. Litmus is an awesome tool to make sure that your emails look good wherever they're viewed. If you're creating your own emails, we've put together a 10-point checklist for ensuring your emails are correctly designed for all devices.
3) Update Your Graphics for Consistency and Branding
The graphics you use to represent your business speak volumes about your brand. Using the right (or wrong) graphics can influence someone's opinion about you before you even have a chance to meet. Rebuilding a new website can be expensive and time-consuming. Changing the graphics can quickly revitalize your image.
If your images look like bad corporate stock art, get rid of them. We have seen a lot of bad stock photography this year…a lot. You want a website that looks clean, modern and professional, not bland and faceless. Your customers relate better to pictures of actual people, so choose your images wisely.
For our loan officer customers, we use images that relate to the city they're in, rather than corporate art that represents general business concepts. (See an example here.) If your headshots and the photos of your office are more than two years old, hire someone to update them for you. These are great to use on your website, emails and social media profiles and will help brand you as an up-to-date professional.
If you're working on your own emails, blogs and social media posts, finding or creating good images can be exhausting. I'm a huge fan of Buffer's blog and, as I was writing this post, they put together a post that pretty much says it all: 23 Tools and Resources to Create Images for Social Media. This comprehensive post has everything you need to know about image creation.
Pro Tip: Looking for a new company logo? Want a presentation template? Or do you just need help with images for your email newsletters? Check out Fiverr. Get whatever you need designed for $5.
4) Promote Your Facebook Posts
Social media isn't a silver bullet for anything. It is, however, an important component of a well-rounded marketing strategy. Not everyone is going to see the email you sent out, just like not everyone is going to see that clever Facebook post you shared. The point is to make sure that all your past and potential customers hear from you more than just once a year, if at all.
Facebook has made a lot of changes this past year, but the one that got the most attention was the reduction of organic posts from business pages in the News Feed. (I've written about why this isn't a bad thing for businesses here). With that in mind, the upside is that they've made it very easy to spend a little bit of money to get guaranteed exposure.
Once a month, go to your Facebook Business Page and find a post that you want to give more exposure. Maybe it's a link to your latest newsletter or blog post that is on your website. It's a good idea to pick a post that generates traffic back to your website. All you have to do is click "Boost Post" and enter your parameters. That's it!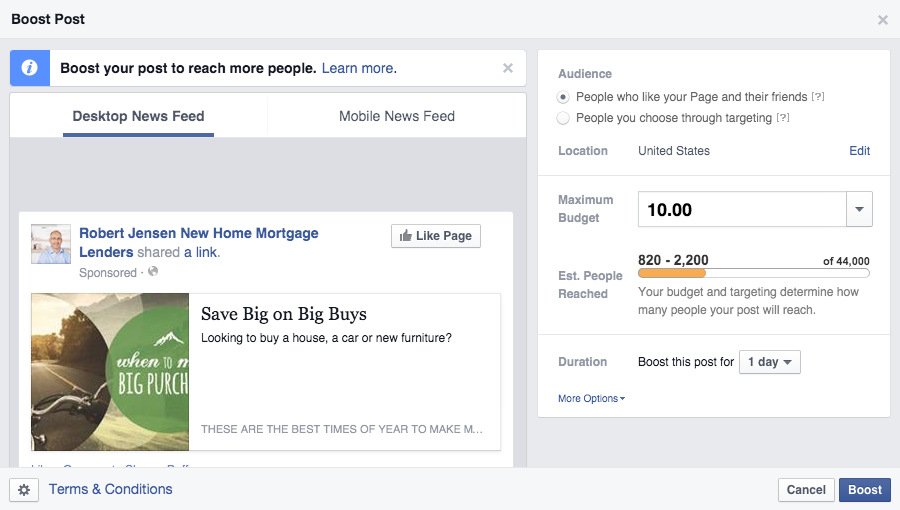 I'd recommend trying out boosting posts for $5-$10 to your existing audience. You're looking for low cost, high yield engagement from these boosts. When people like or click on the boosted posts, it tells Facebook that they're interested in your brand and posts from your company will appear more often in their News Feed.
5) Get Customer Reviews
People check Yelp for restaurant reviews, read customer feedback on Amazon products and reference their social circles for advice on major purchases. Long story short, people want reviews/feedback on things that involve money. Loan officers are no exception to the rule.
My advice to you is to put in place a system in which you ask your customers for reviews (and even referrals) shortly before the closing date on a loan. Once you've got your date set to close, use that time to reach out to your customer in person and through email to ask them for a review on the site of your choosing.
You want to get them to do this right before closing or in the weeks shortly after. They're still in the honeymoon phase of the process and have good memories of working with you. Most importantly, make it easy for them to do so. Have an email ready to go with a sentence or two thanking them for their business and include the link(s) to wherever you want them to review you.
Pro Tip: You can also send them a thank you note with a gift card after writing a review. Do this in addition to thanking them for their business. And make sure that you're doing this as a way to thank them and not an up-front incentive.
Wrap-up
2015 is just around the corner and the year will bring customers who are increasingly online, intelligent and have short attention spans. They want to be entertained and appreciate marketing that doesn't try to sell them anything. This is why it's important that you embrace content marketing as a way to brand yourself and your business across email, web and social.
Your time is valuable and limited; embrace marketing automation tools that help offset the amount of work that you have to do. Whether we take care of this for you or you manage it yourself, make sure that the marketing you do automate is personalized for your business, speaks to your customers in a non-intrusive way and is focused on building strong relationships.

The State of Social Media
Get your instant download now.