Let's make something clear: email is not dead. Thinkpiece authors and marketing thought leaders have been predicting email's death for a decade or more, but the data shows that email is just as ubiquitous as ever.
And not only is it an all-but-universal marketing channel, it's also an effective one. In most studies, email has a higher ROI than all traditional channels and even beats social media on many key metrics.
But email marketing has one major downside: it's difficult. Fortunately, the right email marketing software can put email marketing within reach for any business owner, no matter their level of expertise.
Email marketing software can be broken into two main categories: DIY (do-it-yourself) and DIFY (do-it-for-you). If you Google "email marketing software," most of the results will be DIY tools, as true DIFY platforms are rare, and good ones are even rarer. Let's look at the DIY category first.
DIY Email Software
If you're in the market for a DIY email service provider (ESP), you'll have a vast, ever-changing list of options. These range from low-cost, less fully featured providers to enterprise behemoths that can do pretty much anything and cost more than the average American's annual salary.
What's right for my business?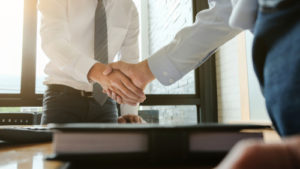 Ultimately, your choice comes down to budget versus benefit. Ask yourself: how much software do I really need to accomplish what I want to do? Most small businesses will find that an entry-level tool suits their needs well enough; even if you spent more on an enterprise platform, you likely wouldn't have the time or expertise to take advantage of its advanced features.
If you choose an entry-level ESP, you can expect a few standard features across most platforms. At a minimum, the email marketing software should let you easily build an email campaign without the need to directly manipulate code, send emails to your list with good deliverability, and track campaign performance. Most will also let you run A/B tests natively, although multivariate testing is uncommon at this price level. Other good features to look out for are subscription forms, template builders and image hosting.
Some low-cost ESPs also offer limited marketing automation features like autoresponders, abandoned cart emails, simple contact segmentation/tagging, and even dynamic content.
A few entry-level, beginner-friendly ESPs to consider:
1. MailChimp
$53/month for 5000 contacts on the Essentials plan
MailChimp is one of the most popular providers in the U.S. thanks to its strong consumer brand and dead-simple interface. It's also one of the few ESPs to offer a true freemium option, although their free plan imposes a 2,000 contact limit and a 10,000 monthly send limit. MailChimp is especially popular with e-commerce brands thanks to its strong integrations.
MailChimp recently added automation tools to its platform, making it a competitor to more advanced ESPs as well. If you want those features, be prepared to pay extra for them—and of course, you'll still be doing the work yourself.
2. Constant Contact
$65/month for 5000 contacts
Constant Contact gets raves for its easy list upload and management process and simple drag-and-drop software, although it tends to be more expensive than many competitors.
3. Campaign Monitor
$49/month for 5000 contacts
Campaign Monitor customers say they love the platform's easy-to-use responsive template library and management system, so especially code-averse people might want to give it a try.
For a deeper dive, check out this feature comparison of the three platforms.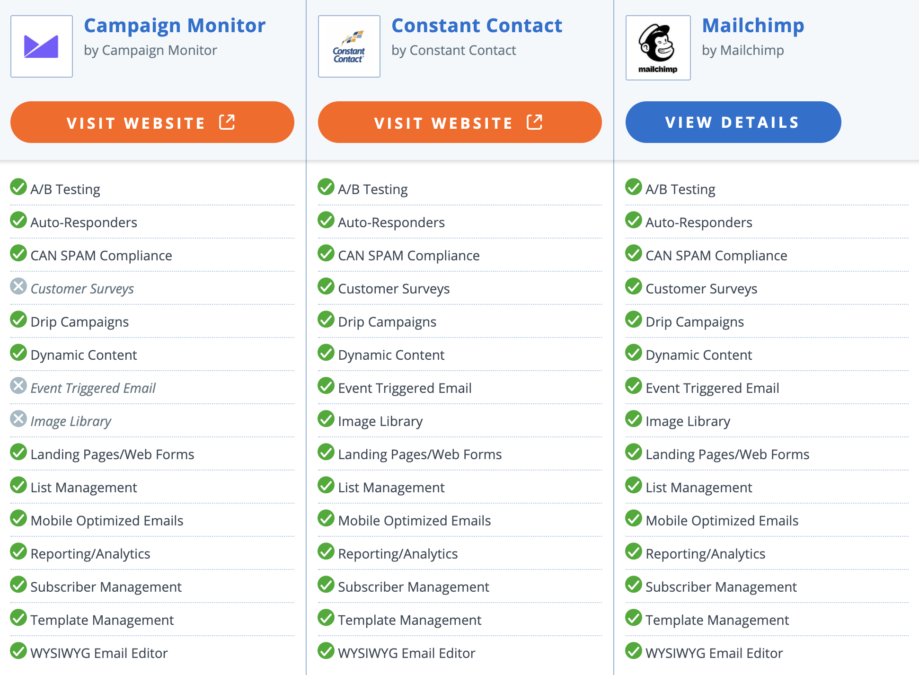 Image via Capterra
If you want to look into a few more of the top contenders in this space, check out G2 Crowd's email marketing software research hub.
If your company has more complex marketing needs and your budget is larger, consider upgrading to an advanced marketing automation platform. These can do everything the entry-level ESPs can do, plus functions like lead nurturing, scoring, advanced segmentation, better integration with outside systems like CRMs, integration with other marketing channels, and more.
To take full advantage of this kind of email marketing software, you'll need at least one full-time marketing employee, ideally, someone experienced with marketing automation tools.
A few popular advanced ESPs are:
1. Salesforce Marketing Cloud
If you use Salesforce as your CRM, this is most likely your best option since the two integrate painlessly. You actually have two choices under the Salesforce umbrella: Email Studio, which is a purer email marketing tool, and Pardot, which is a marketing automation platform geared at B2B businesses.
2. Hubspot
Hubspot helped popularize the term "inbound marketing" to describe using content and SEO to attract customers, and you'll find that strategy front and center in its software. Their customers praise its omnichannel approach and intuitive workflow feature that automates common tasks.
3. Marketo
Recently acquired by Adobe, Marketo is a longtime industry staple that many marketers swear by. It's especially popular among companies with larger sales teams thanks to its sales enablement tools and robust CRM integrations.
DIFY Email Software
What if you don't have the time or inclination for email marketing? Even the best DIY software is still just a tool. It still requires a human being to devise a strategy, create the content, send it and track it. You could always hire a contractor or an agency, but that can be a big budgetary stretch for smaller businesses and independent professionals. If that sounds familiar, DIFY email marketing software is right for you.
We might be biased, but there's really only one worthwhile option in this category: OutboundEngine. A few DIY providers offer add-on marketing services, but you'll pay dearly for them. OutboundEngine is done-for-you email marketing (and social marketing, and referrals, and reviews, and more!) for a price that's far closer to a DIY tool than to an agency, contractor or services arm of any other ESP.
If you're ready to ditch DIY for good, click here to request a consultation with one of our marketing specialists and never worry about email marketing again.

Almost There!
Get the latest Email Marketing Roadmap now.