It's now more important than ever to maintain a strong, professional brand that allows you to stand out and look great online. OutboundEngine helps thousands of customers stay top of mind through consistent marketing on the channels that matter.
Today, we're excited to announce that OutboundEngine now integrates with over 240 applications.
OutboundEngine customers can now integrate their marketing list from their favorite CRM or contact manager with our marketing engine. With contact details automatically added to their campaigns, and updated across all applications, you can ensure you are staying top of mind with your entire network.
Today's release builds on our continued focus of helping our customers manage their marketing and sales easier than ever. Before, customers would need to manually import contacts regularly or stitch together their marketing activities to sales performance across systems.
Now, you can integrate many of your favorite applications with OutboundEngine, including:
Apple iCloud
Google Contacts
Salesforce CRM
Pipedrive CRM
Keller Williams' KW Command CRM
Microsoft Outlook & Exchange
And more than 230 other leading CRM and contact management applications
Even better, it's incredibly simple for customers to set integrations up. Whether doing it yourself, or working with a dedicated OutboundEngine account manager, you can have contact details automatically updated in minutes with no limit on the number of integrations.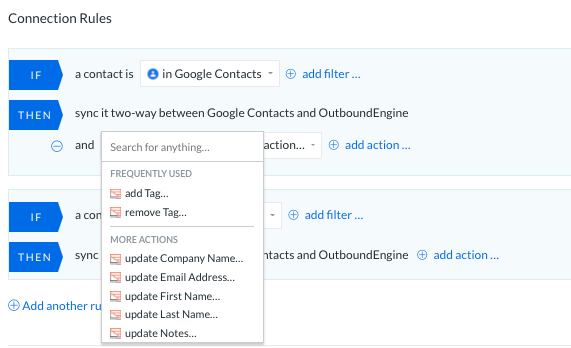 10,000 OutboundEngine customers are able to automatically stay top of mind with their network through automated email and social media campaigns. By sharing interesting and relevant content, we help you attract referral opportunities and drive repeat business through stronger relationships.
Now, by ensuring every contact is up to date and synchronized across all systems, it's easier than ever to create follow-up opportunities with your highest-potential prospects across your entire network.
Interested in learning more? See our full list of integrations or schedule a demo with an advisor today.
Sync your favorite apps with OutboundEngine.
Our marketing platform integrates with hundreds of business apps, including the most popular CRMs, to sync your customer details automatically.