How well do you stand out from the crowd of criminal defense lawyers out there? Unless you've got an unlimited budget for marketing and a name that shows up on page one of Google, chances are there's no true differentiation between you and the guy down the street or across the hall.
How often do you take on a new client who learned about you from a bus bench ad? Likely not very often. In fact, a study  by the American Bar Association found that 80 percent of an attorney's new business comes from referrals. 80 percent! Two of the more common advertising methods — online searches and TV, newspaper and billboard ads — were the lowest scoring, at 7 percent and  3 percent respectively.
All things considered, criminal defense attorneys looking to increase their referral business shouldn't be looking to their external facing marketing presence. Instead, they need to be focused on the source of their referrals: their past clients.
Earlier this year, I wrote a post titled Is Your Email Strategy Driving Your Referral Business? It Should. While it's focused on a traditional sales funnel for more transactional industries, the takeaway point applies here as well: Just because you're done working with a client your relationship shouldn't stop there. In fact, the point after action/transaction is one of the more crucial phases many business owners forget about, and it's also the point where savvy professionals solidify their professional expertise, build trust and ultimately increase referral business.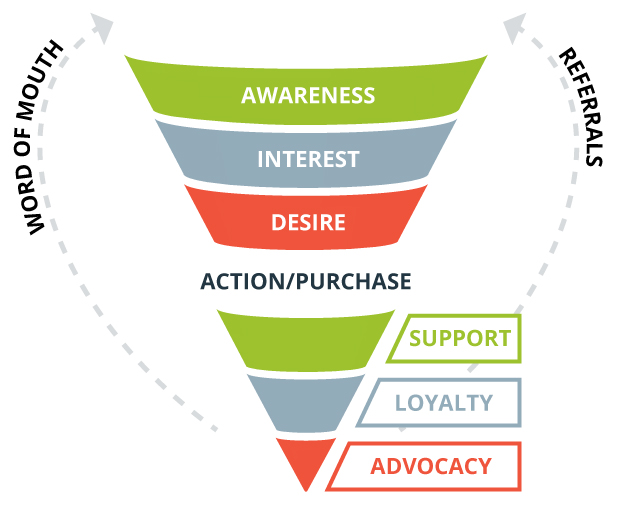 A Bain and Company study showed that a 5 percent increase in customer retention led to a 25 to 95 percent increase in profits. Why? Because it's far cheaper to keep an existing client coming back for more than to convert an entirely new client. In short, your past clients are directly responsible for increasing your referrals, and attorneys can directly impact this process through a long-term marketing strategy focused directly on building relationships with past clients and staying top of mind.
Bonus Content: Want more referrals from past clients? What you do immediately after working with them directly impacts their future lead contributions. Learn how to make an impact!
Why Email and Content Marketing Are Key
A few weeks ago, I wrote another post on the power of email newsletters for attorneys. In it, I highlighted two points:
Email is consistently ranked as the single most effective channel for awareness, acquisition, conversion and retention.
Content marketing is a way of indirectly promoting yourself and your business by connecting with your clients on the issues they care about. The goal of content marketing is to build trust and relationships, as well as a reputation of integrity and authenticity.
With all the rules surrounding advertising and solicitation of services from the ABA, it's easy to quickly rule out email and content marketing. However, when you're emailing people who already know you (past clients) and sending them content that's informative and editorial in nature, your life becomes a heck of a lot easier (more on this here).
The bottom line is that content marketing is an easy way to nurture your client relationships, and email is the most direct and successful vehicle to do so. When you provide quality content, you keep your name top -of -mind and become the go-to source for information, as well as the name your clients remember and recommend to friends in need.
How to Use Content Marketing
Coming up with the right content to send to past clients can be challenging, but with the right approach, it's easier than you might think.
Step 1: Define Your Strategy
Creating quality content for your clients, whether for an email newsletter or blog, works best if you've defined your strategy ahead of time. The easiest way to do this is to define your own strengths and use them to your advantage. To start, make a list of your areas of expertise and then ask yourself what you want to be known for.
Example: I'm a criminal defense attorney who specializes in all traffic-related incidents. I want my clients to think of me as the go-to advisor for anything related to tickets received on the road or behind the wheel.
Step 2: Build Personas
Next you've got to put together a list of characteristics that make up your client base because ultimately they're the ones you're wanting to target. Start with the broad demographics of your audience and then make a list of activities they enjoy.
Example: My past clients are typically 25 to 40 years old, evenly split between men and women, and have strong interests in live music, outdoor activities and having a good time.
Step 3: Identify Problems
This is the easiest step of the process. As an attorney, you're constantly asked legal questions, both related to your area of practice and beyond. Since you already know the most common questions clients ask you, you're good to go for content. From these questions, make a short list of answers, then break up these answers into different newsletter concepts. Organize them in a calendar so you have ideas outlined for the whole year.
Example: I'm constantly asked about various legal matters. Without giving legal advice, I could write about topics all of my clients should be familiar with. My next few newsletters could be:
Things to Know About Bail
When Can Police Search My Car
What to Do After a Car Accident
Step 4: Create Solutions
Now that you've got a list of topics that you can write about in an informative, editorial way, it's time to get to work. Everyone has their own writing process, but since the material is so familiar, it should be easy to get on paper.
Example: When writing my newsletter on bail, I know that there are seven points that all people should understand. I'll structure my newsletter into those sections, making sure to touch on what bail is, how it's set, the ins and outs of administration and other related information.
Step 5: Assess Content
Before clicking send, make sure to double check your work. Remember to ask:
Is the email a solicitation or an informational piece of content?
Does it address a common problem faced by my clients?
Does it relate to what I want to be known for?
Wrapup
What are you doing to nurture your professional relationships? Your relationships are an extremely valuable asset, and as you build them, you strengthen your name recognition — one of the most important factors in differentiating you from the competition.
You can spend all you want on SEO and outdoor advertising, but have you seen all the noise on the Internet lately? It's getting harder and harder to stand out in the crowd, and quite frankly, people want content. Through quality content marketing, you will become a trusted and reliable source of information and remain top of mind when legal matters arise.
Bonus Content: Want more referrals from past clients? What you do immediately after working with them directly impacts their future lead contributions. Learn how to make an impact!
Almost There!
Get your instant download now.