We get it. When looking at marketing ideas for lawyers online, email newsletters aren't the sexiest sounding avenue to choose. Most attornies we've talked to are heavily invested in SEO, paying for leads of varying quality through Avvo or FindLaw, and spending too much money on any sort of outdoor advertising. Those methods are expensive, low-performing and misguided.
Why? All of those "marketing" efforts are designed to outwardly compete with other attorneys just to gain a sliver of name recognition and top-of-mind awareness. It's a nice strategy if you've got a huge budget and multiple attorneys in your firm, but most attorneys can't compete with big firm budgets like that.
All of those marketing ideas — SEO, buying leads, outdoor advertising — share the same inherent flaw: They all target unknown audiences of people who don't know who you are. People don't typically recall a bus bench when they need an attorney; they ask a friend or family member.
This isn't just a gut feeling either. According to the American Bar Association, 80 percent of an attorney's new business comes from referrals. 80 percent! The two lowest scoring sources for business were online searches (7 percent), and TV, newspaper and billboard ads (3 percent).
Attorneys marketing their practices to audiences of people who don't know who they are may be spending lots of money on efforts that yield low results (less than 10 percent of new leads). This is particularly concerning since statistics show that  80 percent of leads come from past clients and referrals.
Attorneys should instead focus on marketing to past clients with high-quality content. Content marketing through email newsletters is a useful and inexpensive solution.
Why Email Marketing and Content Marketing?
When you're focused on your past clients, marketing becomes less of a guessing game and more of a strategic play that works in your favor. Think about it. You can't predict when someone will need help with legal matters or when their friends or family might need an attorney. And even when that time does come, how well will they remember your name or be able to quickly get in touch with you? It's not personal, either. As humans, we're not able to maintain relationships with everyone we meet. In fact, studies suggest that we can only comfortably maintain approximately 150 stable relationships (Dunbar's Number).
So how then can you have an impact on someone's long-term memory? Content marketing. Simply put, content marketing is a way of communicating with your past clients by providing valuable information, not marketing or advertising to them. Content marketing gives you a way to overcome relationship challenges, and when used in conjunction with a long-term email newsletter engagement strategy, you can solve the problem of top-of-mind recall.
Need more proof that email and content work?
If you're sending the right content to the right audience, you'll remain top of mind with the very people responsible for driving your referral business.
Bonus Content: Getting referral business doesn't have to be challenging. Grab your copy of our pocket guide: 10 Steps to Getting Referrals Leads from Your Clients.
Addressing Legal Concerns About Email Newsletters
The biggest concern I've been hearing about email newsletters for attorneys is regarding the legality of sending them and whether they're ABA compliant. Put the fear of violating ethics rules with weekly or monthly email newsletters aside; there's a huge difference between email newsletters and advertising through email. The difference between the two comes down to the content in the emails and the recipients of the newsletters.
Differentiation of an email newsletter from an email advertisement or solicitation is critical to understanding how to use email marketing to drive referral business while still carrying out your professional due diligence. For the sake of this post, I'll refer to the ABA Model Rules of Professional Conduct.
Email Newsletters Are Not Solicitations
A lot of you might be correlating email newsletters with email solicitation, and that's just not right. Newsletters are sent to past clients and are simply communicating content that's editorial in nature, whereas a solicitation is meant to offer legal services to unknown audiences in need of legal counsel.
Here's what the ABA has to say on this issue:
Rule 7.3(1) states: "A solicitation is a targeted communication initiated by the lawyer that is directed to a specific person and that offers to provide, or can reasonably be understood as offering to provide, legal services. In contrast, a lawyer's communication typically does not constitute a solicitation if it is directed to the general public, such as through a billboard, an Internet banner advertisement, a website or a television commercial, or if it is in response to a request for information or is automatically generated in response to Internet searches."
Simply put, when your email newsletters are filled with useful, high-quality content (more on that in a bit) that's only being sent to current and former clients, and other contacts of yours, your newsletter isn't likely to be considered a solicitation.
Email Newsletters Are Not Advertisements
Similarly, it's easy to misunderstand the difference between an email newsletter and an email advertisement. Again, good email newsletters are written to provide editorial content that serves the purpose of educating your contact list, whereas an email advertisement intentionally promotes your services to an unknown public.
Rule 7.2(a) states: "Subject to the requirements of Rules 7.1 and 7.3, a lawyer may advertise services through written, recorded or electronic communication, including public media."
While vague at best, in the accompanying comment, it's mentioned that "lawyers should be allowed to make known their services not only through reputation but also through organized information campaigns in the form of advertising."
As long as your content isn't false or misleading and it clearly identifies the attorney, office location and the person responsible for sending it, then you'll be good to go.
To recap, email newsletters should be acceptable when:
The content is editorial in nature and not soliciting legal services
The emails are sent to known contacts, such as past clients and friends
The contacts being emailed have not been selected because of their immediate need for legal counsel
Save Time and Automate this Process
The goal of content marketing is to build trust and relationships, as well as a reputation of integrity and authenticity, while not soliciting or advertising your business. Using email newsletters is the perfect vehicle to deliver this content, but all of this takes time.
This is what we do for attorneys at OutboundEngine. We work to keep their names top of mind with past clients to help boost their unaided recall and increase referral business. Ethically educate with editorial content. No advertisements; no solicitations. And all of this is 100 percent done for you.
Below, you can see some of the content that we produce for attorneys.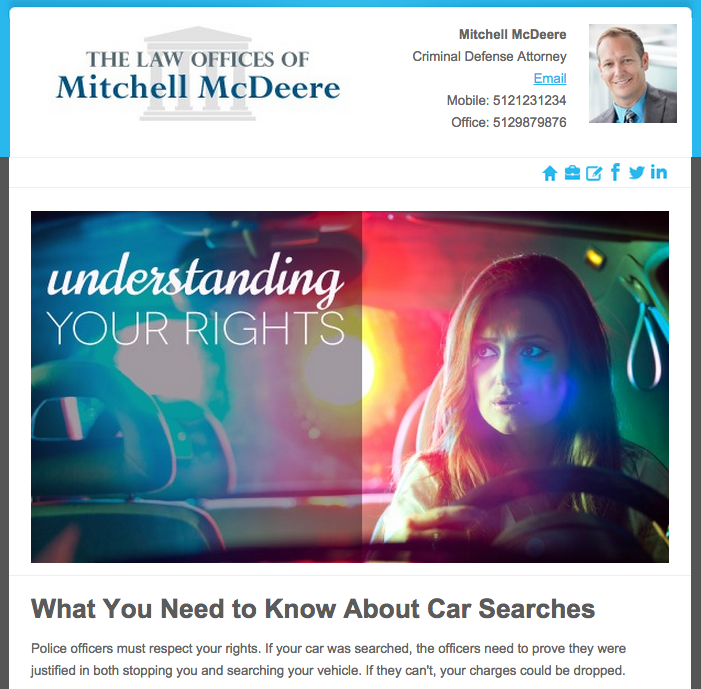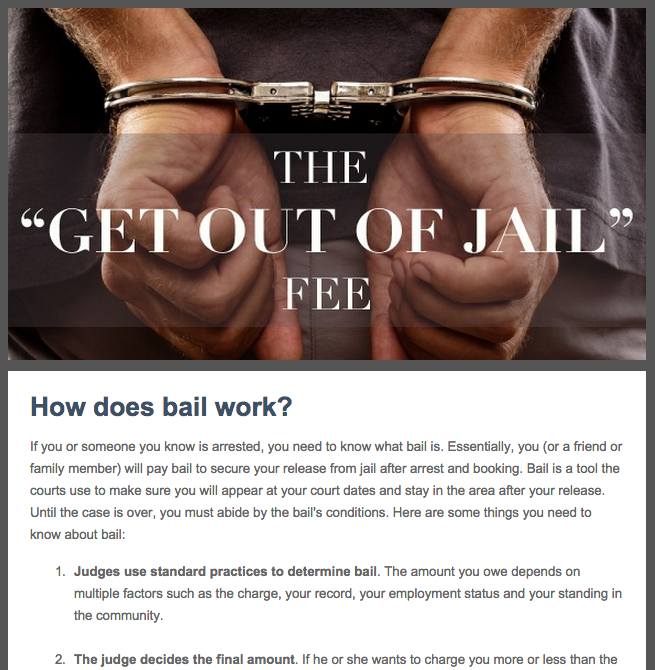 Twice a month, we craft newsletters for you that are sent out automatically to your past clients.
Wrap-up
With 80 percent of your business coming from referrals, it makes sense to direct resources to grow and protect that investment. Email newsletters are a great way to stay top of mind with past clients so they instantly remember your name and know how to get in touch with you when legal matters arise.
While there are plenty of marketing ideas for attorneys out there, making a long-term investment in the book of clients you've already generated will pay off over time. It's proven to be effective, much more affordable than other marketing ideas, and when partnered with OutboundEngine, the work is done for you.
Bonus Content: Getting referral business doesn't have to be challenging. Grab your copy of our pocket guide: 10 Steps to Getting Referrals Leads from Your Clients.
Almost There!
Get your instant download now.