"How do I stay relevant to my potential clients and prioritize who I should be following up with next?"
That's a question successful financial advisors ask themselves on a regular basis. Market knowledge, specific areas of expertise, communication style — many factors differentiate one financial advisor from the next, but there's two things most everyone in the industry will agree on: it's all about building solid relationships and providing value to clients. This makes it especially important for advisors to invest in marketing channels that help them do just that.
Financial advisors don't have the ability to take advantage of traditional advertising because they are going after a niche clientele. So how do advisors successfully grow and retain their book of business?
To answer that question, we went straight to the source. We asked 160 financial advisors how they find new clients.
To see a detailed breakdown of the results and recommendations based on how advisors responded to our ten question survey, click here and fill out the form for free access to the full report.
Get the full report: 2017 Financial Advisor Marketing Benchmarks Report.
On Referrals
Financial advisors want referrals.
92% of advisors said that referrals from current clients are their best source of new business.
52% of advisors would invest in referrals if they had extra budget for marketing.
49% of advisors do not spend any money on referrals marketing.
New opportunities
Loan officers also want leads.
43% of advisors are looking for new opportunities outside of their network.
22% of advisors said they are most focused on generating new leads.
Professional associations and networking are the #1 items advisors spend $500+ a month on.
What's Inside the Report?

Key Takeaways
Top Marketing Areas of Focus for Financial Advisors
Biggest Marketing Challenges for Financial Advisors
Most Successful Marketing Tactics for Financial Advisors
Financial Advisors' Monthly Spend by Marketing Channel
Where Financial Advisors Would Spend Extra Dollars
Why Being Remembered Counts
The Best Kind of New Business
Favorite Online Marketing Channels
Recommendations
Key Stats by Topic
Wrap-up
Bylines & Methodology
Wrap-up
Today, there are more options to market and promote a financial services business than ever. Knowing this, we set out to report on where financial advisors are spending their marketing dollars and which channels are most effective at helping them grow their book of business — here's what we uncovered.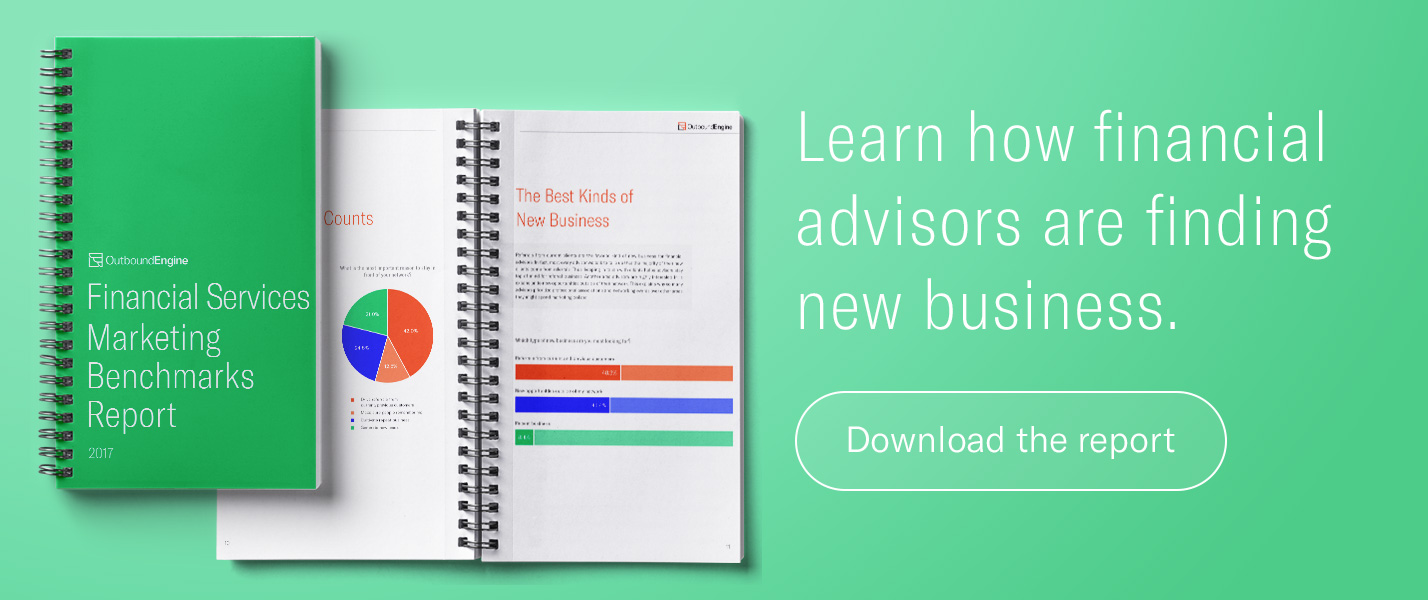 Here you go!
Get the 2017 Financial Advisor Marketing Benchmarks Report Now.