Savvy insurance agents use social media marketing to increase referrals. Why? According to a 2015 Shareaholic report, social media has surpassed organic search as the No. 1 source of website referral traffic. In a nutshell, it's where your future clients are.
If you haven't tapped into social media channels yet, you're missing out on one of the most efficient ways to market yourself and your insurance business. Do you already have a Facebook account? Great start! What about Twitter, Google+ and LinkedIn? Once you've established yourself in the social media universe, it's all about how you use the channels to get the most from your online presence.
How do those savvy insurance agents we mentioned earlier gain referral business via social networks? They put a few key tactics to work. Here are a half-dozen tips on using social media marketing to increase referrals for your insurance agency.
Bonus Content: The State of Social Media.
1. Determine where your target market is.
First things first: If you haven't already, spend some time exploring the major social media channels. Where are your current clients, and where are those you hope to work with in the future? Facebook, Twitter, LinkedIn, and Google+ are generally the most relevant platforms for insurance professionals, but others like YouTube, Pinterest and Instagram may be of interest to you as well. At the very least, set up your account on the major social networks and begin familiarizing yourself with the services, rules, and etiquette of each.
2. Be social!
The goal of your social media marketing should be to nurture a community, not to push a hard sell. It's called social media for a reason, so use it to interact and build relationships. Show your insurance expertise, but be sure to balance out your social media strategy with other posts that reflect your personality and are truly interesting to you. Being inspirational, informative and helpful to your audience establishes a good rapport. This can have lasting effects and lead others to look to you in the future for advice and guidance.
Here's an example of something you might post if you're an insurance agent: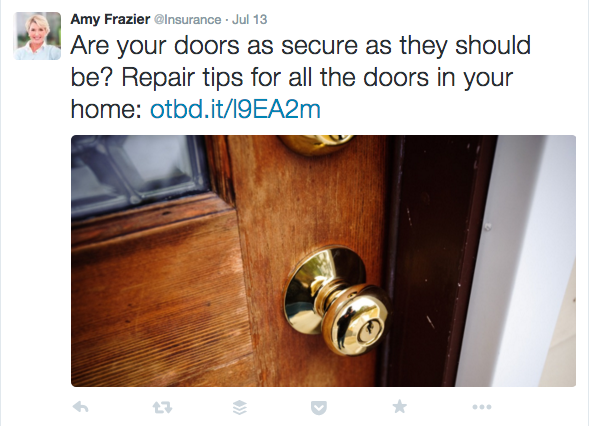 3. Touch on industry-adjacent topics that interest your clients.
Don't post willy-nilly; be thoughtful and strategic with your topics. Share helpful home maintenance tips, the latest in car safety, and other ideas that impact your demographic but don't necessarily relate to insurance. You'd be amazed how much industry-adjacent content influences audiences and keeps you top of mind. Plus it shows you're not all about sales.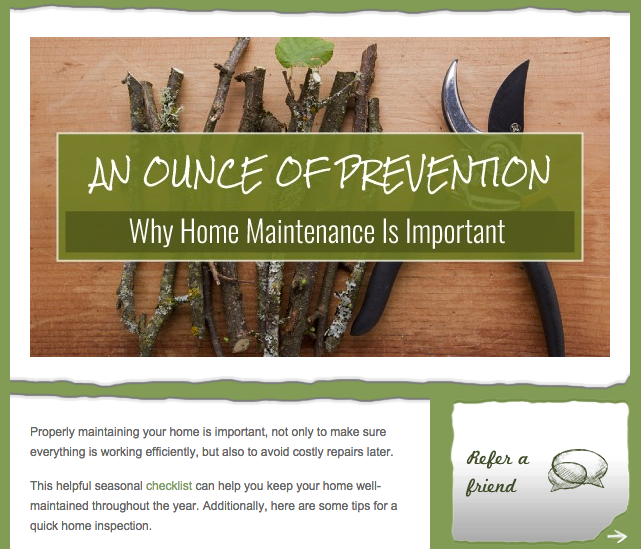 4. Post consistently.
Like any good marketing strategy, it takes persistence to see results. Whether you're posting once a day or you're maximizing the reach of each social media channel with a targeted posting schedule, consistency is key. The payoff for getting into a habit with social media posts? Ninety-one percent of marketers who use social media for at least a year see a boost in brand exposure. And where there's brand exposure, there's top-of-mind status, which is more likely to lead to referral business.
5. Vary your types of engagement.
There are many ways to engage creatively with your audience so it isn't a one-way conversation. If your agency has an official referral program, social media is a great way to promote it. To increase Facebook fans, run a promotion; donate a dollar to a local charity for every new follower. End your posts with a question to elicit answers from readers. By engaging your audience, you're building a bond that will yield referrals in the future.
6. Let others know you're socially active.
Don't wait for your clients to find you. Now that your profiles on several social media networks are up and running, it's time to promote them. (Just don't be heavy-handed.) Select the channels you're most active on and include their icons prominently on your website, as well as in your email signature. You can also bring it up in conversation; let clients and potential clients know they can find you on specific social media channels and politely ask them to connect and share. (This might be difficult, but it's worth it since 84 percent of consumers trust their friends and family for recommendations.)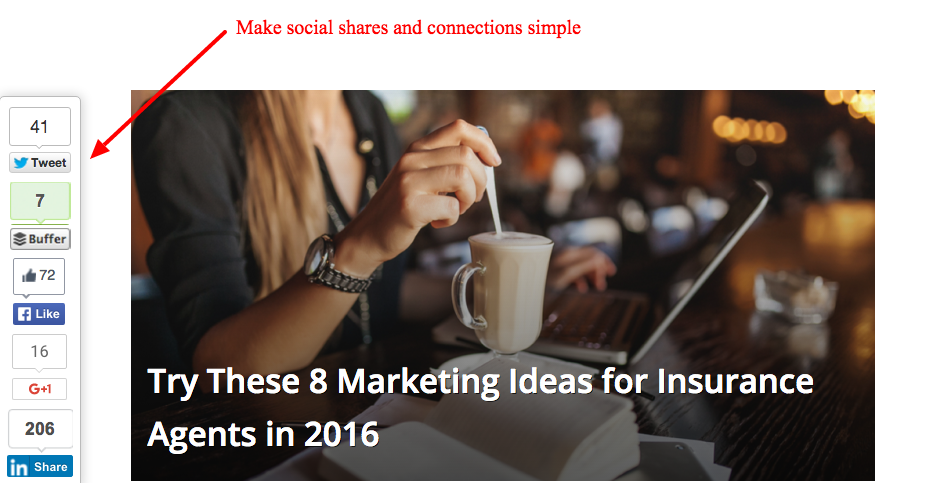 Wrap-Up
When it comes to encouraging referrals, social media is a must-have tool. By focusing your efforts on a few major social media platforms, developing relationships and engaging your audience, you not only become a vocal community member, but you also build a broad social network that's more likely to result in referrals down the road.

The State of Social Media
Get your instant download now.
Updated on 11/30/15; originally published 3/18/14.