You understand that it's important to market your business, yet bridging the gap between your online and offline marketing remains easier said than done. The truth is, it's not always simple to see the results of how your online and offline marketing are working together. But the good news is, they can.
So how can you determine if your online marketing strategy connects to your offline strategy? Here are a few pointers.
1) Keep your brand consistent
Branding is all about shaping people's perception of your business. When a customer meets you at a tradeshow, then searches for your business online it should be obvious that they've come to the right place. Everything from the colors and logo you use to the way you talk about your services should be the same both on and offline.
Today, making a positive first impression online is just as important as the impression you make offline. In fact, before doing business with someone new, 82 percent of people do a Google search to determine if it's a good fit.
Ask yourself:
Does your online marketing reflect how you want to be seen by your clients?
Is the appearance of your business consistent in all places?
2) Be where your clients are
The more you position yourself in front of clients online, the more likely they are to think of you when making decisions about who to work with offline.
Make sure your business maintains an active presence on popular social media sites like Facebook, Twitter, and LinkedIn.
Think your clients aren't on social media? Think again.
The number of active users on:
Being easily found online is now an essential part of staying relevant in any industry.
3) Share content that delivers value
Don't post on social media just to post. Give your customers a good reason to visit your pages and keep checking back. You can use your online content strategy to drive conversations offline and vice versa. In fact, research shows that 23 percent of conversations related to service offerings relate back to something someone saw online.
Before you post to your social media business pages, ask yourself:
Would you share this with a friend?
How will your audience interact with this?
Does it create an opportunity for a bigger conversation?
4) Invest in your marketing
This one may seem obvious. Online marketing for business owners is worth the investment, especially if your competition is one step ahead. Marketing experts predict that companies will continue to spend more than 50 percent of their budgets on digital marketing. In today's digital age, business owners need to ensure that their online and offline marketing strategies are complementary to one another.
Wrap-up
What you choose to do with your marketing relates to one thing: the way clients perceive your business. To make the most of your marketing strategy, keep it consistent and remember that face-to-face interactions are just as important as those that you have online.
And remember—f you could use a hand with your online marketing strategy, we're always here to help!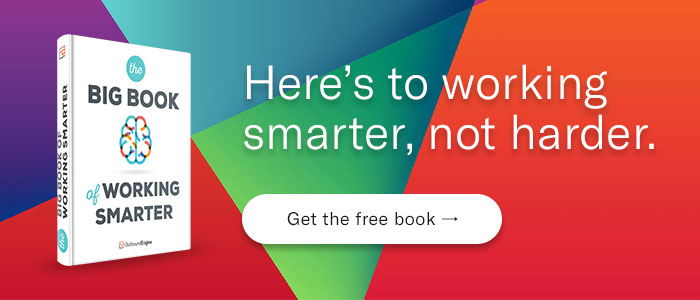 Almost There!
Enter your information to download the book.