The best way to get the inside scoop on real estate marketing is to go straight to the source: ask the most successful agents you know. We wanted to hear what top real estate experts had to say about a highly debated topic, marketing for agents.
We asked nine real estate influencers with followings both on and offline two questions:

What's your most effective online marketing channel, and why?
If you had more money to invest in marketing your business, where would you spend it?
The answers varied considerably from one expert to the next, but each agent had something insightful to share. Here's what they had to say.

Amy Chorew, VP of Platform Development at Better Homes and Gardens Real Estate
Twitter: @amychorew
About: Amy is an expert on leveraging online marketing tools to increase bottom lines. She also develops the training and talent attraction platform for Better Homes and Gardens Real Estate.

Most effective online marketing channel: Facebook, then Instagram.

Here are some examples of ways to use Facebook:

To promote open houses. Create a Canva ad and wait for it to gain views. Then, promote it in an ad on your Facebook business Page.
Share hyperlocal content on your Facebook business Page.
Take time to like and comment on posts, and connect with friends, family and prospects.

If she had extra marketing dollars she would spend it on: Print marketing to very targeted groups of people or neighborhoods that include a link to an online site for a call to action.
Bill Gassett, RE/MAX Executive Realty
Twitter: @massrealty
About: Bill is a nationally recognized real estate leader who has been helping people move in and out of the Metrowest Massachusetts area for 30+ years.

Most effective online marketing channel: My favorite marketing channel is Google Plus. I was an early adopter and have made some outstanding relationships with other real estate agents across the country. These agents are like-minded marketers who have blogs. They all use blogging as an effective means of getting new business and showing market expertise. One of the best things I did was create my own real estate community when they were first released. My real estate community is one of the largest and most active on Google Plus. Secondarily I love Pinterest for the traffic it can bring to my website.

If he had extra marketing dollars to spend he would spend it on: This will probably come as a surprise but on postcard marketing. This is still one of the best forms of marketing to get someone to pick up the phone and call you. Just listed and sold cards can be extremely effective. The key is consistency. Far too many agents do something and if it doesn't provide immediate results, give up on it. Postcard marketing is a long term approach. You need to spend money to make money in the real estate industry. Many agents don't put money back into their business.
Brittanie Flegle, Marketing Director at Realty Austin
Twitter: @brittanielen
About: Brittanie collaborates with a team of marketing specialists and business leaders to improve the lives of her agents. She finds ways to increase their sales production while maintaining their work-life balance with marketing automation.

Most effective online marketing channel: PPC/organic search for lead gen. Leads from these channels have the highest close rate because their intent to buy is higher. We call them buyers vs. lookers. Facebook has high engagement but they're just looking because their intent is to see what's happening in their newsfeeds. If you're Googling "Austin homes for sale" and you click on our PPC ad or website in search results, you have a high intent to buy. Our agents love working with these leads.

If she had extra marketing dollars to spend she would spend it on: Facebook. We already spend a lot on Facebook ads, but there is so much untapped potential. For example, we could start targeting homeowners in Houston and Dallas and attract those looking to buy their 2nd home in Austin or Lake Travis. The CPA (cost per ad) for these would be much higher, so you would need a bigger budget, but it's another source of leads that would also increase the visibility of our brand to biggest markets outside of Austin.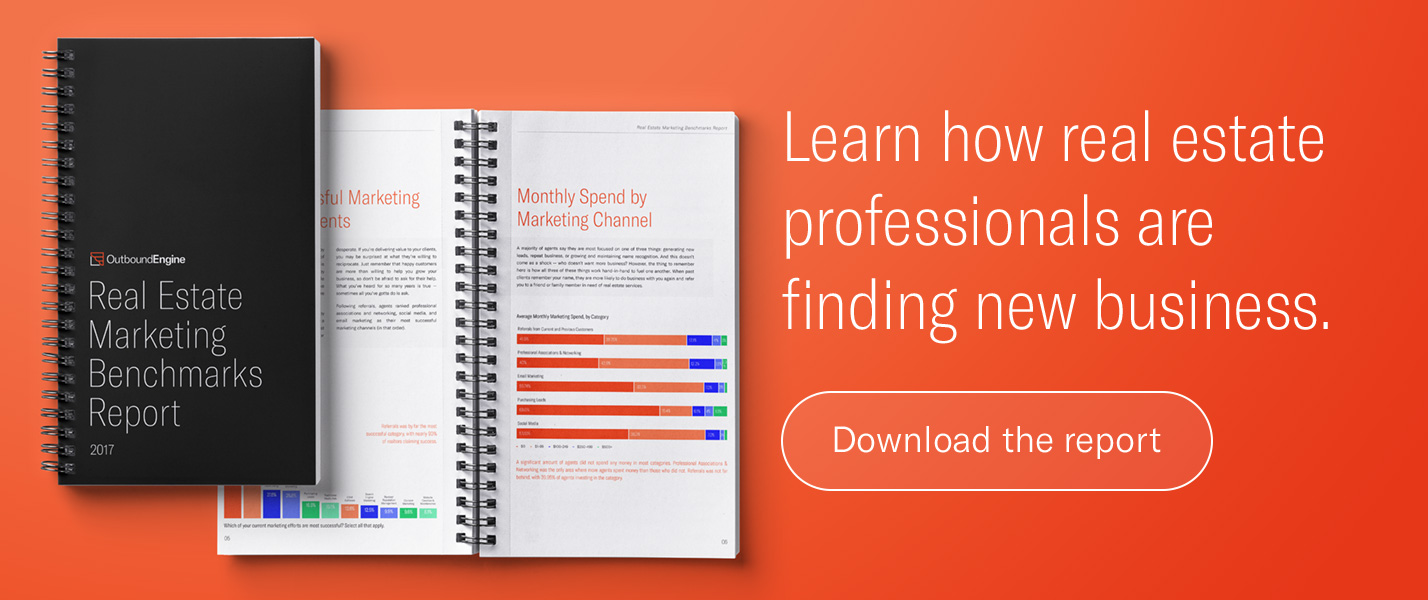 Here you go!
Get the 2017 Real Estate Marketing Benchmarks Report Now.
Chris Clothier, Partner, VP Sales & Marketing, Memphis Invest Family of Companies
Twitter: @chrisdclothier
About: Chris manages development and implementation of sales and marketing processes for Memphis Invest. He works to help investors define their purpose for investing in real estate.

Most effective online marketing channel: We do a lot of online marketing through BiggerPockets.com which is definitely a more targeted marketing channel, yet we find it to be the best use of our dollars since it is so targeted to real estate investors.

If he had extra marketing dollars to spend: I would focus on a very specific area where I wanted to build my name recognition and brand. I would send letters monthly with real data and advice for homeowners to every address in that location and then target that same list through social media with ads promoting your expertise and educational advice.
Jason Lucchesi, Real Estate Investor
Twitter: @JasonLucchesi
About: Jason is a No. 1 Bestselling Author, Real Estate Investor, and Serial Entrepreneur.

Most effective online marketing channel: I like to use Facebook. Why? It's one of the most active social networking platforms on the planet. I can use the platform to my advantage through groups, business pages, and my personal page. I'm able to connect with clients through Facebook messenger. The majority of my traffic is organic. It comes from content marketing I do through posts, videos, blog articles, and creating posts within several dozen of groups.

If he had extra marketing dollars to spend: The best way to get yourself noticed is through creating authority as the go-to person within the market you're targeting. Best avenues for becoming noticed as the authority is creating videos. Use all of the video platforms for maximum distribution. It's all about giving your clients and prospects confidence in what you can deliver. Talk about everything and anything as often as possible.
Nicole Beauchamp, NYC Real Estate Sales, Global Real Estate Advisor
Twitter: @NikkiBeauchamp
About: Nikki is an Inman News 2017 Real Estate Influencer. She joined Engel & Völkers New York City in 2014 as one of the firm's first advisors.

Most effective online marketing channel: My most effective online marketing channel would be a tie, as my business is heavily referral based I look at being active on platforms where my existing client base is. It is also somewhat complicated in that different people choose to interact in different ways. Some I am connected with on Facebook, but others are LinkedIn and Instagram connections and some do not subscribe to my newsletters or short video updates. Anywhere I can be where clients can write reviews or testimonials — that has also been a source of new business online.

Tara Jacobson, Sales & Marketing Public Speaker at Marketing Artfully
Twitter: @marketingartful
About: Tara is the founder of Marketing Artfully. As a former real estate professional she focuses on helping agents craft solid marketing strategies.

Most effective online marketing channel: I may surprise you with this but I wouldn't say Facebook. While the live feature is doing well right now, if you are doing video then I would focus on YouTube.

Where would she spend extra marketing dollars? Marketing money isn't an either/or game although sometimes it can feel like that! I would split marketing dollars online and offline… spending some on Facebook targeted ads and then some on cultivating a farm or target demographic with postcards.

Both marketing channels allow for super customization based on the needs of the reader, whether you are targeting buyers or sellers!

Tim Heyl, CEO, The Heyl Group
Twitter: @timheyl
About: Tim founded The Heyl Group and is a part of one of the top 25 producing real estate teams throughout Keller Williams Realty International.

Most effective online marketing channel: Google adwords has always been our bread and butter because it's so consistent and scalable, but Facebook has proven to be significantly less expensive and starting to become scalable for marketing our own listings to geo targets around them, home valuations, recruiting, and connecting with our database.

If he had extra marketing dollars to spend: With a bigger budget I would invest in target and retargeting pay per click banner ads and building funnels to capture and convert. Generating a lead is the easy part — converting them to a qualified opportunity is where the money is!

Wes Pinkston, Transformational Real Estate Coach
Twitter: @TheWesPinkston
About: Wes is an award winning real estate coach who has been featured in the Swanepoel Power 200 and Inman News.

Most effective online marketing channel: Facebook. There is no close second. It provides an agent absolute control over the placement of their marketing content and the ability to hold each post accountable for its conversion insights. Facebook is also an amazing tool to use for nurturing your database and sphere of influence. Here's a tip, look at the birthday notification on facebook daily and call them, the conversation will quickly lead to works and it's a great opportunity to remind them you are an agent and if they ever hear of anyone looking to buy or sell, to keep you top of mind.

If he had extra marketing dollars to spend: Depending on the market and the competition, pay per click is an option, but Facebook still takes the cake. Don't just throw money at Facebook though, it needs to be calculated and held accountable for results. With my clients I suggest building out separate lead pages with items of value like market reports or sneak peeks into an upcoming listing that we run traffic to from the immediate area of the subject. Once we collect the email there is a series of automated value items sent that build the relationship with the prospect.
Wrap-up
We know there's a lot of different information out there regarding how to best market your real estate business and frankly, it can get overwhelming. Try these ideas, monitor your results, and if you ever need a little help, we'll always be here to lend a helping hand.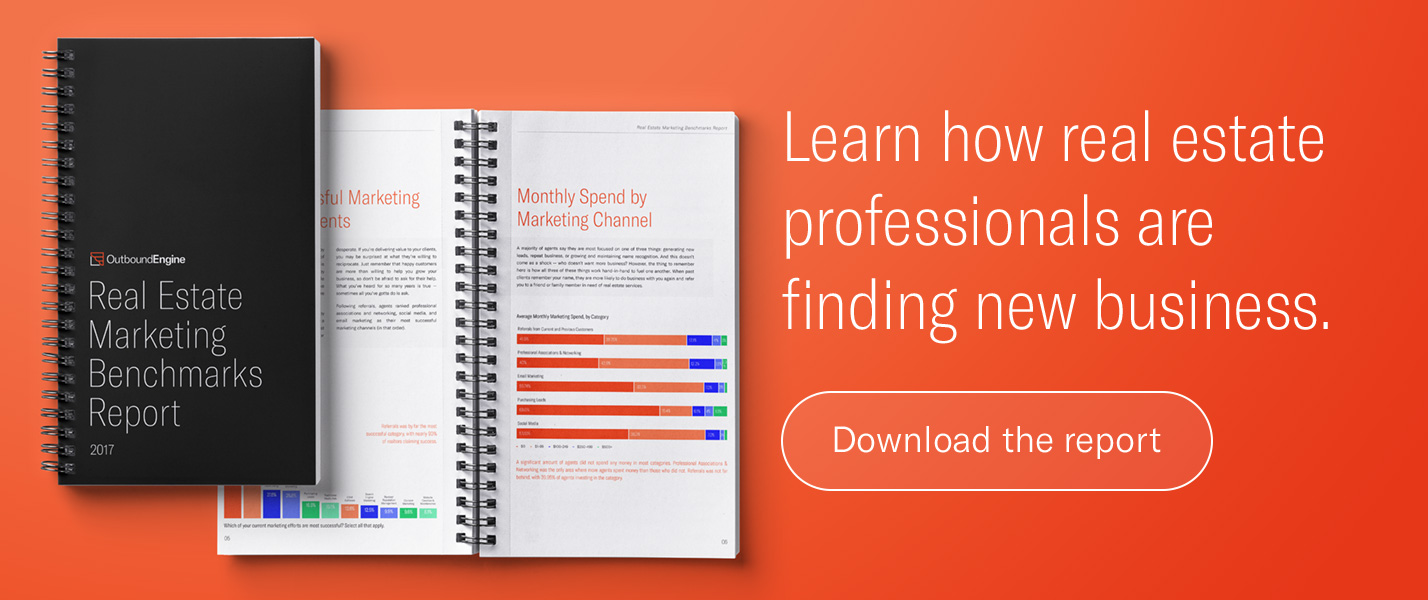 Here you go!
Get the 2017 Real Estate Marketing Benchmarks Report Now.