Successfully marketing a local business in your area is a great way to build a following of repeat customers who live and work nearby. This strategy takes a little elbow grease and lots of creativity but it can really pay off.
The best, most efficient ways to successfully market your local business attract and grow a dedicated fan base might surprise you. Check out this list of 8 tactics and techniques that will help inspire your next big campaign.
Successfully Marketing a Local Business Online
1. Try targeted content marketing
Social media posts, email newsletters, and other important types of marketing can all be created with local audiences in mind. And if you don't already have an optimized website, it's time to upgrade. When you align your messaging to speak to local audiences, your customers will have an easier time both discovering and connecting with your brand.
There are lots of ways to make your content marketing stand out, regardless of your industry. Solutions like OutboundEngine make it easy for professionals like insurance agents to stay in touch with policyholders, or financial advisors to reach qualified prospects in their local community.
2. Get listed in directories
Did you know that there are dozens of places online where you can list your business information? And they're located in places your prospects are already spending time. Share information like address, website link, social media profiles, and how you can help customers near you.
Here are a few powerful directories you can use to successfully market your local business:
Google My Business. Get found by web surfers in your local area when they search for businesses like yours.
Groupon, LivingSocial, & Travelzoo. These coupon sites allow people to search for deals near their zip code. For example, if you own a spa you can use one of these sites to spread the word about an upcoming Valentine's Day special.
Yelp. Have you claimed your Yelp page yet? If not, you might already have some positive reviews waiting for you so go check it out!
This can be a time-consuming and seemingly never-ending task. Because of the effort required, you may want to consider a solution, like Profile Reach from OutboundEngine, to finding and claiming as well as updating and managing your information across the sites mentioned and more.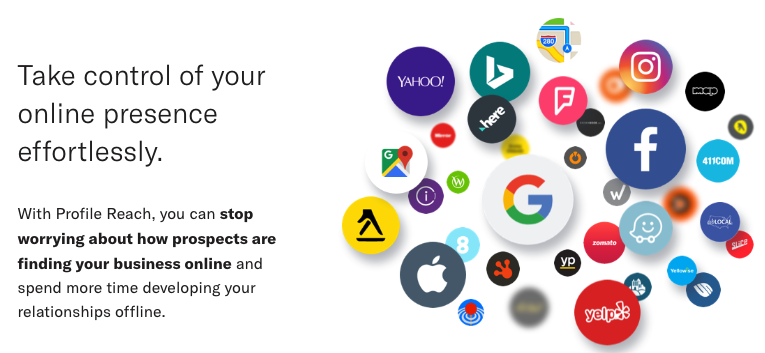 3. Get creative with landing pages
If you live near a city or an area with lots of small towns next to each other, consider making a landing page for residents of each area. For every primary or secondary keyword that you use, make a landing page dedicated to those phrases with the name of the town your targeting attached at the end.
For example, if you run a business in East Los Angeles, pull up a map and see what other neighborhoods are near you. From just a quick glance you'll find the Los Feliz, Silverlake, Echo Park, Little Armenia, and Frogtown areas, all within reasonable driving distance. Make a targeted landing page for each of these locations to reach these lucrative audiences.
4. Focus on your location in paid ads
Whether it's a sponsored post or paid search ads on Google, focus on your location. In addition to targeting specific neighborhoods when you create your adds, include your state, city or town name wherever possible in long-tail keywords. You'll have a better chance of appearing in the feeds of people who live near your business.
Even if you don't have a brick and mortar location, you can attract customers in specific neighborhoods or areas. When you get specific with your target areas, consider ways you can customize your messaging to them as well.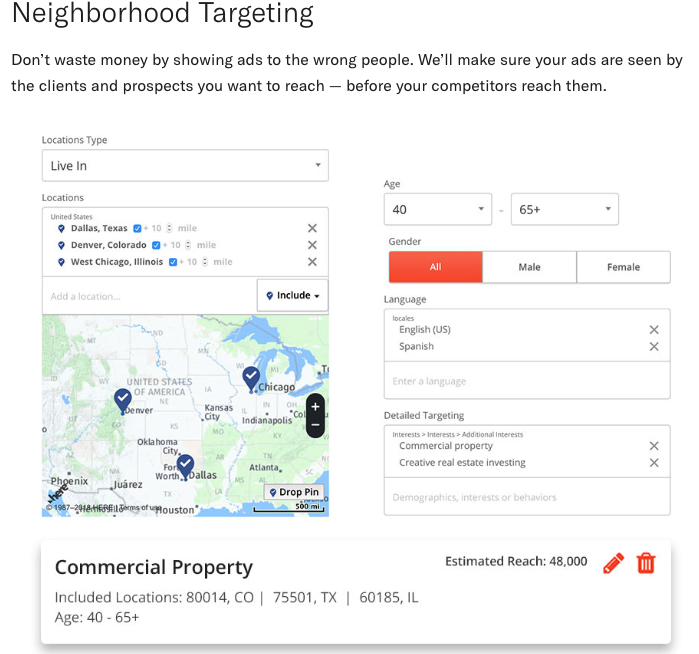 Image of paid social ads targeting from OutboundEngine
Successfully Marketing a Local Business In-Store
5. Provide resident promotions
Whether it's a reduced price or a special gift for locals, your store can offer discounts to residents who live in your area. Verify this info by checking out customer IDs. If you run a business online, have your website visitors add their mailing info to your list. Then, send them a special offer postcard. Most of all, make sure you encourage happy customers to share their experience on social media for all their local friends to see.
6. Experiment with sidewalk advertisements
Whether it's a standing sign or creative chalk writing, sidewalk advertising is a cost-effective way to get attention. This works especially if you're in an area with a lot of foot traffic. And if you change the sign regularly, people will have something new to get excited about every time they walk past.
7. Offer loyalty punch cards
This is a great option for successfully marketing a local business. If you have a lot of competitors in your immediate area, why not offer a loyalty punch card? For every few purchases, patrons can earn rewards like package upgrades or special offers.
The rewards must be valuable but they don't have to be expensive for you to provide. For example, if you're a massage therapist, you can offer an essential oil add-on. A spritz of your signature blend of essential oils at the end of a session can become a treat your customers look forward to after every visit.
Pro tip: Go paperless. One study found nearly 60% of customers want loyalty programs tied to a smartphone app.
Successfully Marketing a Local Business In Your Community
8. Try event marketing
Live events help community members connect with one another. They also help build brand recognition and trust among new customers. Here are a few ideas to marketing your local business with live events:
Host a block party. If you're located in a plaza or on a block with other small businesses consider hosting an event together. Offer special discounts or experiences for this one-time event.
Join established community events. For example, renting a booth at a local convention or trade show is a great way to get your name out there. Fans of your product or service can visit your website or storefront after.
In addition, visitors can put a face to the brand name. Making that kind of personal connection with customers is always a powerful marketing tool.
Create or join a related Meetup. Say you're a health and wellness professional, you can find a plethora of groups on everything from meditation to acupuncture. Can't find what you're looking for? Start one yourself!
Organize charity or volunteer events. Customers love to support local businesses that support the causes they care about.
Say you own an automotive shop. Host a beginner's workshop on basic car maintenance and then donate the class fees to your neighborhood road safety committee.
Host a networking event. Connecting people in your community means giving them a time and place to get to know one another.
Become the host a come one, come all happy hour. Or, if your audience is excited by exclusivity, try an invitation-only networking mixer with a highly curated guest list.
Final Thoughts on Successfully Marketing a Local Business
In conclusion, storefront retailers and digital entrepreneurs alike can tap into local markets through a variety of effective online and in person marketing strategies. Whether you choose the DIY route or you need a little extra help, these ideas should help provide some inspiration. If you're looking for more ways to successfully marketing a local business and engage prospects, learn how OutboundEngine helps businesses like yours reach customers both locally and beyond your zip code.