Some see LinkedIn as a job-hunting site. For others, it's a social network they can browse at work without getting in trouble. LinkedIn has more than 550 million users and it regularly ranks as the most trusted social network out of Facebook, Twitter, Snapchat, Instagram, LinkedIn, and YouTube. So while LinkedIn isn't the largest of all social media networks, it's highly trusted. Therefore, there's a big opportunity to have your voice heard on LinkedIn and bolster your standing as an expert in your field.
We often hear the question, "What should I post to LinkedIn?" While LinkedIn is a social network, there are types of posts you can use here that may not work as well on other networks. Here are 10 strong LinkedIn post ideas you can put to use right away and what you can accomplish with each.
1. Try Original Long-Form Content
LinkedIn makes it easy to write and publish your own original content. It's right at the top when you log into your account.

Much like a blog, publishing original content on LinkedIn is a great way to get exposure for yourself and your business. Writing articles opens you up to an active audience of content consumers.
Original content doesn't mean you have to spend hours writing. As you attend conferences, have interesting conversations, and participate in your community, add these to a running list of LinkedIn post ideas. You'll have plenty of options when you sit down to write a post.
What This Accomplishes — By writing on LinkedIn, you add your voice to a network of individuals who are already listening. This strategy can get you noticed as an expert in your field and boost your professional reputation. Remember that it can take a long time to build an audience of followers and brand yourself an expert. It's never too soon to start.
2. Share Industry-Adjacent Content
If you're a loan officer, let's estimate half of your connections are real estate agents while the other half are past clients. Posting only about interest rates and what the Federal Reserve is doing is boring to most of your followers. Many just aren't in the market for loan services at the time you're posting.
The key is to consistently share information that interests your clients. This industry-adjacent content gives you the opportunity to showcase other topics you're familiar with that could be helpful to clients.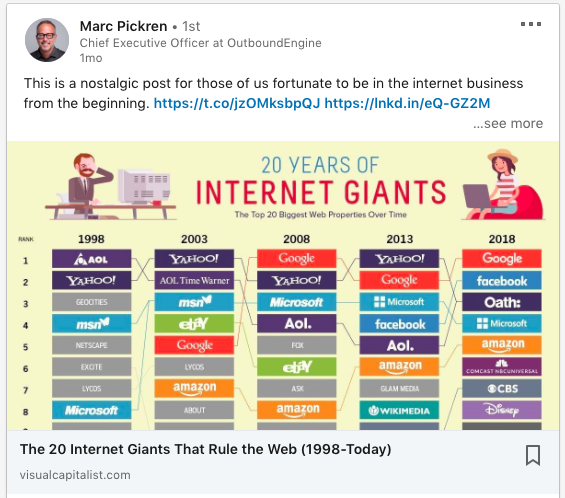 You should include posting informative content about other areas relating to homeownership. LinkedIn post ideas can be seasonal maintenance tasks or tips for energy efficiency. Perhaps you're also well-versed in long-term savings and a bit about retirement planning. Share content that makes sense coming from you and makes you look like a pro.
What This Accomplishes — People remember smart folks who offer up reliable advice. A loan officer isn't someone you see on a regular basis, so sharing industry-adjacent content helps keep you top of mind in the long run.
3. Research the Latest and Greatest Trends
Buzzsumo analyzed 10 million headlines shared on LinkedIn. They found industry trends were one of the top two types of content most shared. So if you're already finding great content to share that really resonates with your industry, LinkedIn post ideas can include giving that content your own review as you post it.
Timely, relevant content is always great for LinkedIn post ideas. Share new blog posts, stories from industry journals or whatever you find that's in the moment and of concern to either you, your industry, or the network of followers you've amassed.
What This Accomplishes — Sharing trends and staying up-to-date on research helps promote you as a thought leader within your own network. It positions you as a professional who's always in the know. Regardless of whether people agree or disagree; everyone likes to read about what other people think. It helps them form an opinion and educate them on current thought leaders.
4. Do a Little Bragging
Take a look at L'Oréal. They've built up a following of over 1.7 million people. So what are they sharing that has drawn and kept the attention of so many people? It's more than info on makeup! Check out the recent share below:
What This Accomplishes — For a brand or business, LinkedIn post ideas should include and recruiting-friendly mentions and interesting content. In the case of L'Oréal, it positions them as an attractive and intriguing brand. They still plug their product, but it isn't the only content you see. When you share varied content like this, you become less of a sales-driven entity and more of a personable company that's interested in the well-being of readers.
5. Find Tips, Tricks, and How-Tos
Whether your audience is filled with like-minded professionals from your industry, past clients or a mix of both, you can't go wrong with sharing content that's meant to teach. We're drawn to lists, best practices, and how-to guides. Perhaps that's how you ended up at this post in the first place!
What This Accomplishes — Content that falls into these categories often see high engagement. Share information that helps your audience, regardless of whether they are in a sales cycle with you. It's a way to be seen as someone who wants to help and isn't always selling.
6. Post Videos and Presentations
Photos and videos are huge on other social networks, and LinkedIn is no different. When you're scratching your head thinking of LinkedIn posts ideas, think of what you're stopping on already and watching. Did you find an inspiring TED Talk or motivating image? Come across an interesting SlideShare presentation? Post it! That's all share-worthy fodder for your LinkedIn network.
Speaking of SlideShare, LinkedIn owns this service and offers a ton of tools to help you make the most of it. Take advantage of their tools and courses to learn how to make your own slideshow.
What This Accomplishes — Videos and presentations are especially great for promoting yourself as an insightful person in your industry. Pro tip: if you choose to post a video, try to add subtitles. Studies have found 39% of people are more likely to finish a video with subtitles.
7. Make Predictions
With predictions, you don't have to be right or wrong; it's just another way to get a discussion started. Did you find a piece of content you have an opinion about? Share it and add a caption with your prediction on the topic. Or you can ask a question to your audience to spur reader engagement.
What This Accomplishes — Start looking like a leader and not a follower. If everyone is sharing the same content written by other people without adding their own thoughts and opinions to the mix, things get boring fast. Dare to be different and start building your own following.
8. Join in on Group Discussions
Just like happy hours and other networking events, you never know where you'll make a connection. Whenever you can start a discussion in a group or comment on an ongoing one, do it.
This isn't an invitation to spam groups with your business deals or to reply to every single comment. Chime in when it makes sense. You never know what personal or professional benefits you may come from your interactions.
What This Accomplishes — Remember that with LinkedIn, you're looking to boost your own image and that of your business, but it's still a social site. As a result of engaging with others, you're helping to boost your reach.
9. Lessons Learned
No matter what your age or industry, sharing important lessons can always benefit someone else. Whether you find a blog post about the 10 best investment moves to make in your 20s, or you write an original piece about bouncing back after a layoff, someone in your network will relate to it. Be cognizant of the lessons you've learned and share them with others.
What This Accomplishes — At its simplest, this strategy makes you a little bit more human. It helps people see you as a valuable mentor rather than someone who just sits at a desk all day long.
10. Job Postings
This is perhaps the most obvious item in our LinkedIn post ideas, yet it's absolutely worth remembering. You may be posting a job for your own company or you're paying it forward for another business. Either way, it's safe to say someone in your network is looking for work.
What This Accomplishes — When you're posting openings for your own business, it reflects growth. When it's for someone else, it's a show of good faith. It's a win-win all around.
Time to Start Sharing
LinkedIn continues to be the industry standard for professional social networking. It's where people go to find you professionally and it's the best online spot for marketing yourself and your business. Use it to your advantage to establish your presence and showcase career accomplishments.
Incorporating these 10 LinkedIn post ideas into your social media strategy will help you increase your influence and strengthen your reputation. We know providing you with tips can still leave you feeling overwhelmed, so if you'd like to learn about how we can make creating and sharing content off your plate, learn more here.
Last Updated, 2/28/2019.