What are you doing differently in 2023 to make it an even better year for your business than 2022? The world has changed a lot in a few short years; the businesses that succeed through change are the ones that adapt and innovate. If your marketing tactics have stayed the same year after year, it may be time to try something new. Without further ado, here are our five small business marketing ideas for 2023:
1. Try your hand at video testimonials.
Try this: Use Facebook Live and stream an "interview" with your happy client telling their story. For example, a real estate agent could ask the client about their homebuying experience and how they overcame challenges together along the way.
Got an especially happy client on your hands? You could simply ask them for a review on social media, but why not take it one step further and ask them to record a quick video about their experience with you? If you're together in person you'll want to record it on your phone, but if you're apart the client can record on their own device and send you the file. Content like this is perfect for social media, because there's no expectation of professional-quality video and therefore no need to buy expensive video equipment or set up a dedicated recording space. People browsing Facebook or Instagram or TikTok expect to see content that's a little less polished, so your homemade testimonial will fit right in. Why should you make the extra effort to get video testimonials? A few reasons:
A video testimonial proves there's a real person behind the glowing words. Now that fake online reviews are becoming a widespread problem, your audience is more likely to trust a video recommendation over a text review.
Video gets more engagement on social media than other formats (sometimes even 10x the engagement), so your testimonial will have greater impact and wider reach.
Video converts! 89% of marketers say that videos are the most effective content marketing tactic.
2. Upgrade your website with live chat.
Your business website is an essential part of your marketing strategy, but could you be getting more benefit from it? If you're seeing strong overall traffic to your site, you may be wondering why more of those visitors don't take the next step of contacting you or filling out a form. Every bounced visitor is a missed opportunity. That's where live chat comes in. Adding human-powered live chat to your website (not an automated chat staffed by a robot)
can increase lead volume by 40%
. Here's how that process works: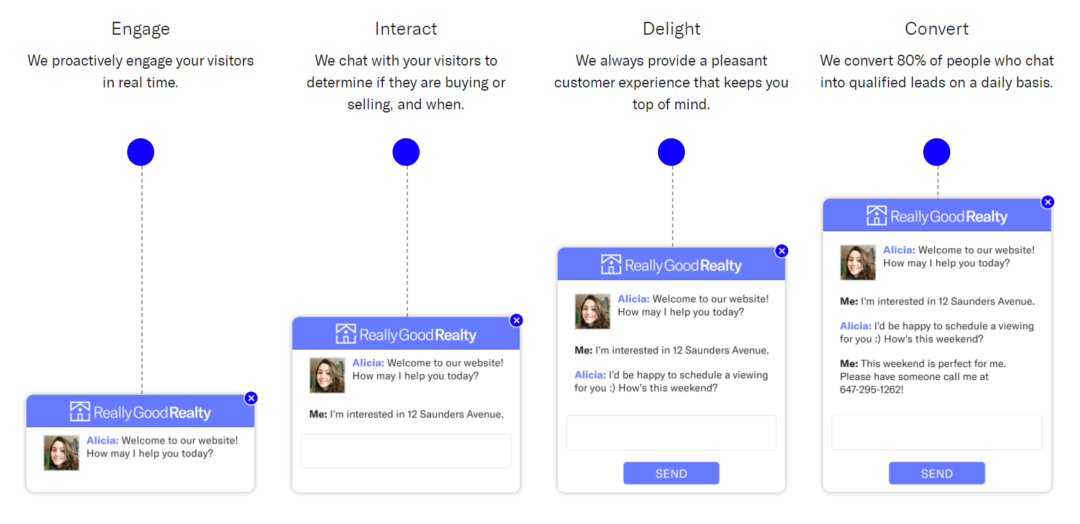 Live chat also helps you serve your clients better. Check out
these stats
from Inc:
51% of consumers say a business needs to be available 24/7. You read that correctly: need. Not, "would prefer."
92% of customers feel satisfied using live chat. 
51% of customers like live chat for multitasking purposes, and 21% of customers like live chat so they can shop while they work.
Having chat available on your website makes a huge difference, but you'll only get the most out of it if there's a real person on the other end, not a robot.
Learn more about human-powered live chat.
3. Host a virtual class.
Your specialized industry knowledge is valuable to consumers. With the right strategy, you can turn that expertise into revenue. In 2023, virtual events have become more common than ever before and are easier to host thanks to a
constantly growing list of technology tools for meetings and webinars
. For example, a real estate agent could host a virtual course specifically for first-time buyers, or for people who want to move to their area from out of town. People who register for the course will be excellent prospects for your services (and they've already given you their contact information). If you're not ready to make the leap into hosting a full webinar, try some baby steps first. You could go live on Facebook or Instagram to share quick tips with your followers and answer their questions about the topic at hand. Try to pick a subject that can be explained in a shorter time frame and that you know there's high interest in. If you've been hearing the same question from multiple clients lately, use that as a jumping off point.
4. Invest in retention and loyalty.
What percentage of your marketing budget is spent on new leads versus on client retention? If you're like many small business owners, you spend much more on reaching out to strangers than nurturing existing clients. If you were told that it costs
five times as much to acquire a new customer than retain an old one
, would that change? Those existing clients are your
most valuable asset
. They write the online reviews that make you look great for prospects. They send you referrals (if you take the time to ask for them). They expand your reach on social media. And of course they're a source of repeat or recurring business down the line. So why do so many small business neglect staying in touch long-term with current and former clients? New leads are important, but consider investing more of your budget into tactics that build your relationship with the people who already support your business. What tactics work the best? Use these guides to get started:
5. Spend less time on day-to-day marketing.
Whatever your industry or type of business, you'd likely rather spend your time with clients instead of on marketing. But short of hiring a marketer, how do you spend less time marketing your business without sacrificing performance? The answer might be automation. By using an
automated marketing service like OutboundEngine
, you outsource the heavy lifting and stay active on the most important channels effortlessly. For example, imagine never having to worry about what to post next on your business' social pages. You can rest easy knowing it's taken care of and get back that time to spend on what you do best. Ready to take marketing off your to-do list in 2023? Get a
live demo of OutboundEngine now
.