According to 85% of small businesses, word of mouth referrals are the number one way they acquire new customers. That's huge! Even better news: we know the secret to generate referral business: marketing automation.
How did we come to this conclusion? We started with the classic sales funnel known by the acronym AIDA, short for Awareness, Interest, Desire, Action/Purchase. As a result of years of research and hands-on experience working with thousands of businesses, we've learned one important fact: the buyer journey should never end at the point of purchase.
In our opinion, there are a few critically important steps missing from the classic sales funnel model. They are Support, Loyalty and Advocacy.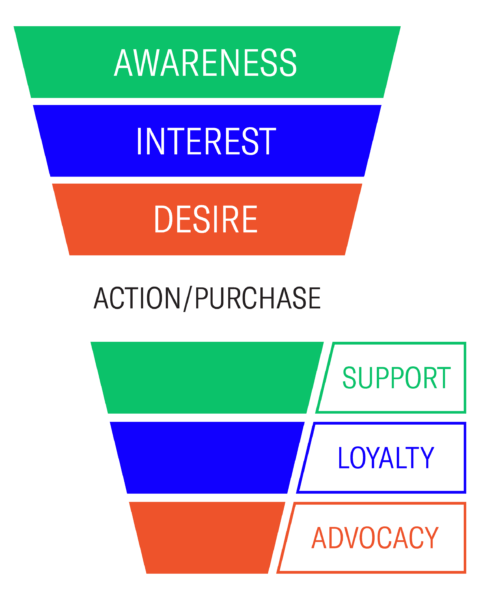 Support is just what you think it is: answering questions, troubleshooting, and making sure you're delivering top-notch customer service. Loyalty is a little different. It's not something you can do; it's something you need to earn. Loyalty is worth the effort to earn because it is the catalyst for customer advocacy. That leads to advocacy, which is when your past customers become champions for your business without you asking.
Bonus Content: Getting referral business doesn't have to be challenging. Grab your copy of our free book: From Lead to Loyalty.
When you inspire advocacy in your customers, you generate referral business, which helps fill your sales funnel with new prospects. Best of all, this process can be automated.
Loyalty Leads to Referrals…but How?
But how do you create loyalty that makes customers want to advocate on your behalf? Loyalty takes time, so it's important to nurture your business relationships long-term through email and social media, so you stay top of mind. Automating this process will save you time and provide tremendous ROI.
What you share with your customer base needs to provide added value past the point of sale. We simply call that "really good content." Really good content is interesting, engaging, helpful, and aims to provide solutions to problems your customers might have that are related to your industry.
Here's an example of what our auto customers might see in an email campaign: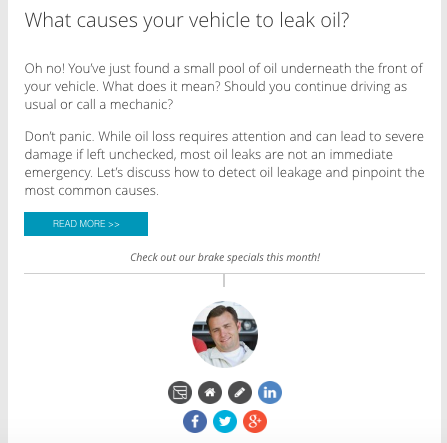 Content like this adds value, helps build stronger connections with customers and establishes you as an expert in your field. By keeping your name tied to your content, whether it's through email or social media, your customers will continue to be reminded of who you are and what you do.
Over time customers learn to expect informative updates that keep them interested and coming back for more, and they'll begin to look forward to what's next. What you receive in return is loyalty. When you remain top of mind with your customers, it will naturally generate referral business.
How do you do it? We've narrowed our focus to the two most important communications channels: email and social media. Remember, 85% of small businesses rely on word-of-mouth referrals.
The effort it takes to generate referral business is worth the payoff. If you don't have the time to do it yourself, you can invest in automated marketing, including email marketing.
Harnessing the Power of Email
The debate over email "being dead" has been going on for years. In the end, all the data points to email being very much alive. Not only is it alive but thriving. 96% of consumers check their email at least once a day, some far more frequently than that. Consumers also rank email as their #1 preferred channel for communication from brands. The opportunity for you to keep your name and what you do in your customers' inboxes is there.
Email is inexpensive too, especially compared to direct mail, ads in traditional media and online ads. The sticking point is often the time it takes to craft and execute thoughtful email marketing campaigns.
With each email you send to your customers (full of really good content), their awareness grows. Regardless of what industry you are in, email is an opportunity to connect with customers and stay relevant long past a transaction.
For example, this is an email OutboundEngine sent on behalf of an event-related small business: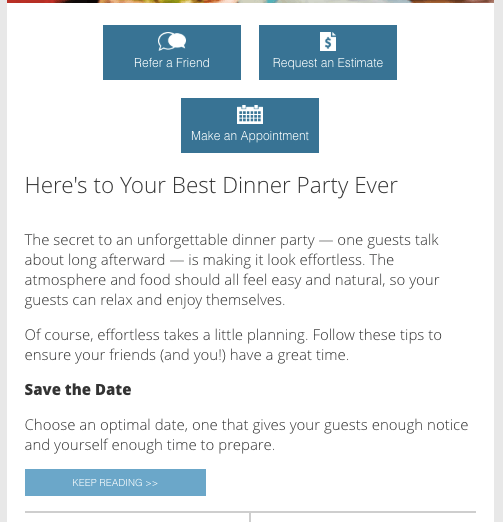 Content like this isn't overly promotional. It also shows how much effort goes into event planning. An email like this may make a customer rethink a DIY approach and instead hire you.
(Psst—for those who don't have the time, interest, and expertise to write, plan, and send email newsletters, automated email marketing can take over)
You + Social Media = More Business Referrals
Another important facet of automated marketing is social media. Platforms like Facebook, Twitter, LinkedIn, and Yelp have become the online version of the town square. It's where we go to share ideas, opinions, ask questions, and learn about, well, everything! While you may not always be the loudest voice in the conversation, it's important to show up to be seen and heard.
Social media is a fantastic long-term engagement strategy. Like email, it's an opportunity to show up in the daily online lives of your customers no matter how far off your next opportunity for a transaction.
For example, see this social media post from a pet services company: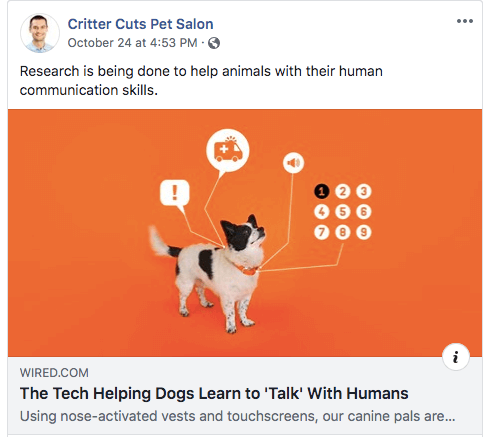 The added visibility provides name recognition across various social platforms and helps their business stay top of mind. Quality content further establishes your credibility. All of these things lead to loyalty and, of course, referrals.
Building a successful social media strategy
We like the 80/20 rule – spend 80% of the time providing interesting and helpful content and 20% of the time driving traffic back to your website. Planning out a social media calendar is always a good place to start so that you keep your posts timely and relevant to the season and any important holidays.
Pro tip: Be vigilant about the links you are posting. Not all sources are trustworthy. When in doubt, see if you can find multiple sources that back up the validity of the original content you want to share. Posting a bad link is not the end of the world, but we promise it's worth the extra effort to double-check your facts first.
Social media marketing can seem like a lot to take on, but the benefits of customer loyalty and all those business referrals greatly outweigh the effort required to make it all happen. If you're pressed for time, automated social media marketing may be the solution for you. Let someone else spend their time planning and wading through the internet to find the best articles and information available for you. Most of all, let social media work for you.
How does it all come full circle?
Let's say someone posed this question to you via email, in person, or on social media: I think I want to buy a house this year. Do you have a realtor you would recommend?
If you're a realtor who has invested in automated marketing software like OutboundEngine to share helpful, relevant information to your network, there's a good chance you're top of mind. Your past clients will remember all the fantastic content you've provided and refer their friends, colleagues, and neighbors to you.
This interaction isn't limited to real estate advice. We ask people we trust for recommendations on everything from salons and restaurants to loan officers and mechanics. By using email and social media as a consistent way to outreach, you stay at the forefront of your customers' minds.
That also brings us back to the classic sales funnel and why ending the relationship at the purchasing point doesn't serve you in today's connected, technologically savvy world. When you build customer relationships, you generate referral business. And customer referrals are valuable.
In short, don't let time stand in the way of growing your business and generating new leads. Give automated marketing software a try; you won't regret it.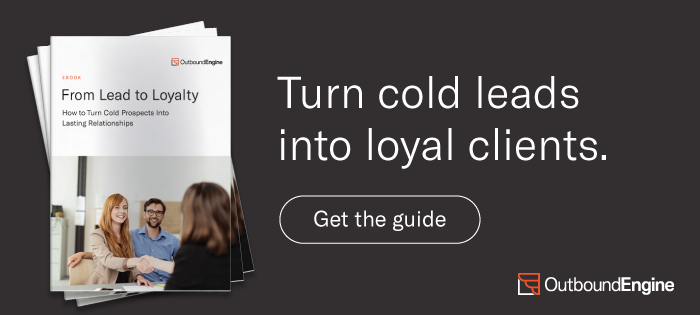 Almost There!
Get your free guide now.