Online referrals are just like traditional word-of-mouth referrals, only better. For years, we've asked questions like these to our friends, family and coworkers:
My car needs repairs. Do you have a mechanic you trust?
Did you like your realtor, and would you mind sharing their info?
Who does your hair? I'm new to the city and looking for someone great.
My pipes are leaking! Anyone know a good plumber?
Asking someone for a referral the old-fashioned way is fine, but today we use our online networks to crowdsource multiple recommendations all at once. And when someone receives a referral over social media, not only does that person benefit from the information, but the broader network of friends see the recommendation too.
What does that mean to a small business owner? Those social media referrals are valuable. Why? Because personal referrals come with trust, which you can't buy with advertising.
According to Nielsen, 83 percent of people trust recommendations from friends and family over all forms of advertising. Consumers have become more savvy and are increasingly skeptical of obvious advertising. Instead, we trust the experiences and opinions of people we know, and we trust that they won't steer us in the wrong direction when we ask for help.
This is where social networks like Facebook come into play. Rather than walking across the street to talk to a neighbor or picking up the phone to text a friend, people now turn to their largest source of friends and trusted connections online.
Facebook has also improved its search capabilities. Check out what we found with a quick search for "realtor recommendations":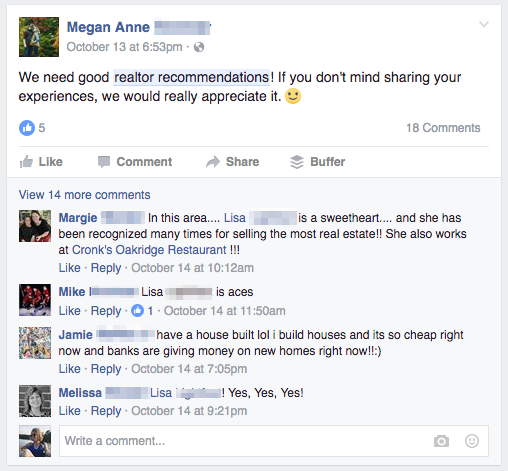 This real estate agent referral request received 18 recommendations, which could double as glowing reviews. They provide a history of work, credentials and a vote of confidence from the referrer. This is all information others can stumble upon while scrolling through their news feed.
We also found referral threads for insurance, auto body shops and mortgage loan officers. Try searching for something like this in Facebook's search bar to see for yourself.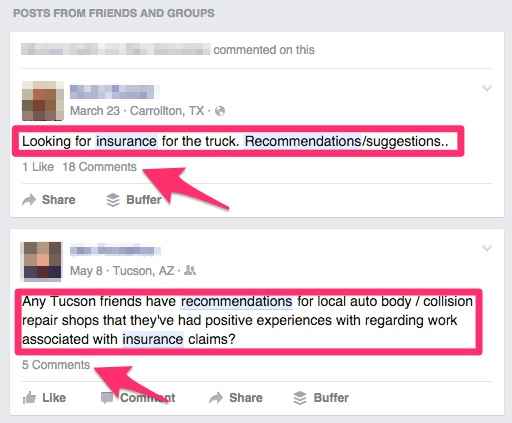 These conversations are taking place all day and around the clock. However, there's no way that you can know about all of them, let alone be able to jump into a conversation with people you don't know.
Wouldn't it be great if your business was getting recommended in these situations? With a little bit of work, you can ensure your clients are primed to send new business your direction too.
How Do Referrals Happen? It's All About Relationships.
The object of the game is simple — you need to stay top of mind with your clients, both past and present. Your relationship with your clients doesn't end when you seal the deal. You need to nurture these relationships.
Think about it. Let's say you're a real estate agent. When someone buys a house from you, is that it? Do they sign the papers, get the keys and automatically know everything they need to know about being a homeowner? Nope.
But luckily, as an industry expert, you probably know more than the average person does about topics related to home ownership, like home maintenance, lowering energy bills, home décor and renovations, etc. You have all sorts of tips and tricks you can share. Enter content marketing. Content marketing is a strategic way of sharing helpful, relevant information with past, present and potential clients. It's all about adding value, not pitching your product or service.
It's an important aspect of nurturing the relationship you have with your clients. Seventy-eight percent of consumers believe that business owners who provide custom content are aiming to build good relationships. Even more importantly, 68 percent of clients take the time to read content from brands they like.
Sharing your knowledge keeps you top-of-mind with your clients even when they're not in the market for your services. That way, when someone they know asks for a referral, they always remember your name.
Let's Get Social
Social media is a tried-and-true content marketing outlet and a terrific way to increase name recognition. For many of us, social media is an ingrained part of our daily lives. Wake up, grab the phone, check email, browse social media accounts to see what we missed while we were sleeping and repeat as necessary. Millions of users are on Facebook, Twitter and Instagram. Now's the time for your business to join the party. (This is something we do for our clients.)
82 percent of U.S. adults have a social media profile.
91 percent of brands use two or more social media channels
As a business owner, social media not only provides you with another outlet to share that killer content marketing, but it also gives you a chance to share your personality too. Share a client's before and after story, snap a photo of your office, take a selfie with your latest satisfied client or show off your pet as a business mascot. Social media is your opportunity to have fun and share the joy you get out of doing your job.
Making the Ask for Referrals
By providing value and staying top-of-mind through content marketing, you can organically create a sense of loyalty with your clients. You become their go-to business and information source. Now it's time to put that hard-earned loyalty to work.
With messaging, we like to stick to the 80/20 rule: Spend 80 percent of the time on content marketing efforts and 20 percent of the time reminding people that you are a business.
And the data agrees. Eighty-three percent of clients are willing to provide a referral after a positive experience, but only 29 percent actually do. The problem is that few are asked. So here's is your chance; don't drop the ball! Ask your happy, engaged clients to write a review for you on popular review websites like Yelp or Angie's List if they are pleased with their experience. Remind them that you are always happy to work with referrals.
Following Up and Saying Thanks
Following up with referral customers should be a high-priority component of any marketing strategy. It doesn't hurt to offer the loyal customer who sent the referral your way a thank you, like a discount or maybe even a gift card to a local business. This gesture of client appreciation can help reinforce loyalty, which is the driving force for referrals.
Wrap-Up
Referrals are the largest source of new clients for small businesses, so this is an important area to focus your marketing efforts on. First, you need to nurture your client relationships in order to earn their loyalty and awareness, which is what really earns the referrals. Use content marketing to stay in touch and remain top of mind by providing useful, engaging information.
If you're ready to take advantage of online marketing to drive referrals to your business but aren't sure where to start — we're always here to help!

Almost There!
Get the latest Email Marketing Roadmap now.