For many small business owners, the thought of trying to keep up with the ever-changing world of social media can induce that same sense of panic. But never fear, we've put together our own "CliffsNotes" guide to social media to help you improve your social media game — without the overwhelming anxiety.
Bonus Content: Grab a copy of our Marketing Survival Kit
1. Stay Up to Date on Social Media News
The world of social media turns at an alarmingly rapid rate, and trying to stay on top of the latest changes, applications, platforms and best practices can be tough. But you can make your life that much easier by subscribing to some choice social media news sites.
Entrepreneur has a great social media section: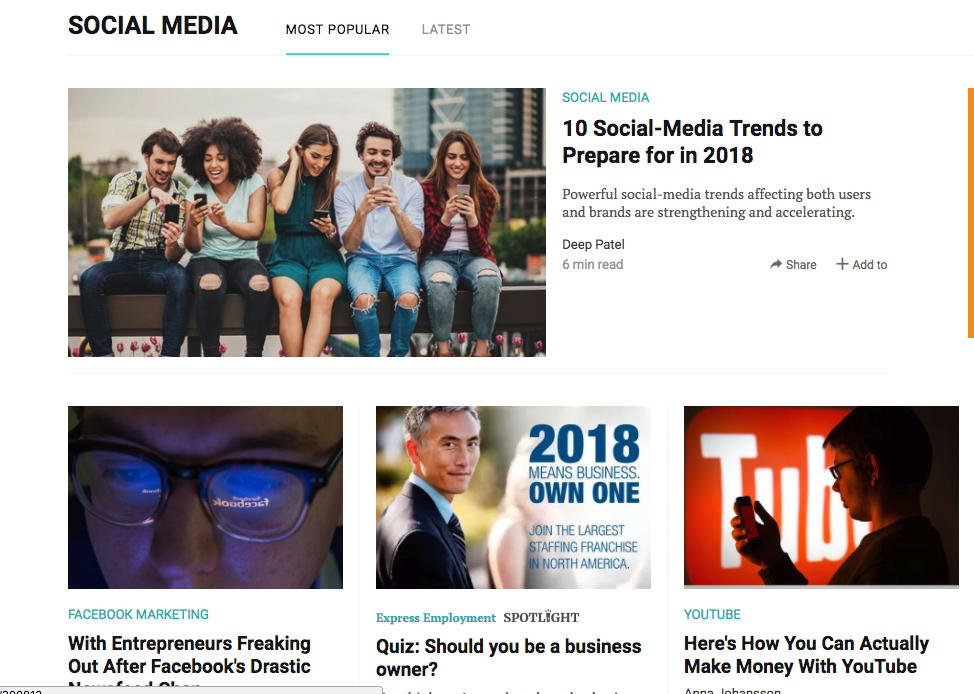 For more great recommendations, check out this list of popular social media news sites and blogs.
The more great news sites you follow, the more informed you'll be — and the better you'll understand how the next big thing in social media will affect your business!
2. Start Listening to Social Media Podcasts
Got some free time on the commute to and from work? Use that time to expand your knowledge by plugging into the latest social media podcasts.
Here are three suggestions to get you started.
#AskGaryVee Show — Available in both audio and video format, this podcast provides great social media advice in a traditional Q&A format. Have a question you want answered? Tweet Gary using the #AskGaryVee hashtag and your question might get answered on the show!
ProBlogger — Host Darren Rowse helps listeners take their blogs to the next level, including monetizing them.
Social Media Marketing podcast — Hosted by Michael Stelzner, this Social Media Examiner podcast features top industry experts and valuable discussion about the strategies, tactics and best practices needed to succeed in social media marketing.
For more recommendations, check out this list of 25 social media marketing podcasts from ReportGarden.
3. Subscribe to Social Media-Related YouTube Channels
For those of you who prefer visual content to audio, YouTube is full of educational videos dedicated to social media marketing. You can find quite a few by using YouTube's search and filter options to narrow your results to channels, as seen here …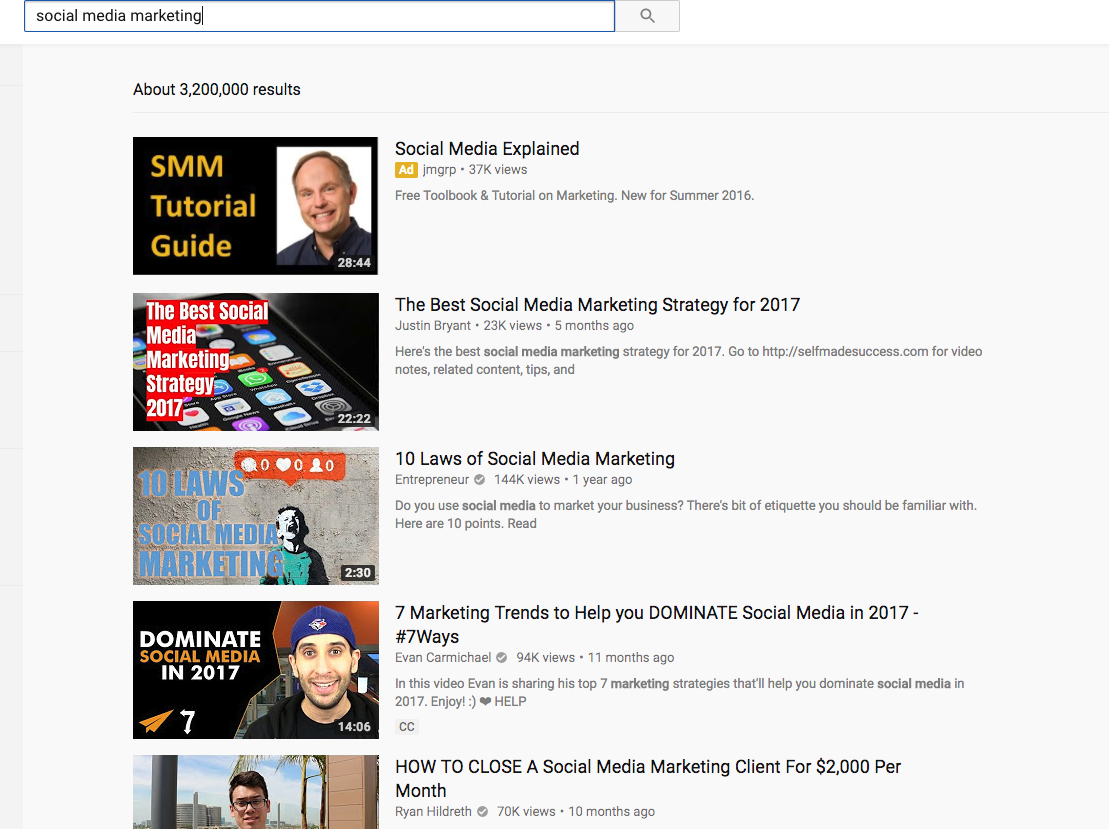 Or try a few of our recommendations:
Gary Vaynerchuk — We mentioned Gary's podcast earlier. You can also find his Q&A on YouTube, along with daily updates, one-minute rants, full keynotes and other video content.
Mashable — Updated weekly, Mashable's primary YouTube channel features tech reviews, how-to videos, original series and educational information about social media marketing. It's where technology and culture intersect!
Social Media Examiner — Whether you're looking for social media advice or blogging best practices, this channel has got you covered. Learn how to make stronger connections, increase brand awareness and generate more leads via content and social media marketing.
4. Start Following Social Media Experts on Twitter
Twitter is a great place to connect with social media gurus. You'll not only enjoy the content they find and share, but you'll gain insight based on their personal and professional experience. And there's no shortage of experts available.
Here are seven to get you started.
Bonus Tip: Check out who the experts are following — and who they're sharing — to expand your personal short list.
5. Use an RSS Feed Aggregator
If you really want to make things easy on yourself, set up an RSS feed aggregator. Not only will this automatically pull all of your subscriptions — news, podcasts, video, etc. — into one place, but it strips away all of the unnecessary noise for a more efficient viewing (or listening) experience.
Digital Trends put together a great article explaining how RSS feeds work, and Zapier has compiled a list of some of the best RSS feed readers available today. And if you're using WordPress, they have their own WordPress RSS plugin.
Wrap-up
Social media, like life, moves pretty fast. You can't afford to miss a class because falling too far behind the learning curve could be detrimental to your business.
But remember, if you don't have the time or energy necessary to stay on top of the social media game, it never hurts to ask for help. Let us automate the process!

Almost There!
Enter your information to download the guide.
Last Updated 1/18/2018, Originally Published 9/1/2016