Finding updated social media statistics for small businesses can be challenging, especially since the social media landscape is constantly evolving. But there are a few stats that stand out and can add some perspective for business owners. These numbers may encourage you to keep doing what you're doing; or, if you're a sideline skeptic, they clearly demonstrate that there's real value in having a well-planned social media presence. Whatever the case may be, one thing is certain: Small businesses can and should use social media to stay top of mind and grow word-of-mouth referrals.
As a small business owner, it's important to understand what you're trying to achieve with social media before you get started. Aim to make your brand as approachable and human as possible. When you do that, achieving increased exposure, top-of-mind awareness and multiple touches across a longer sales cycle become much more realistic.
Here are 10 of the most compelling social media statistics for small businesses. Use them to motivate yourself to work toward a successful social media presence.
Bonus Content: Become a social media guru. Download The State of Social Media.
1. Social Media Usage Has Grown…
There are 1.55 billion monthly active users on Facebook, or roughly 1 in 5 people. LinkedIn has more than 400 million registered users across 200 countries, and Twitter boasts 320 million active users worldwide each month. Numbers don't lie; these stats indicate just how important it is to chime in to the social media conversation.
2. And So Has the Demographic Reach
Have you shrugged off social media because you think your clients don't use it? Well, that won't work anymore! All age groups have a strong presence on social media, with users 65 and older making up the fastest-growing age bracket in 2015. That expanding segment is followed closely by 18- to 29-year-olds. (Smart Insights)
3. Mobile Rules
Nowadays more people access the Internet from mobile devices (51 percent) than desktops or laptops combined (42 percent). That means users have the ability to search for your business at any time, giving you all the more reason to take your online and social presence seriously. (Smart Insights)
4. Social Builds Trust
Social media users appreciate personalized interaction, which may explain why followers report greater trust when a CEO is active on Twitter. A recent study found that when a high-level executive delivered poor financial results via Twitter, 46 percent of followers dismissed the situation as a one-time event rather than taking it as alarming, negative news. In contrast, only 8 percent took the same news as well when it was delivered from the same CEO via the company website. (Public Relations Society of America)
5. We're Socially Obsessed
Over the past 10 years, social media activity has grown by leaps and bounds. When Pew Research Center first surveyed users in 2005, only 7 percent of adults in the U.S. were using social networking sites. Today this number stands at 65 percent. (Pew Research Center)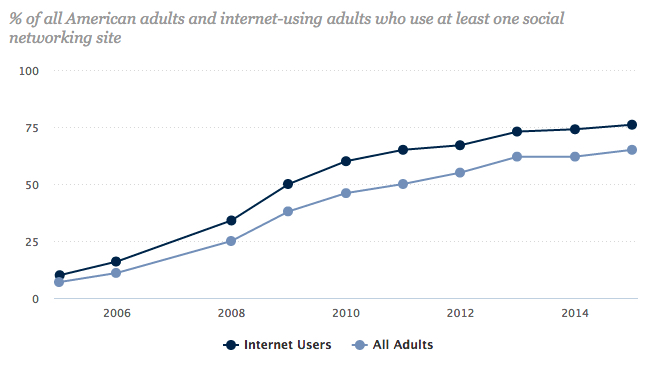 Image via pewinternet.org
6. Facebook Is Vital
It's a major understatement to say people are active on Facebook. The average American spends 40 minutes each day on this particular platform — 15 percent longer than any other social media network. And those Facebook users are sharing roughly 1.3 million pieces of content every minute. That gives you ample opportunity to get in front of your audience with well-curated content marketing — and that's something we can help with! (SproutSocial)
7. Tweets Have Value
Sharking quick quips and interesting links packs a small punch for small businesses. Twitter found that 75 percent of customers feel better about an SMB after following and reading its Tweets. Additionally, 78 percent of people who follow an SMB will retweet content from that business. Last but not least, 69 percent of customers have ultimately purchased something from an SMB after following them on Twitter. That's a HUGE opportunity! (Twitter)
8. Online Reviews Matter…
Social media isn't just about connecting with customers; they're researching your business before you even have a chance to say hello. Before using a business, 90 percent of customers will research it online, and 88 percent find online reviews just as trustworthy as personal recommendations. (Business2Community)
9. Along With Quantity and Quality
How many reviews does it take before a customer trusts your business? The majority of customers surveyed (32 percent) reported that four to six online reviews hit the spot. Twenty-four percent read two to three reviews before feeling comfortable, and another 18 percent look at seven to 10 reviews before they consider a business trustworthy. Those negative reviews have an impact too, causing 86 percent to hesitate making a purchase. (Business2Community)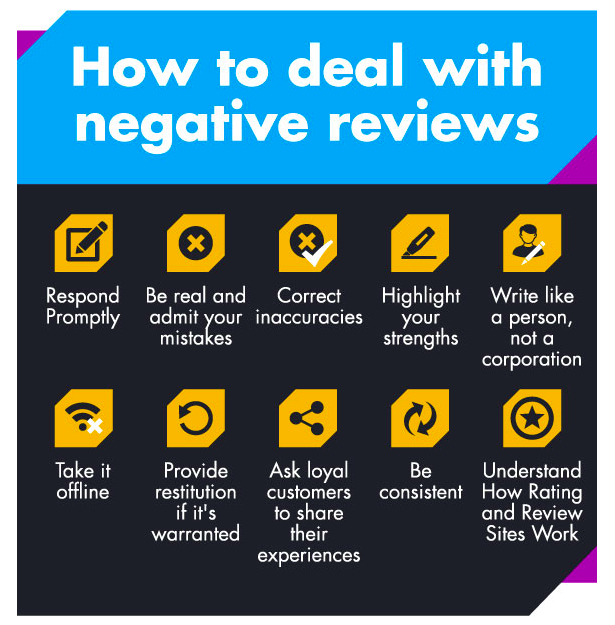 Image via business2community.com
10. You're Not Alone
Still think social media is irrelevant for your business? You're largely in the minority. More than 40 million small businesses use Pages on Facebook today, and over 1 billion people visit Pages each month. In addition, 75 percent of brands pay to promote their posts. (DMR, Facebook)
Wrap-Up
When it comes to social media, your competition is out there, fighting for top-of-mind recognition. Are you part of that battle? These online outlets aren't going anywhere; in fact, they will continue to ramp up and multiply as the digital world continues expanding. The longer you wait to get started, the harder it will be to catch up.
Don't look at social media marketing as a chore or one more burden added to your already hectic schedule. It's one part of a successful marketing strategy that keeps you in touch with your customers in a space where they're most active. If you need assistance, OutboundEngine is here to help!

The State of Social Media
Get your instant download now.
Updated on 12/17/15; originally published 12/2/13.