Real estate email newsletters have evolved a lot over the years and vary from agent to agent. Some people still aren't doing one while others have a streamlined process, automating their communications to their clients. Whatever the case may be, there's always room for improvement.
Bonus Content: The Email Marketing Roadmap
One of the biggest things that needs to change is the repetition of "new home listings" and "low interest rates in your area" emails. While these emails are generally easy to send out, they are the lowest converting email content format out there. You might as well be sending direct mail instead. Good real estate newsletters are rich with substance and written to engage and entertain, not sell.
Here are 5 elements of really great real estate newsletters to help you get the most out of your email marketing efforts:
1. Good Content Marketing
With your newsletters, the whole point  of you sending them is because you don't want to lose your top-of-mind recall in your clients' minds. However, if you're "that guy" sending new home listing emails to people who just bought a home, that just doesn't make any sense. Good content marketing is meant to help, not sell, and engage your reader through interesting topics. You can read more about the benefits of content marketing here. A good way to describe this style of content would be something topically adjacent to your industry but not about you or your business.
Below is a small sample example of good content marketing from one of our newsletters.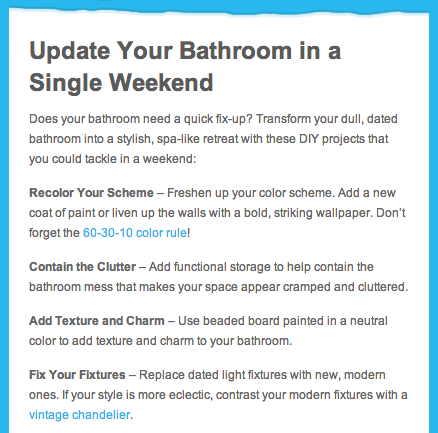 2. Strong Subject Lines
As I've said before, your email subject lines are like first impressions. You need to take advantage of this short text opportunity to create intrigue for higher open rates, build trust with your readers, and be short and to the point.  The subject line of this example email is short enough to be fully read on a mobile device, but long enough to convey the entire message.

3. Visually Appealing Templates
Stock corporate art, colors that aren't your brand, and formatting that doesn't work for all device types are all elements that you need to address in order to build a highly read and engaged newsletter. Your newsletter should also be representative of you and your brand too from colors to subject material. If you need help with this, we can get you started too.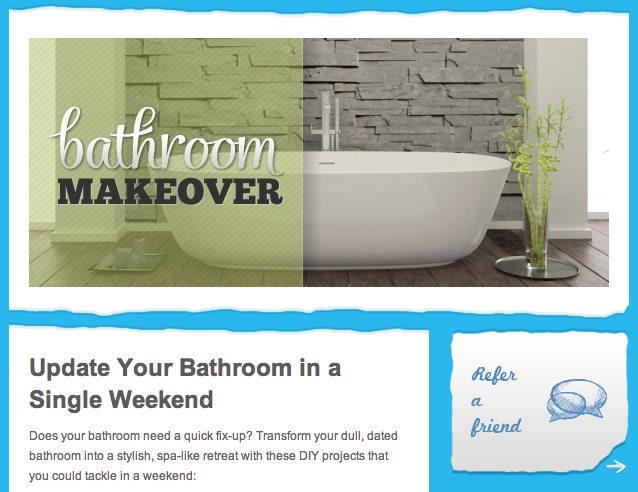 4. Contact & Social Information
While your newsletters come from your email address (or at least they should), people still need multiple ways to get in touch with you both online and offline. Make it easy for them to find you and do not just throw a bunch of text into your email signature. Those are cumbersome, visually upsetting, and annoying.

5. Calls-to-Action
Just because the newsletters you're sending aren't about getting the business right now, doesn't mean you can't be ready to do business with someone when they're ready. Your newsletters should make it incredibly simple for people to get in touch with you, refer friends, and more.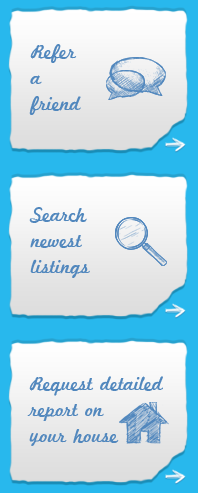 Putting It All Together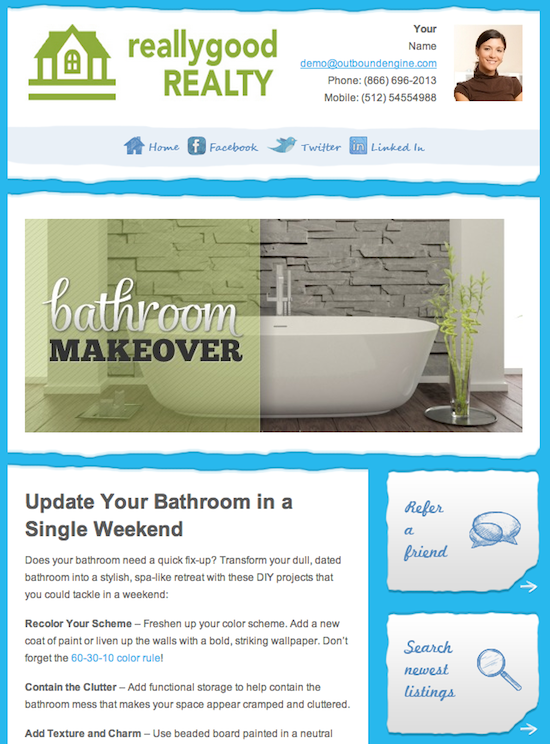 While your newsletters might contain a few of these things already, it's important to make them a regular part of your newsletter marketing campaigns. Keeping up with good content creation and a regular email schedule can be tough, but the outcome helps keep you top-of-mind with the people that matter most to you and your business.
If you need help with any of the things I mentioned above, please give us a shout. We can help you do all of this and best of all, it's completely automated for you.

Almost There!
Get the latest Email Marketing Roadmap now.