If you're like many professionals, you've looked for apps to help your small business run smoothly.
In a recent small business trends report, 13% of owners surveyed said that administrative tasks were their biggest challenge. In addition, another 13% claimed time management would be a real struggle in 2019. Apps are a great solution to both of these problems.
Bookmark this list of 24 apps to help you tackle administrative and time management tasks in 2019 and beyond.
Accounting Apps
1. QuickBooks Online
Intuit's online accounting software states it can help you get organized for less than $2 a day. It's a small business powerhouse with features like project management, inventory, and reporting. It's highly rated for its ability to cover all possible accounting needs for independent contractors and small businesses.
2. FreshBooks
FreshBooks makes our list for apps to help your small business because of its stellar reputation. Solopreneurs and freelancers applaud the easy-to-use invoicing tools. FreshBooks provides intuitive processes, task automation, and cloud accessibility.
3. Sage One
Sage One is a cloud accounting software platform. Their all-in-one solution simplifies data with charts and organizes all aspects of your finances. They offer intelligence reporting to help you make better decisions and gain insight into your business.
Budgeting Apps
4. Goodbudget
Goodbudget offers an envelope organization system and automatic data syncing. The mobile app is marketed for individuals so independent contractors will get the most use out of this system.
5. Mint: Money Manager
Mint offers budget tracking, planning, and credit score help. It tracks your upcoming bills all in one place with due dates, payment methods, and alerts. They also have a high level of security which is great for entrepreneurs who want to protect their sensitive information.
6. Toshl
Toshl helps you track cards and cash transactions in one place with colorful graphs, charts, and lists. Their goal is to help users set and reach their goals, like making an emergency fund or make a downpayment. The team prides itself on not taking finance to seriously. Here's the last step in their process:

Invoicing Apps
7. PayPal
Ever since PayPal released Venmo, the website and app regained its status as the king of invoicing. It's (almost) free, comes with a guarantee, and offers a variety of features for both personal and professional use.
8. Wave
Wave is also free. But unlike PayPal, the sole focus is to help small business owners. Their standout features include accounting coaching and bookkeeping services. If you're seeking apps to help your small business finances, Wave offers a seamless experience to do just that.
9. Blinksale
As far as pricing models go, Blinksale has cornered the market on simplicity and freedom. They offer one plan at one price with unlimited capabilities. It's also compatible with Stripe.

Point of Sale Apps
10. Square
It should come as no surprise that this Apple product is user-friendly and easy to set up. After you sign up you receive a free credit card reader that plugs into your phone.
While it's free to use, you do pay a small fee for every transaction. Because of its features and familiarity with users, Square provides one of many powerful apps to help your small business run smoothly every day.
11. Shopify
Shopify is great for small businesses that sell physical products. The e-commerce software markets to freelancers who are just starting out. They also offer a huge selection of educational resources for free on their website.

12. Booker
Booker helps wellness businesses book appointments and make transactions directly within their system. It partners with Yelp to provide more ways of attracting customers to your business. If you need to combine schedules and transactions, consider trying Booker to your list of apps to help your small business run.
Customer Management Apps
13. Pipedrive
Pipedrive's whole mission is to eliminate as much administrative work as possible. It does so by using automated communication tracking, e-signatures, and app integrations. Pipedrive also lets you take it for a test run through their immediate access free trial (no credit card needed).
14. Streak CRM
Streak is definitely one of the more unique apps that help your small business run smoothly. Instead of sending you to its own website or individual app, Streak can be used directly within your Gmail inbox. It helps you color code, visualize, and keep track of all the moving parts.
15. OutboundEngine
OutboundEngine gives you access to an entire team of professional marketers working together to automate your branded content. Their campaigns help you track and follow up on leads. You'll receive an alert whenever you get a new opportunity from your marketing.
Time Management Apps
16. Rescue Time
Rescue Time helps you see where you may be wasting time by tracking the apps and websites you spend time throughout the day. It runs in the background while you use your computer or phone. Use it to help cut down on those sneaky distractions.
17. Focus Booster
This app uses the Pomodoro technique to help you stay on track. Basically, this method uses a timer to break down work into intervals, including breaks. Focus Booster tracks your progress and shows your improvements laid out in beautiful graphs and charts. No matter what you choose, we suggest you look for apps to help your small business run by taking advantage of automation.

18. Toggl
Toggl is a simple yet delightful time management app. It sends you reminders and lets you know when you've been idle for too long. Toggl also helps you figure out what clients you spend the most time on versus who brings in the most profits.
Scheduling Apps
19. YouCanBook.Me
YouCanBook.Me offers customizable scheduling templates for sleek and professional appointment bookings. Clients can use the app to directly schedule themselves into your calendar. It will also send automatic reminders and conveniently takes time zones into account.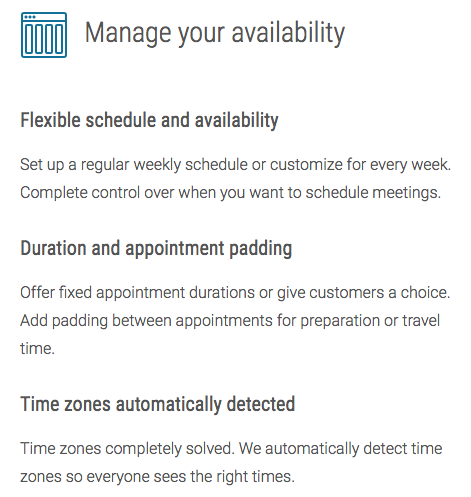 20. Zoom
Zoom is a video conferencing tool used for scheduling meetings of all kinds. You can use their video call, voice call, or webinar features.
All of their bookings send email confirmations with meeting details and the option to set reminders. They're one of the many multi-function apps that help your small business run smoothly from a single platform.
21. Thryv
Thryv was created specifically for small businesses and independent contractors. Their scheduling tools offer features such as text reminders and notifications whenever a new review is left on Yelp, Facebook, and Google.
Organization Apps
22. AirTable
AirTable is a fully customizable system for organizing any and all aspects of your small business. While it may seem a little intimidating at first, the platform offers simple instructions and limitless options.
Pro Tip: Search for AirTable templates and examples online before you make your own to get a feel for what's possible.
23. Simplenote
Simplenote is a sleek and clean digital note-taking system. It's stand out features include search through hashtags, sharing options for people outside your organization, and a neat time turner that lets you go back to a previous version of notes using a simple slider. The company is owned by WordPress so they also have some great blog and text editing tools.
24. Wunderlist
If making lists and checking boxes is your thing, give Wunderlist a try. The app lets you plan projects big and small. Put your chores, meetings, and projects all in one place with this app.
Improving Your Business Practices
In short, the success of using apps to help your small business depends on your dedication to improving your business practices. If you're interested in improving all aspects of your business, consider outsourcing some of your marketing tasks. Then use your newfound time and energy to tackle all the other things that keep your business running.
As mentioned previously, automation can be a game-changer for small businesses. This includes tasks like accounting and payroll to marketing emails and customer reviews. If you're feeling like your marketing plan is taking up too much of your time, consider OutboundEngine. We offer simple software that does the hard work of keeping in touch with customers for you. Follow up with the opportunities we surface and use your time on what you do best. Get a free demo today and see how we can help your business.