According to our mortgage marketing benchmark report, only 16.4% of loan officers said they have had success with purchasing leads. Learning what to consider before buying mortgage leads from a mortgage lead company may change your strategy for generating business.
Clearly, buying mortgage leads isn't a one size fits all solution. There are professionals that have seen success with buying leads, and others that have spent a lot of money without seeing a return. If you want to get the most from that list of mortgage leads, you'll want to do your homework.
That homework includes researching all of your available options. So before you buy leads from mortgage lead companies, consider the following alternatives:
Use marketing automation to maximize your existing network
HubSpot found that 80% of marketers using automation software generate more leads. That's a significant figure. There are a few reasons why. Here are three:
Marketing automation helps to nurture leads.
Businesses that nurture leads make 50% more sales and spend 33% less than non-nurtured prospects.
Marketing automation helps nurture through content marketing.
Content marketing gets three times more leads than paid advertising.
A dedicated website.
Marketing automation platforms like OutboundEngine provides an optimized website where marketing traffic is sent and this valuable information is captured and stored. It's a vital step in capturing interested prospects or re-engaging with past clients.
Use social media advertising
Your business social media platforms are great for interacting with your existing network, but social media advertising will get your name in front of people who do not already follow you. For example, OutboundEngine offers social ads to reach your target audience, whether they're in your current area or you're looking to expand your reach. Combining social media advertising with an optimized website or landing pages means you can capture higher-quality leads more easily.
Here's an example of the social ad testing OutboundEngine includes in their services: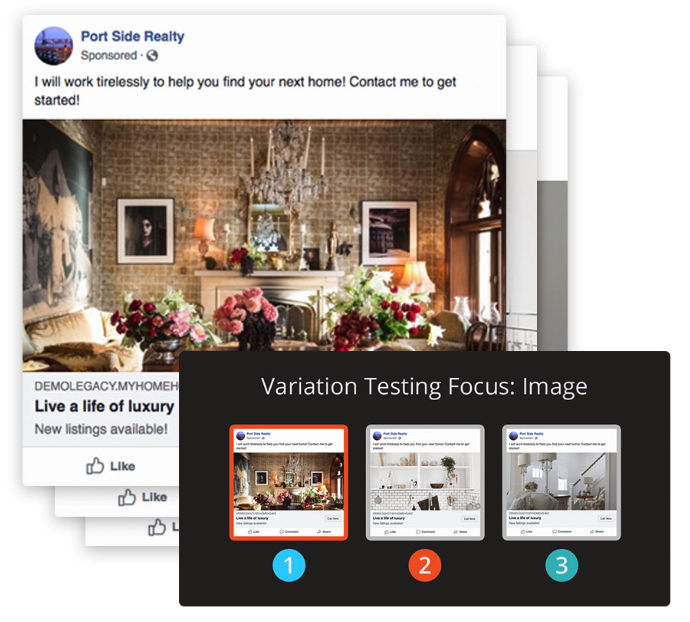 These are just a couple of ways you can invest in lead generation. If you've already tried these or other methods, it's time to learn how to find leads that will actually work for you.
Before buying leads from mortgage lead companies
Buying leads can occasionally be successful if you're willing to take the risk. Consider these factors before you do:
Lead Quality
Not all leads are created equal. For example, first time homebuyers aren't as experienced or educated in the mortgage process. Do your own due diligence by setting up a process you can use to pre-qualify them officially or on your own after you've purchased the list.
Exclusivity
Does the company you're purchasing leads from also sell them to anyone and everyone who has the cash? That kind of list is useless if the customers on it have already been pitched or closed.
Reputation
What is the overall reputation of the lead company? Seek out word of mouth referrals or Facebook groups on the subject to see what others think of the service.
Customer Service
If a question or issue comes up, who can you contact? Some companies don't even have a phone number for loan officers to use for times like these. Decide whether or not this is important to you before buying.
Search Criteria
If you're looking for leads in the first place you probably have a good idea of what your dream client looks like. Make sure the service you purchase leads from lets you sort using those important profile details.
Pricing
Buying leads can get extremely expensive. This may seem pretty obvious, but you should work with companies who are within your budget. Be sure you're okay with paying hundreds of dollars, oftentimes thousands, in one transaction knowing that you may not see a return.
If you decide buying mortgage leads is not the right plan for your business, OutboundEngine is a simple software that helps keep your clients engaged and find new ones. We help mortgage professionals market their services and surface existing opportunities in their network.