You finally have a few minutes to spare and you're all set to reach out to a few customers, but the cursor is just blinking back at you. You know you need to touch base, but you can't think of what to say. We've all been there, and that's why we created these easy customer follow-up templates.
Personally reaching out to your customers will help you build stronger relationships and bolster customer loyalty. There's no doubt about it: drafting that email or making that phone call is something you need to do, and communicating the right message at the right time is key. Customers move through a progression of steps in their lifecycle and addressing them appropriately can mean the difference between coming off as trustworthy or sounding insincere.
We've included a few templates you can cut and paste below, or you can download our customer follow-up templates for even more conversation starters.
Download the customer follow-up templates now.
Whether you're building awareness with a prospect, reconnecting with a past customer or asking for referrals, you should tailor your message to fit the moment.
When Building Awareness With New Prospects
When you meet a potential customer, it's a good idea to follow up on your recent interaction sooner than later. Send them a brief introductory email to open the lines of communication.
Hi [Customer name],
It was great meeting you [Specify when and where you met – yesterday, this morning]. I'd love to stay in touch. Do you mind if I connect with you on LinkedIn?
Sincerely,
[Your name here]
Reconnecting With Past Customers
Loyalty is the catalyst for customer advocacy. Build loyalty over time by checking in once a quarter with an email similar to the example below.
Hi [Customer name],
It's been a while since we chatted, and I wanted to check in to see how things are going. [NOTE: Here you might mention a seasonal time change that may spur buying activity from your customer. For example: Do you have anything planned this summer that I can help you with?] As always, please feel free to reach out with any questions you may have. I am happy to share my expertise.
Best,
[Your name here]
Asking for Referrals
Once you've earned the loyalty of your customers and proven your expertise, you can and should ask directly for referrals. Experts say the best time to ask for referrals is immediately after a successful transaction.
Hi [Customer name],
I hope everything is going well with you. I have a quick favor to ask. Do you know anyone who may be looking to [Service you provide] in the next [Amount of time: six months, three months, few weeks]? I appreciate any referrals you can provide, and I promise to do my best to continue deserving your business. As always, please let me know if I can help you with anything!
Thanks in advance,
[Your name here]
Stay Top of Mind
Having regular client touch points is essential for building trust and credibility with your network. Following up intermittently isn't enough. Customers are looking for content that adds value year round. These customer follow-up templates will help you maintain consistent communication. If you need assistance with your email marketing and staying top of mind, OutboundEngine is here to help!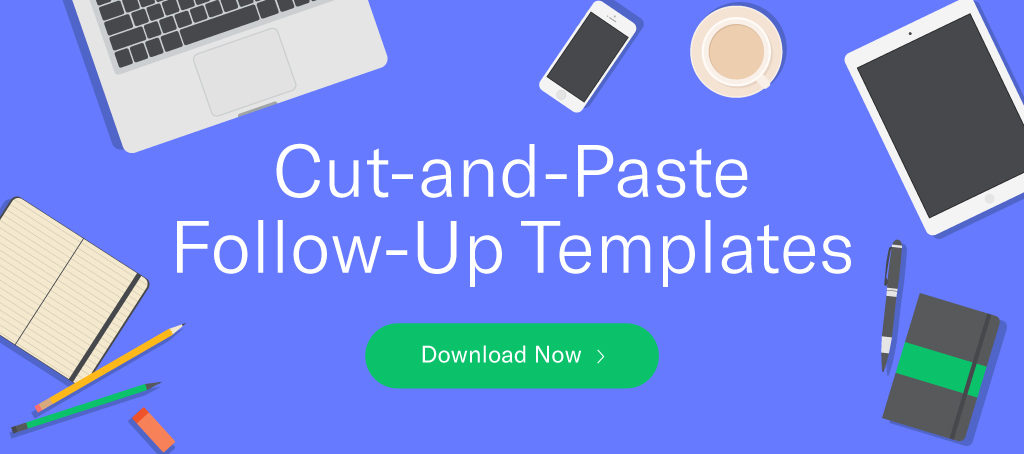 Almost There!
Get your Cut-and-Paste Email Follow-Up Templates now.