Not that long ago, having a social media presence wasn't a must because not everyone used social media. However, over the past decade, the percentage of American adults on social media grew from 26 in 2009 to 72 percent in 2021! We're talking basically 3 out of 4 people are now active on social media.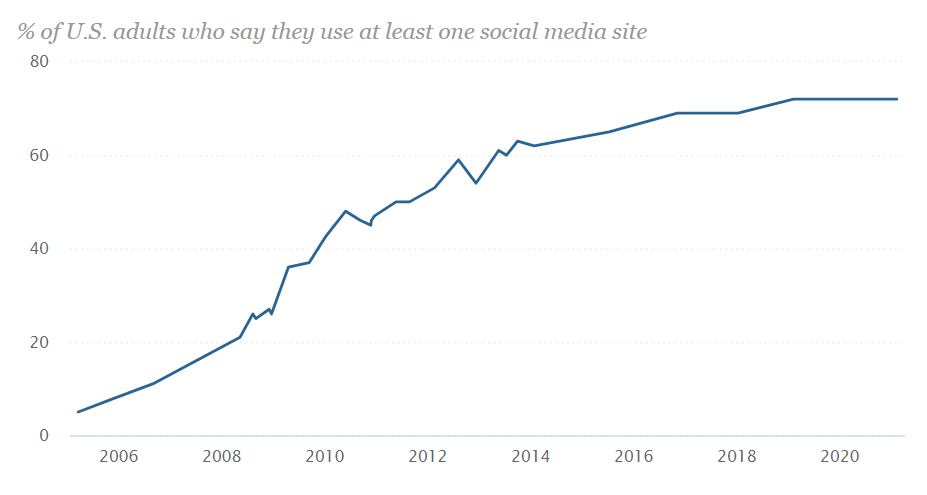 But simply being present on social media isn't enough—you need to have interactions, and that means followers. So how do you get more followers? We've put together a list of strategies to help you start to grow your online network.
1. Get to Know Your Audience
When you strike up a conversation with an old friend, the topics come easy. You know who they are and how to connect with them. But finding that comfort zone with a complete stranger isn't so easy.
Social media is no different. Before you can strike up a meaningful dialogue, you have to define learn about your audience. The best way to get the ball rolling is to create personas. Ask yourself these questions:
Who do you want to reach?
What do they do?
What are their interests?
How can you add value to their lives?
To find the answers, try different ways of interacting with your audience. For example, to find out what their interests are, post a photo of you doing what you love and ask them to do the same. People love to talk about their interests, and the more you have in common the stronger the reason to follow you becomes.
2. Stop Keeping Score and Start Building Relationships
When trying to get more followers, it's easy to get caught up in the numbers game. But less can be more, assuming you're making genuine connections. Bot followers, spam followers and followers who aren't relevant to your business will not help you succeed.
To build relationships and inspire brand loyalty, you need to actively engage your audience. Start and join conversations. Respond to questions, comments, and complaints. Listen to what people are saying, try to understand their perspectives and make thoughtful contributions.
It may be hard to focus on quality over quantity, but in order to get more followers, prioritize being genuine. The right number of followers for you may not be the same for someone else and that's not the goal you should strive to achieve. Instead, try to be a thought leader and go-to source of knowledge for your industry, your local area, or both.
3. Focus on Valuable, Shareable Content
As you gain a better understanding of your audience, it becomes much easier to find and create content that will inform or entertain. When your followers enjoy and appreciate the content you share, they're more likely to pass it along to their friends, family, and colleagues.
Here are some tips on sharing valuable content:
Always put the audience first. Self-promotion can make sense on occasion, but if you go overboard, you will lose followers. In fact, 45 percent of social media users surveyed by Fractl and BuzzStream said they would unfollow a brand that did excessive self-promotion.
Keep your content selections timely and relevant. Discussing new year's resolutions doesn't make a lot of sense in September.
Share and retweet interesting content, but don't let that be your entire content strategy. Create original content, provide unique insight and establish yourself as an expert in your field.
Remember your social media etiquette when posting across networks. What's acceptable on Facebook may not fly on LinkedIn.
4. Give Your Audience More Than Words
Visual content tends to get more attention than text alone. If you're skeptical, let's take a look at the statistics:
Content paired with relevant images draws 94 percent more views than content without images.
Social media posts with video gain 1200 percent more engagement than text and images combined.
64 percent of users are more likely to buy a product after watching a video.
5. Keep a Consistent Schedule
To grow your followers over time, you need an ongoing strategy. Creating a content calendar will help you plan and organize your posts, tie in seasonal topics and promotions, and craft interesting content ahead of time.
By posting content consistently, you keep your audience engaged and stay top of mind. If you're not sure what a content calendar might look like, here are some examples from Buffer.
And for a visual, here are the categories that HubSpot keeps on their social media calendar: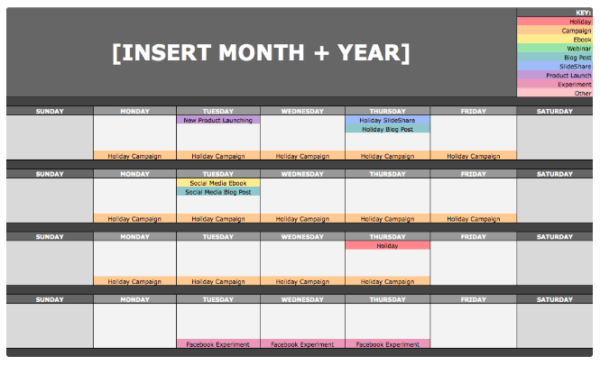 6. Target the Local Audience
If you're operating out of a brick-and-mortar storefront or if your business is highly localized, targeting local social media users can be hugely effective. Believe it or not, hashtags are the perfect tool for cornering the local market. While their overuse and misuse have made them somewhat of a running joke, hashtags were actually meant to categorize posts for search.
On Instagram and Twitter, using hashtags is a great way to get more followers. So if you want to get more followers in a specific area, like Austin, Texas, for example, you could add #Austin or #ATX to your posts, and anyone searching for Austin-related content would see your posts.
If you're a real estate agent or contractor, you can create your own hashtag. Something like #SallySellsATX for an Austin-based realtor, or #BuildWithBobThomas if you're a contractor. This can be a great way to show off your work locally. Plus, if anyone clicks on that hashtag, they'll see all the photos that have been tagged. Here's what comes up with every photo tagged #austinrealtor: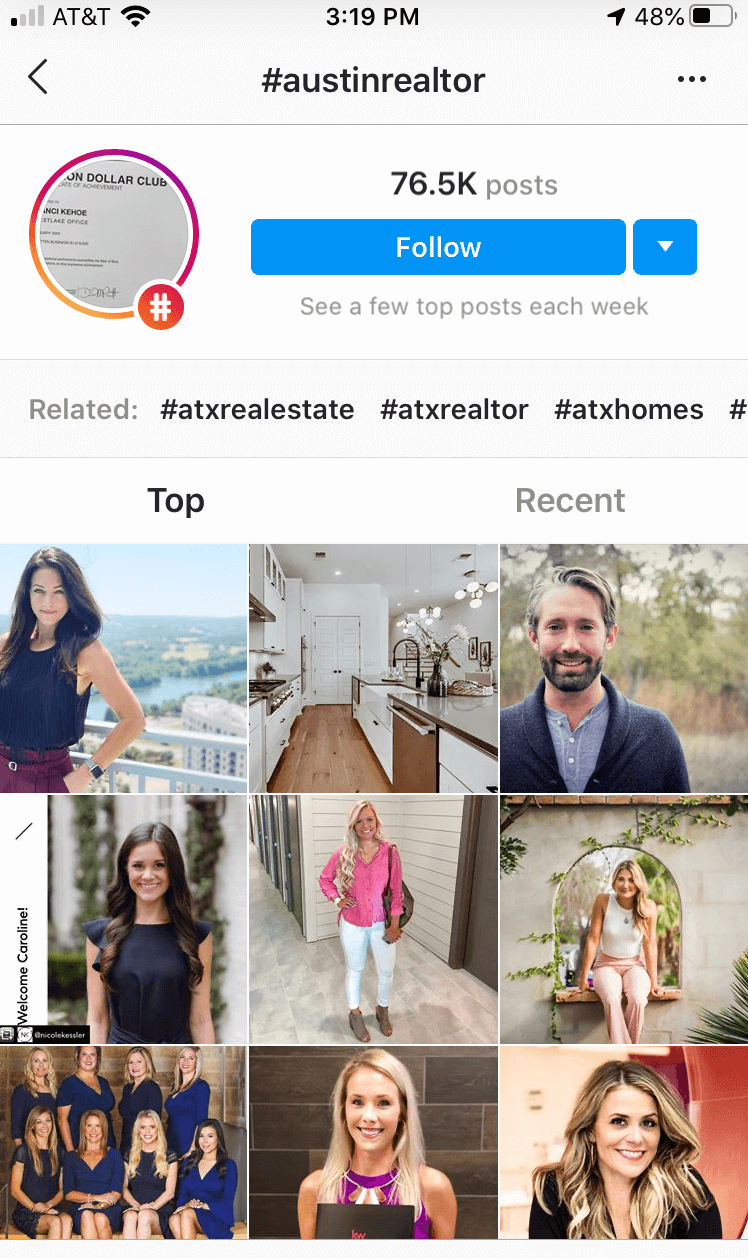 7. Promote Your Content
Organic reach can only take you so far. But for a small investment, you can expand your reach on Facebook and Instagram with targeted ads. The example below is from Mrs. Meyer's, a major brand, but you don't have to have a big brand budget to advertise on social media. In fact, OutboundEngine can help you discover opportunities beyond your network with Facebook and Instagram ads.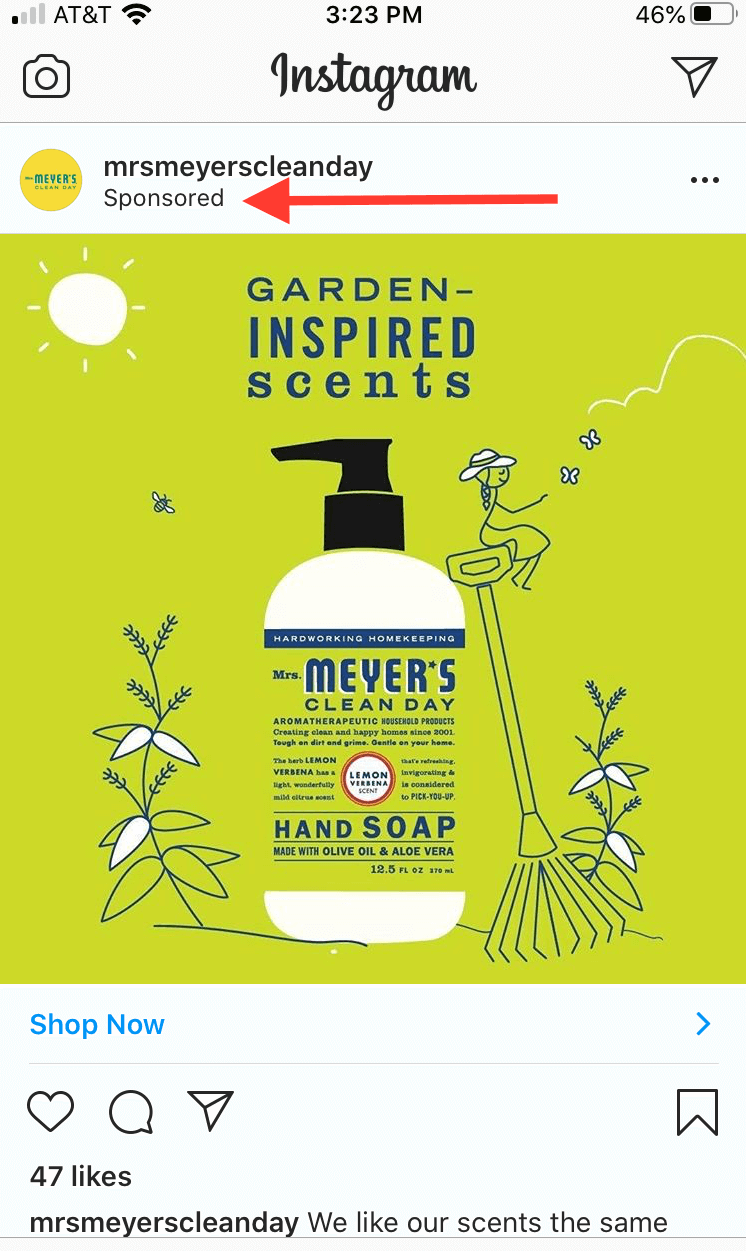 You can also advertise on Twitter and LinkedIn. According to Socialbakers, social media ad spend increased 56% in 2020, because brands know that's where their users and audiences are. If you haven't considered social advertising, we encourage you to look into that as a way to grow your business, which in turn can be an avenue to get more followers.
These social media strategies should help you get more followers. And if you're having trouble getting noticed on social media, don't be afraid to ask for help! OutboundEngine writes and curates click-worthy content for your audience, and shares it automatically on the channels where they spend their time.

Almost There!
Enter your information to download the guide.