LinkedIn for business is a no-brainer. It's simple to create, and even easier to maintain. With LinkedIn's new look, this is a perfect opportunity to start building a LinkedIn network that will greatly increase your referral business.
Let's walk through how to create a personal profile that is designed to attract both past clients, referral business, and new business.
Bonus Content: We've gathered our favorite productivity tools and tips in one, easy-to-access place — The Big Book of Working Smarter.
Your Introduction on LinkedIn
Your intro is an aerial view of your background. It will allow your viewers to gather a strong first impression of you. As a small business owner, your reputation as hardworking and reliable is important to establish. Follow these simple steps to set up your LinkedIn in a way that will help increase referrals for your business
Your Headshot on LinkedIn
Your headshot on LinkedIn is the first image a prospective client will see. No pressure, right? This doesn't have to be a professionally taken headshot, but it should be a clear image of you today.
Pro-tip: Don't use a silly or outdated photo. Your headshot should be a professional, easy to recognize image.
To add your headshot, go to your profile and click on the circle that is meant for your photo. Upon doing this, you'll have the ability to upload a photo from your computer. You can zoom and reposition it to fit just right into the circle template. Hit "Apply" and you're good to go.
Your Name and Position on LinkedIn
Keep this simple. To add or edit your name and current position, click the small pencil icon. The Headline and your Current Position should match in this section.
Pro-tip: If you have a middle initial, leave it off since it can affect search results.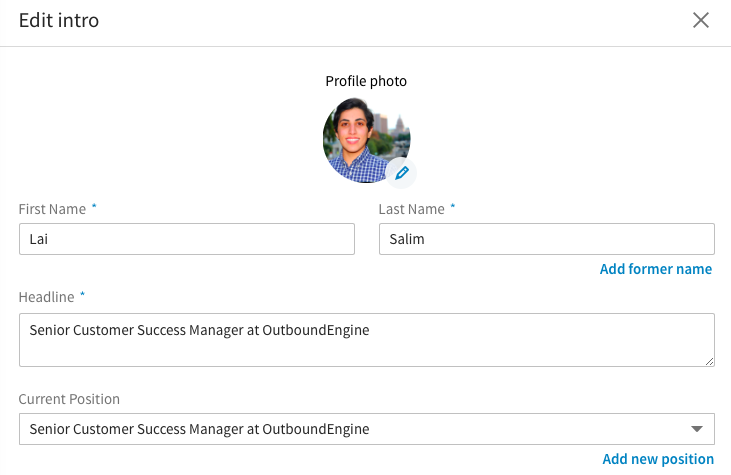 Your Education and Industry on LinkedIn
Adding your most recent education and general industry will help build credibility with the people you want to attract.
For a few examples of top profiles on LinkedIn, please reference the introductions below. These are considered All-Star profiles, which means they're performing well. Take notes.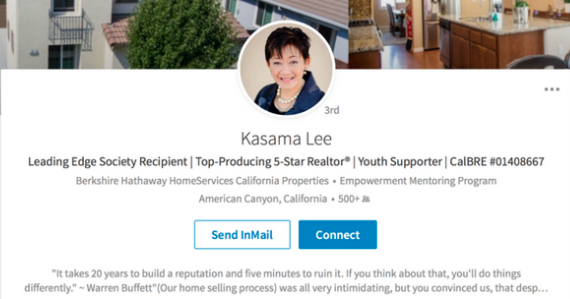 Your Summary on LinkedIn
Within this section, you can add a summary referencing you and your business in such a way that it attracts repeat and referral business. This is your opportunity to answer the question, "What do you do for a living?". Answer this question as if you're at a networking event and talking to a potential employer or new client. Be brief, but give them the highlights.
Some of the most powerful profiles on LinkedIn have a few things in common within their summaries. Each is clear on what their services or products are, target audience(s), expectations for quality of service delivered, unique qualities, and past testimonials from happy clients. While this might seem like a no-brainer, they also include information on how to get started with these services, as well as how to directly contact the business for more information. Don't leave these things out!
Pro-tip: As you write your summary:
Address your target audience
Be clear and concise
Speak in first-person
Have fun with it
Bonus Content: A Template to Complete Your LinkedIn Profile

What I do: I help [my target audience] achieve [their top goal] by providing [my product or service].
Who I work with: I partner with [target audience(s) or industry type]
Why it works: When you partner with [my company name], you get the most efficient, effective, and affordable [product or service] that [target audience] are looking for right now.
What makes me different: Explain what makes you and your business unique against competitors. Whether that be years of experience, quality of service, certifications, quick results, or something else.
What others say: [Copy and paste two-three testimonials in this area. Grab these from a few of your best clients and make sure they speak to your quality of service. Include the full name of the person and his or her company to give your testimonials more legitimacy.]
How it works: [Explain your process for getting started by including something along the lines of "We start with a free evaluation" or "We provide a free quote"].
Ready to talk? Let's connect, Next steps, or Get in touch are all welcoming ways to ask people to get in touch with you. Include your email address, website URL, and phone number.
Your Media Section on LinkedIn
Here you can add your resume, portfolio, or videos that you'd like to share.
Your Experience on LinkedIn
This section is an awesome opportunity to showcase your experience in the industry. If you're new to the business, this is also an opportunity to show off your versatile skillset and background.
It's recommended that you begin with your most recent experience and backtrack from there. Don't worry about adding every job you've held, rather focus on your opportunities that help you shape your expertise in your current career.
For example, if you're a nurse who recently started a real estate business, include your nursing experience but call out skills that are relevant to your new venture. You might detail your excellent customer service experience or speak about how much you love learning about your clients. You see?
To begin doing this, locate the Experience section on your Profile. You'll see a blue + sign on the top right of this section.


Fill in this section to your best ability and with as many details as possible. This will help with your All-Star profile ratings, as well as help build credibility with your prospective clients.
Adding Your Featured Skills and Endorsements on LinkedIn
When building your profile, there's a section for your skills. This is where keywords really give your professional brand a boost. In this section, your connections will be able to endorse your skills. Endorsements and keywords are especially important for search ranking.
To add skills to your profile, scroll to the section titled Featured Skills and & Endorsements. You can add your skills by clicking the "Add a new skill" button.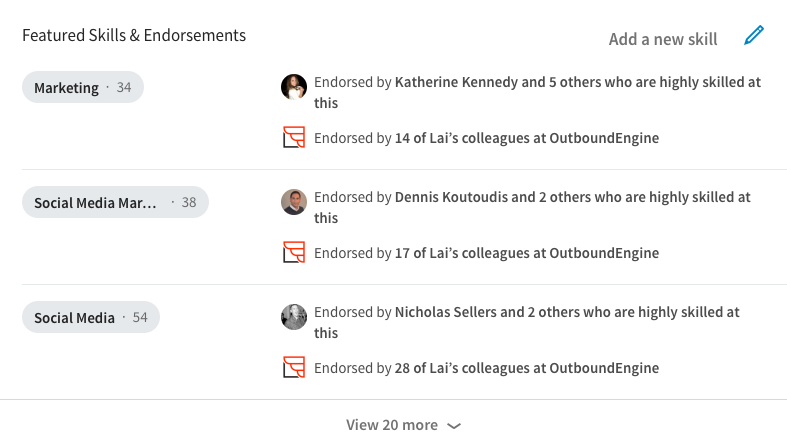 Building Your Network on LinkedIn
Don't underestimate the power of connecting with your current network. These are the people who are most likely to do business with you themselves or refer someone your way. To begin growing your referral network, click the My Network option at the top of your screen.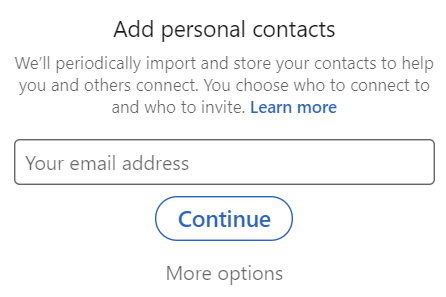 Pro-tip: You'll see an option to Add Personal Contacts on the left side of your screen. Type your primary email address here and choose Continue. This will scan your email address book and tell you who is on LinkedIn from that list. Once you've scanned through the list, choose Add Connections on the top left. This will send them invites to connect with you!
Once these people are connected with you, they'll see your updates on LinkedIn. It's advised that you post relevant, industry-related content every 2-3 business days to keep this audience engaged with you and your business.
If you have multiple email accounts or you're interested in uploading a list of contacts, choose More Options and look to the left panel for other areas to upload contacts from. By choosing the email providers under the form, you'll be asked to enter your email login credentials to cross-check your address book with LinkedIn profiles! Simple, right?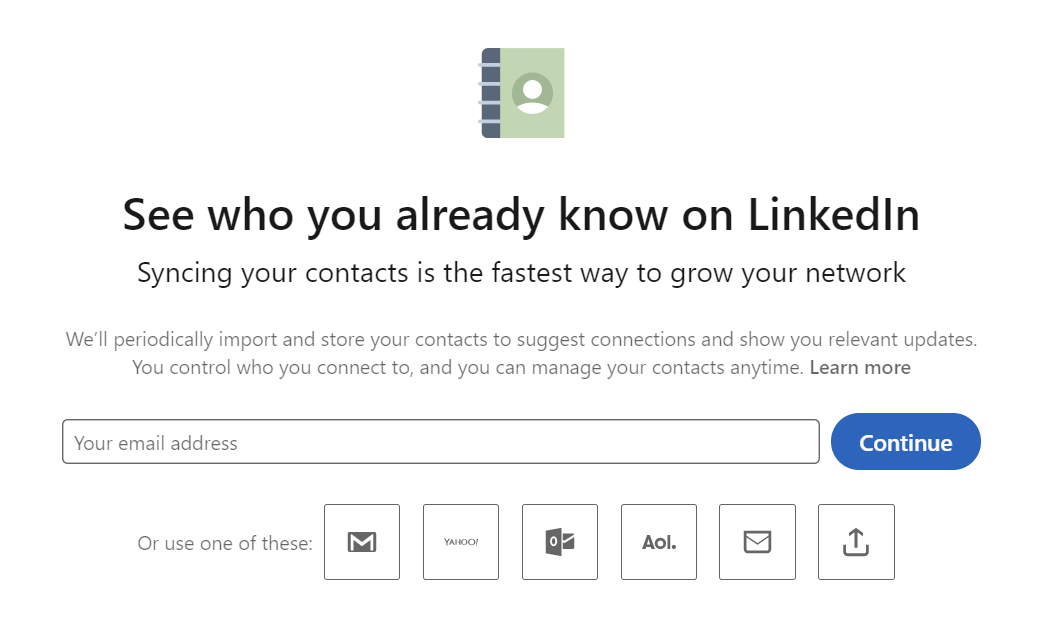 The Upload a File option comes in handy when you have an Excel file with the email addresses past clients, friends and family.
Building Your Email List With LinkedIn
It's no secret that LinkedIn is one of the easiest, most efficient ways to grow your email address book. Connections may come from contacts that are imported from Facebook, email accounts, CRMs, lead generation software, and more. Regardless, the point is that you will have all of your business contacts in one place. And when you download this list, you have a master Excel document of your entire sphere-of-influence. It doesn't get much better than that.
Follow these simple steps to download your master email list from LinkedIn:

1. At the top of your LinkedIn page, you'll see a button titled My Network. Click on that.
2. On the top left-side of your screen, under "Manage my network," click on "Connections."
3. On the top right-side of your screen, you'll see an option to click "Manage synced and imported contacts."

4. On the right-side of your screen, you'll see a section known as "Advanced actions". Choose "Export Contacts."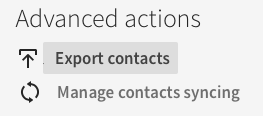 5. You'll now see an option known as "Getting an archive of your data." Choose your preferred options and click "request archive."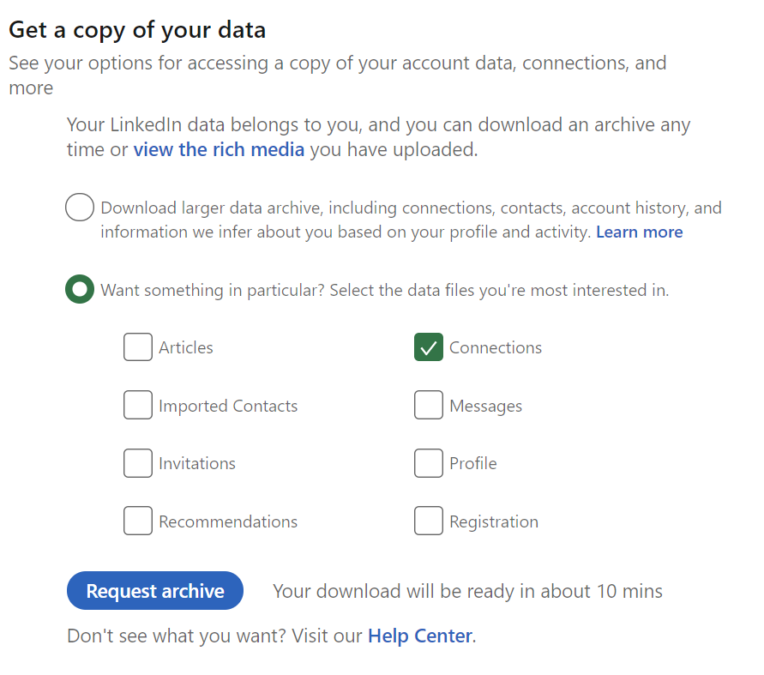 You did it! In about ten minutes you'll receive an email with a .zip file filled with information about your contacts. You only need to worry about the portion titled "Connections." Download this list and save it in a safe place. It contains your entire referral network in one simple document.
Pro-tip: Add people on LinkedIn when you meet them. Through your LinkedIn network, you'll build credibility as a thought-leader and expert in your field.
Posting on LinkedIn
Given that LinkedIn is a social network, it is built to be, well, social. When you log on to LinkedIn, you'll see your news feed, which is a stream of updates from your professional connections, businesses you follow and more. The best way to stay top of mind is by sharing thoughtful content with your connections, so they see you as an active voice in their network.
Free tools like Flipboard are helpful to curate ideas.
Of course, if you want to save yourself some time, OutboundEngine automates this process for small businesses, finding amazing content to share with your network for you. So if you don't have time throughout your day to get to LinkedIn, you can have the peace of mind that your social media presence is taken care of.
Make LinkedIn a Daily Habit
The best way to get in the habit of using LinkedIn is just to do it. Create a list of goals related to building your network, and based on those goals a list of things to do just once a day. (Seriously, you can master LinkedIn in a few minutes a day.)
Pro-tip: Download the LinkedIn app to your smartphone to manage your account on the go.
Help yourself succeed with LinkedIn by committing to it, whether you mark it on your calendar, write out a schedule on a whiteboard or leave a sticky note on your desk. Here's an example of how you could plan out your week.
Sample schedule:
Sunday (20 minutes) 7 p.m.: Find five interesting blog posts to share this week and schedule one per day.
Monday (5 minutes) 8 a.m.: Scroll through your LinkedIn news feed. Comment on two posts and "Like" two posts.
Tuesday (10 minutes) 4 p.m.: Look at emails from LinkedIn groups and find two conversations that look interesting. Chime in with an insightful comment.
Wednesday (5 minutes) 12 p.m.: Find four people on LinkedIn you met at a recent networking event or friend's gathering and connect with them.
Thursday (5 minutes) 7 a.m.: Scroll through your news feed and share two posts you find interesting.
Friday (10 minutes) 2 p.m.: Write a recommendation for a current or past co-worker, and ask for one in return.
Saturday: Your network is growing. Enjoy the weekend!
Wrap-up
LinkedIn is an important social media tool to build your online professional identity and brand. It's an effective way to keep in touch with past clients, colleagues, and friends. It's also a way to build stronger industry connections and relationships, which often leads to referral business. If you need help getting things set up, we're here to help you grow your business on the world's largest professional social network.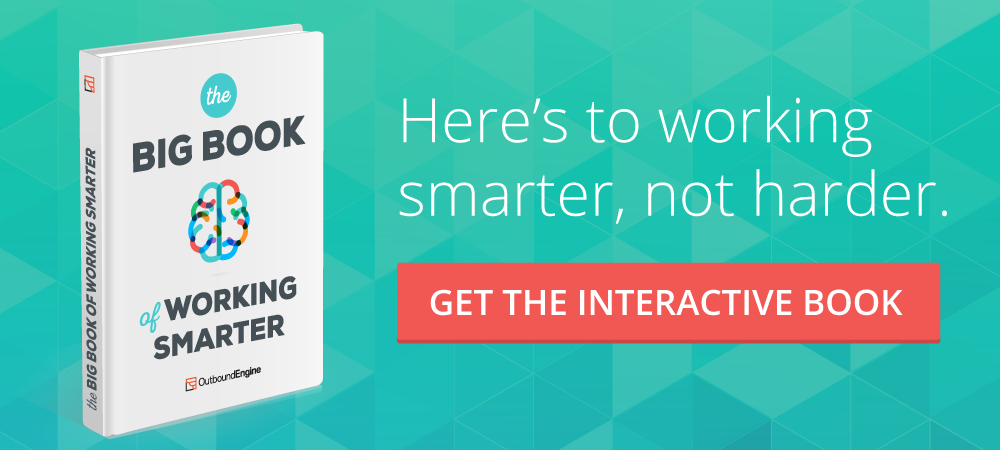 The Big Book of Working Smarter
Get your instant download now.