As our technology advances and our culture shifts, remote working and flexible schedules are becoming more normal. Many people find their productivity increases when they work from home, but not without learning how to work efficiently away from an office. Here are four ways to limit daily distractions when working from home.
1. Make time for distractions
When you're working from home, it can be hard to turn off all the distractions around you, such as doing laundry or making an appointment that can only be done during the standard 9-5 window. Giving yourself a specific time to deal with these daily distractions can keep them from getting between you and your work
This can be a slippery slope, so set some parameters. Write up a schedule and designate a couple slots every day as the times you devote to the household or personal distractions. Use those specific times to set up your doctor's appointment, check your personal social media, take a short walk or start a load of laundry.
2. Step away from the phone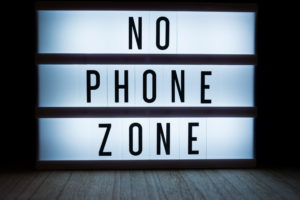 This may be the hardest step for all of us.
The average American checks their phone 80 times a day. Assuming you're awake for 12 hours a day, that's about once every fifteen minutes! And keep in mind, this is just the average. Some research reported users checking their phone 150 times a day. That's closer to every 8 minutes.
So how do we limit this daily distraction? Ironically enough, there's an app for that.
BreakFree tracks your app usage to show you how much time you're spending on apps and how often you unlock your phone screen. Seeing the stats of your actual usage can be quite surprising. Use this app if you want to know how often you are turning to your phone as a go-to distraction.
Once you see your phone usage, you may need to bring in some muscle. Flipd takes it to the next level by locking your phone for a period of time and hiding distracting apps like games and social media. Even restarting your phone won't unlock it, so you can't outsmart the app. Try it out and see if it helps increase your productivity.
3. Change your location
If your work can be done anywhere with an internet connection and you don't need to be at your house, consider a location change. These locations may help limit daily distractions when working from home.
Library
Your neighborhood library will have wifi, a quiet policy, and plenty of books to consult if your work requires research.
Park or outdoor space
While wifi isn't guaranteed, a park is a great option to clear your mind. If you're stuck on a problem, giving your mind space often brings the answer to light.
Coffee shop
Support another local business while you get your caffeine fix. You're also likely to find food, water and other provisions needed for longer working sessions.
Coworking space
For those who are a one-person business or part of a fully distributed team, a coworking space can provide a sense of community and help build your professional network.
4. Let automation help you focus
Maybe you've gone through all of these steps to limit daily distractions when working from home and still find yourself unable to feel accomplished. Sometimes, no matter how hard you try, you can't get to everything that needs to get done.
In addition to being short on time, there may be tasks you don't have the interest or expertise to accomplish. Some business owners will hire part-time help or turn to software to keep costs lower.
You may be surprised at tasks that you can automate. Here are a few examples:
Bench is an online bookkeeping service that handles duties such as categorizing expenses, preparing your monthly financial statements, and helping with year-end taxes. If you have questions, their in-house bookkeepers will answer you within one business day.
UpCounsel helps you find legal counsel that matches your budget and needs. You can also visit their website for free advice on topics like how to start an LLC or free legal documents such as non-disclosure agreements.
No more wondering how long it's been since you reached out to your network or whether you're using social media too much or not enough. OutboundEngine gives you the power to focus on running your business and the peace of mind to know your marketing is on schedule and on target.
Amp up your productivity
Daily distractions can keep you from accomplishing a variety of tasks. Don't let your business marketing be one of them. Click here to schedule a free demo and learn more.