The world of pay-to-play advertising with Facebook and LinkedIn can be scary. How much money should you spend to get results? What will your results look like? Is it really worth paying anything at all? As a business owner, you should want to spread your influence over as many clients and potential clients as possible. But is the juice worth the squeeze?
If you have a Facebook Business page, you've likely been pushed to "Boost a Post." If you have an advertising account with LinkedIn, you've seen the option to "Sponsor Content." These are each network's respective paid content promotion processes. Can your business benefit from a pay-to-play option? I've assembled data from trying out both platforms below to help you answer that question. Let's take a closer look at LinkedIn Ads vs. Facebook Ads.
The process of advertising your content on Facebook and LinkedIn is super simple. You just need three things:
Content to promote
An idea of who you want to target and
A budget to advertise your content.
LinkedIn Sponsored Updates
To begin, let's look at promoting your content through LinkedIn. The process for sponsoring an update is pretty straightforward; you just choose the content item you want to promote, choose who you want to promote it to, and set a budget.
Below is a screenshot of what it looks like when setting up a paid campaign on LinkedIn. Here's what I selected:
CPC – I only pay when someone clicks on my ad.
Budget – I went with a daily budget maximum instead of a total budget spend to spread out the funds.
Audience – I selected a narrow audience to receive this ad.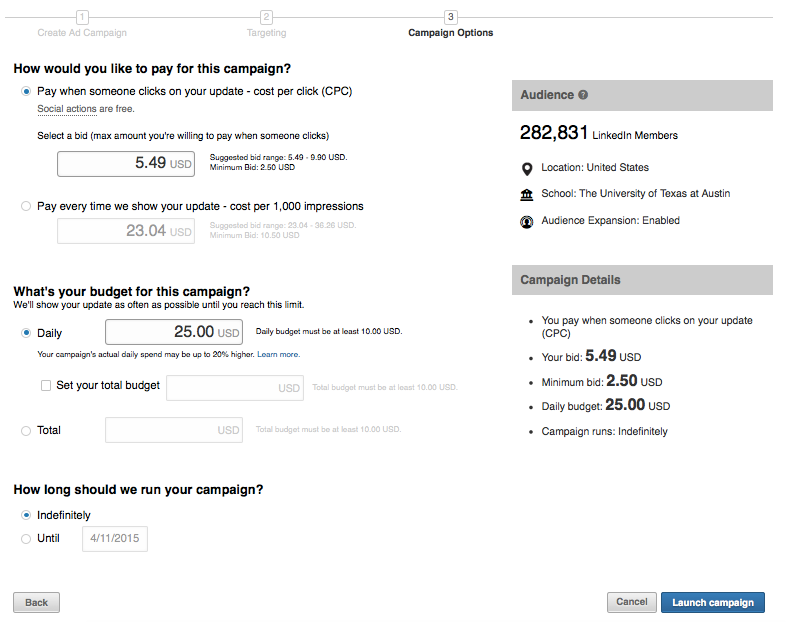 We advertised the Beginner's Guide to Social Media for Small Business for one day with a budget of $200. So what did our 24 hours and $200 get us?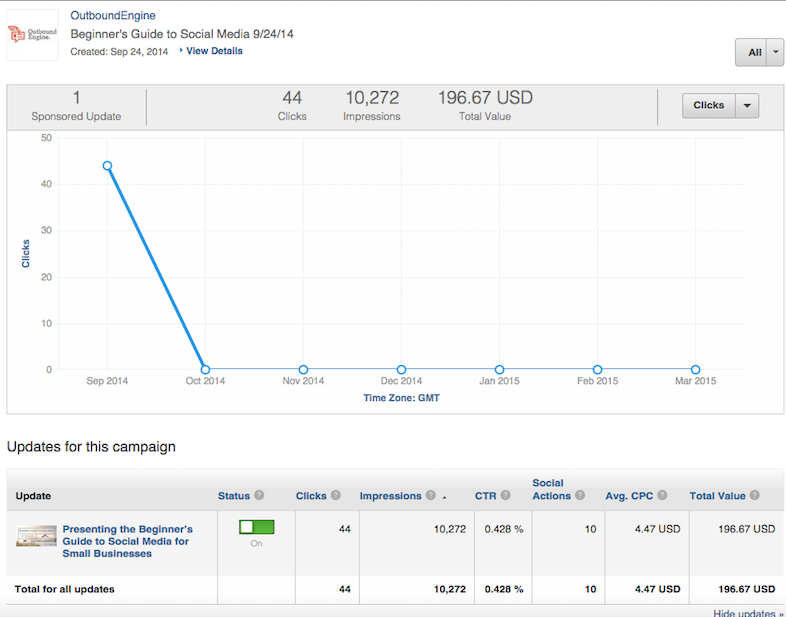 If we look at the number of impressions, we can see that the sponsored update was shown a total of 10,272 times. Our CTR (Click-Through-Rate) tells us that of those 10,272 impressions, 0.428% clicked the update (Not bad for LinkedIn!). In all, we got 44 total clicks at an average cost of $4.47 a click. Is that good or bad? It depends on what you're trying to accomplish.
If my goal was to get people to click on this post and download the guide, then we could rule this campaign as a success. $4.47 per lead is a really good price. However, what this doesn't show is how many of these clicks resulted in a conversion. However, if I were more concerned with simply broadcasting my name for getting impressions, this campaign was not set up correctly and resulted in low results.
Facebook Boosted Posts
Now let's take a look at our options on Facebook. The process for boosting a post is even easier than promoting a sponsored update on LinkedIn. Simply choose the item you'd like to promote, click the "Boost Post" button and choose your options.
Below is an example of a blog post we wrote and shared on our page. When on the boost post screen, here are the options I selected:
Audience – A select group of people I chose through targeting (real estate agents).
Budget – I went with a total dollar amount since this was a shorter campaign.
Duration – 3 days is what I selected, but you can choose different lengths.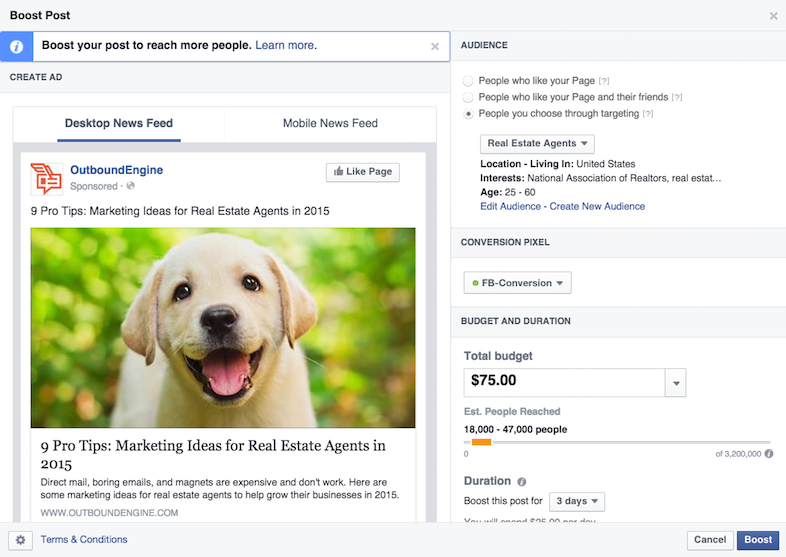 I advertised 9 Pro Tips: Marketing Ideas for Real Estate Agents in 2015 for three days with a total budget of $75. What were the results?

Facebook's reporting is slightly different from LinkedIn. Instead of displaying more traditional metrics like impressions or CTR we can see "Reach" and "Post Engagements," respectively. Reach is a measure of how many total people saw your ad, and post engagements is a measure of the kinds of clicks the post gets. In boosting this post, we had a reach of 24,442 people (those who saw the ad), with 97 post engagements (64 clicks to the website, 24 post likes, and 4 post shares).
LinkedIn Sponsored Updates vs. Facebook Boosted Posts
With our boosted post on Facebook, we got a total of 97 clicks at an average cost of $0.77 a click. Compare that with LinkedIn where we got 44 total clicks at an average cost of $4.47 a click. Clicks to our sponsored updates with LinkedIn were almost six times more expensive than boosted posts on Facebook! With this data in mind, it's an obvious choice which channel is superior for pay-to-play, right? Again, it depends.
If you just want people to see your content, Facebook is likely your cheapest option. If you want people to see your content AND enter lead information, the two networks are on a more even playing field. My experience has shown that clicks from LinkedIn are 500% more likely to convert to quality leads compared to Facebook.
Both networks have their strengths and weaknesses. Think about how much existing clients and new leads are worth to you and you can easily see the value in boosted posts and sponsored updates. By narrowing down your goals and paying attention to your metrics, you can make pay-to-play an invaluable asset to your business.

Almost There!
Enter your information to download the guide.