Once upon a time, businesses could easily reach their social media followers. Simply creating interesting content and pressing "post" was enough, but that fairytale took a turn a few years back. Today's social landscape requires marketers to be a bit savvier, and yes, have a credit card nearby. Want to make the most of your business's online presence? You need to understand the difference between organic vs paid social media.

A robust social strategy might be the key to your 'happily ever after,' so let's jump right into how you can make the most of your marketing spend.
A Quick Vocabulary Lesson
So what does "organic" really mean? How is it different from a "paid" or "promoted" post? Let's take a moment to understand the terminology.
Organic reach on social media refers to the number of people who come across your post without boosted distribution. These are people who happened to be on Twitter when you posted about your sale and saw it organically. Unfortunately, social platforms like Facebook use an algorithm to prevent business posts from inundating people's feeds, making organic reach very limited — but we'll get to that shortly.
Paid or promoted posts refer to content that businesses have voluntarily boosted the reach of by using one-time or ongoing payments. These posts can be targeted toward specific demographics and reach a much larger audience than organic content.
Now let's get a better understanding of how organic and paid posts work across the three major platforms: Facebook, Twitter and LinkedIn.
Facebook
Facebook isn't just a place to catch up with friends and family; it's also a place of business where brands have the opportunity to build relationships with their customers. While this might sound like an exciting opportunity to business owners, most everyday users aren't too pleased to see their timelines filled with sales pitches and ads, and so people called for a change.
A few years ago, Facebook answered the complaints of its users by introducing a new algorithm that prioritized who and what we see. Now, posts by friends and family are on top, and the odds of seeing a brand's content are extremely low. For that reason, organic content isn't the best option for businesses looking to grow their audience or gather leads. But remember that posting regularly is still an important part of building a reputable presence.
So what can you do to get in front of customers? Use boosted posts and paid ads, or as you'll often hear, "pay to play." In 2016, social marketing spend reached over $30 billion, and by 2018 Facebook alone is expected to eclipse that number. But don't worry — you don't need to shell out the big bucks to be seen.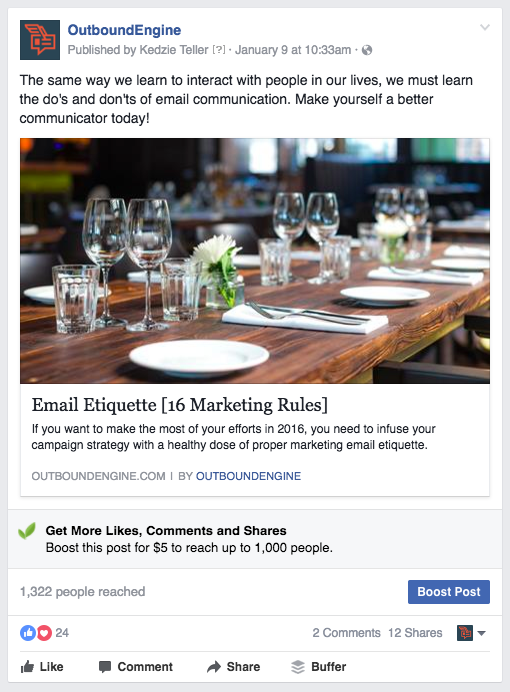 You can see above how a $5 payment could boost your content's reach by up to 1,000 views. Not bad, right? Before you start spending, you'll want to determine whether boosted posts or targeted advertisements are right for your objectives. Here's a great breakdown of how to make that decision and get things moving:
Not convinced that spending money on Facebook's boosted posts or paid ads is right for you? That's fine! Just keep your page active with organic posts and encourage others to share and like the content. If all else fails, we're always here to help automate things.
Twitter
Facebook isn't the only place marketers are spending money; Twitter raked in a total of $545 million in Q3 2016 revenue alone. But, as you might expect, each network has a different spin on its posting features.
Until last spring, Twitter's timeline was entirely chronological. They placed organic businesses content on an even playing field as posts by family and friends. Now, Twitter's timeline uses a feature called "Show me the best Tweets first," where the content you may have missed while away from the platform is pushed to the top.
Once users are on the page, content will appear in real-time, so businesses still have an opportunity to reach their audience organically. Post engaging information and your brand could become a staple at the top of your customers' feed.
For paid posts, Twitter has a feature called "promoted tweets," and they come in a variety of types depending on your objectives.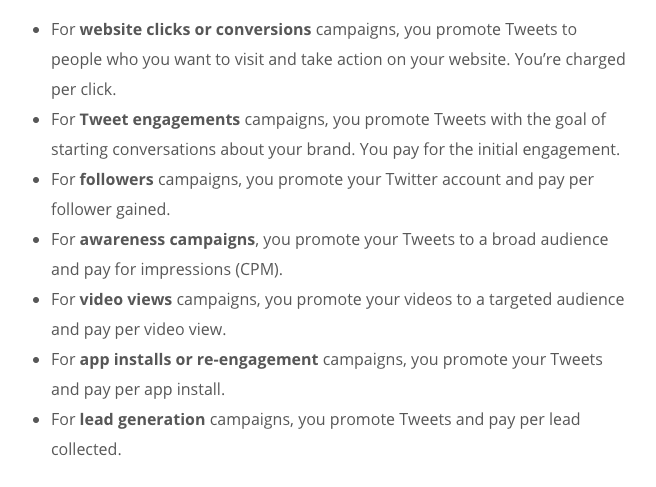 Twitter provides users with an easy-to-follow process for those looking to build their first campaign. Users target their audience based on location, gender, languages, device, platform, and even carrier. But keep in mind: the more specific you get, the higher the cost (which generally runs between $0.50 and $10.00 per engagement).
Your final product might look something like this post by our friends at Spredfast. The content is as robust as you decide to make it and blends in like a normal Tweet, but users will be alerted to the fact that it's promoted.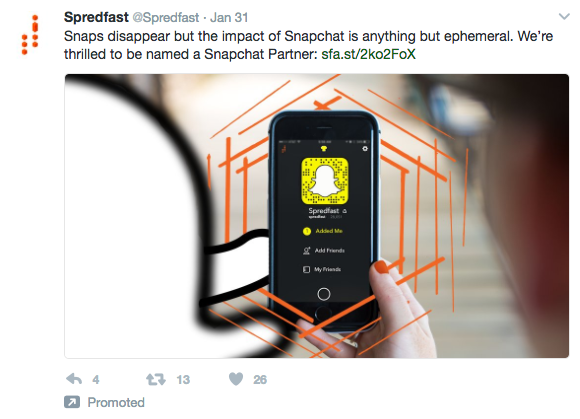 Want to know more? Twitter has a very helpful campaign site.
LinkedIn
LinkedIn might not be the first place you think to promote content, but presenting yourself as the expert in your field is another way to rise above the competition. Lucky for you, LinkedIn has a few ways to help businesses get noticed.
Just like with Facebook and Twitter, users can post organic content directly on their business page, and the content will appear in their network's timelines. Here at OutboundEngine, we are connected with thousands of business owners we want to see succeed, so you will find our page regularly updated with marketing tips, industry stats and ways to be more efficient at work.
While our network is actively engaged, not every business is so lucky. The question then becomes, is the audience you care about looking at their feed that closely? If you're worried they don't see your content, LinkedIn has five types of paid posts and advertising. Here's a sample of "sponsored content" that appeared on LinkedIn this morning: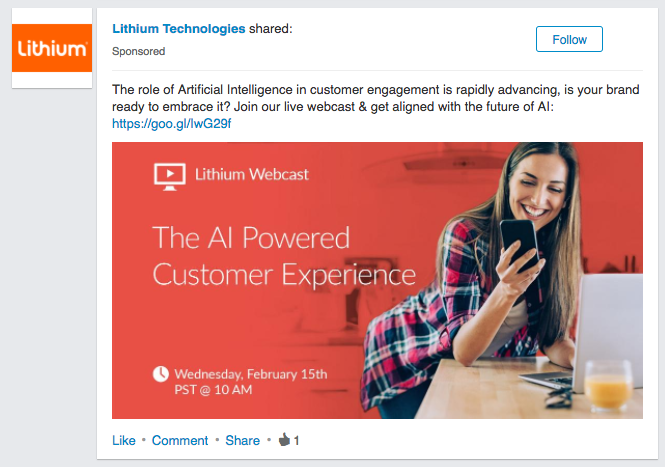 While this type of content appears directly in your timeline, other options can target users as direct messages and sidebar advertisements. Check out all your options on LinkedIn's site.
Wrap-up
Whether or not putting a little marketing spend toward social is in your budget, one thing is true across the board: you need to be social in today's digital world. Take some time to test out content with organic posts and see what your followers respond well to. Once you feel you really understand what your followers want to see, give paid posts some serious consideration.
In the meantime, we will always be here to lend a helping hand.


Almost There!
Enter your information to download the guide.