At OutboundEngine, our first priority is our customers. The products we build and the features we improve are inspired directly from your feedback and your needs. That said, we heard y'all loud and clear: custom pages and custom links on your website are back!
Customize the pages on your website header
We removed the option to have custom pages and custom links in the header of your website in an effort to give it a clean, streamlined look. Instead, we added a "More Links" tab and all custom pages and links lived there.
What we didn't realize at the time just how many of you loved having that level of customization! As a result, custom pages and custom links will now live on their own in your website header, instead of living under "More Links." Promote listings (as seen below), additional services, and more.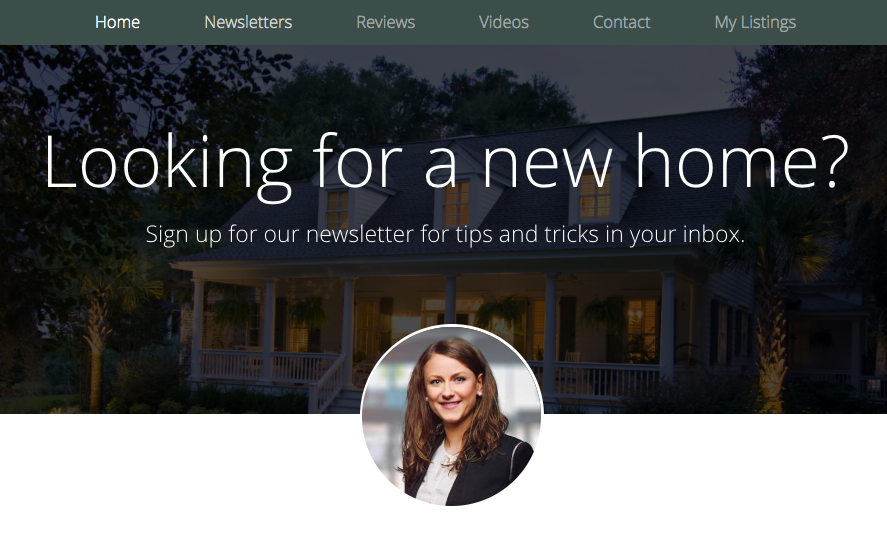 Updates like this come directly from our customers, so if you have a feature idea, make sure to let us know at [email protected].
Reconnecting social accounts is easy with the mobile app
We know it can be frustrating when LinkedIn and Facebook disconnect from your OutboundEngine account. While we know this security feature is in everyone's best interest (keeping your personal information safe is really important), it can be a hassle to reconnect social accounts every 60-90 days.
We listened to your feedback and are excited to announce that it's now super easy to reconnect social accounts. It just takes a couple of clicks in the OutboundEngine mobile app. Now you can reconnect your LinkedIn and Facebook accounts anywhere, anytime. Keeping your social accounts connected is important because it allows OutboundEngine to post content to LinkedIn and Facebook on your behalf which helps you stay top of mind with your network and encourages referral business.
We'll even remind you! When an account requires reauthorization, you'll see a push notification in the OutboundEngine app.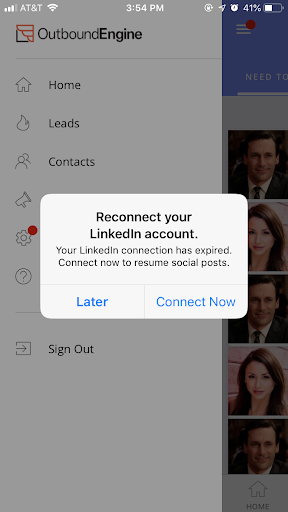 You'll then be directed to the Settings page in the app. You'll be able to reconnect your accounts in just a few clicks. It's really that simple!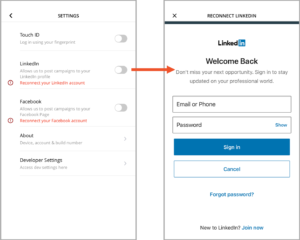 Don't have the mobile app? Download it today
With the OutboundEngine mobile app, you'll get real-time alerts when a contact reaches out with a question or request for services. You can also follow up with them right there on the spot via email or text. Additionally, view campaigns, see who clicked on your content, and more. Download it now!