When it comes to deciding how to spend valuable marketing dollars, real estate agents have more choices than ever. With that in mind, we set out to determine which marketing investments are generating the best results for real estate professionals. We asked 300+ real estate agents how they find new business. In this post is a preview of what they said. To see a detailed breakdown of the results and recommendations based on how agents responded to our ten question survey, click here and fill out the form for free access to the full report.
Get the full report: 2017 Real Estate Marketing Benchmarks Report.
On Referrals
Real estate agents want referrals.
43.8% of real estate agents would invest in referrals if they had extra budget for marketing.
89.3% of real estate agents said that referrals from current and previous clients are one of their most successful marketing tactics.

41.5% of real estate agents do not spend any money investing in referrals.
On Leads
Real estate agents also want leads.
New leads were the top priority for real estate agents, but only 16.5% of real estate agents had success with purchased leads.
Purchased leads are the #1 item agents spend $100+ a month on.
What's Inside the Report?

Key Takeaways
Top Marketing Areas of Focus for Agents
Biggest Marketing Challenges for Agents
Most Successful Marketing Tactics for Agents
Agent's Monthly Spend by Marketing Channel
Where Agents Would Spend Extra Dollars
Why Being Remembered Counts
The Best Kind of New Business
Favorite Online Marketing Channels
Recommendations
Key Stats by Topic
Wrap-up
Bylines & Methodology
Wrap-up
Today, there are more options to market and promote a real estate business than ever. Real estate agents have tried everything from traditional advertising to digital methods such as email and social media marketing…all to grow their businesses and become more successful. Knowing this, we set out to report on where real estate agents are spending their marketing dollars and which channels are most effective at bringing them new business — here's what we uncovered.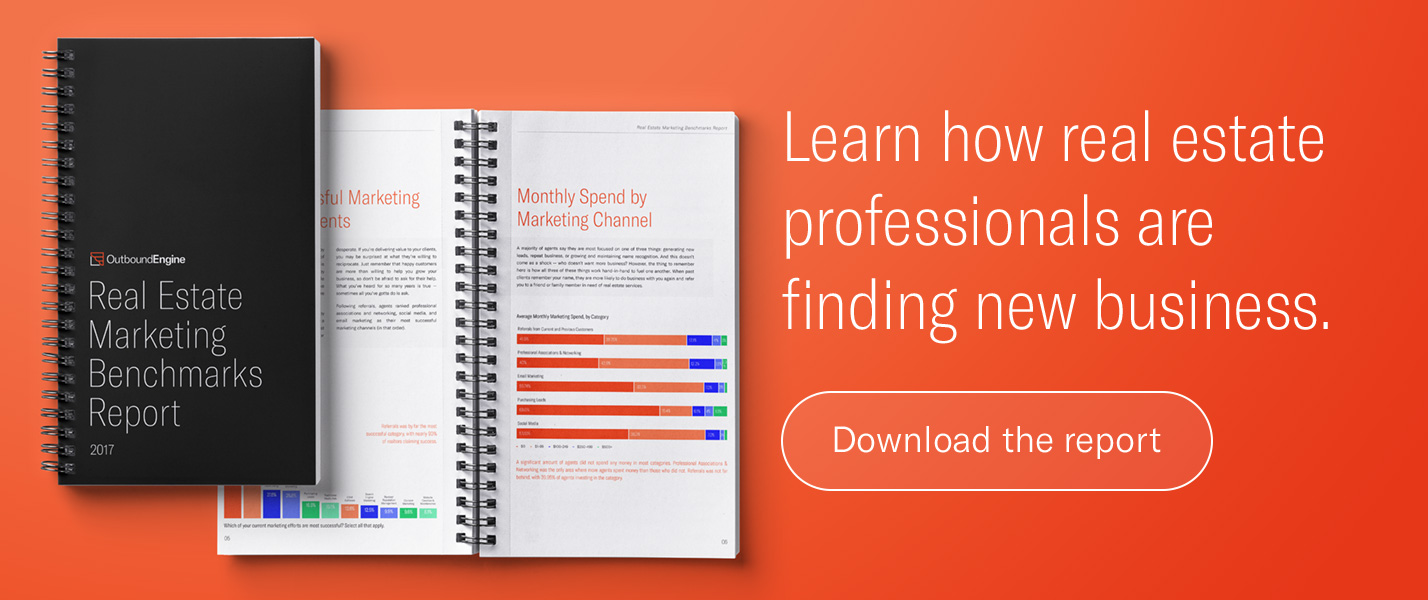 Here you go!
Get the 2017 Real Estate Marketing Benchmarks Report Now.