For many small businesses, priority number one is figuring out how to stand out from the competition and achieve wider awareness in your local market. But what's the best strategy? Should you focus on offline or online marketing? How do you prioritize marketing tasks? Where do you spend your budget, and what should you outsource?
We're here to help answer some of those questions and demystify marketing for small business owners and independent professionals. These 10 small business marketing strategies are helpful to review regardless of what stage your business is in.
1. Reexamine your marketing goals.
If you've been in business for any amount of time, it's vital to look at what you've been doing with your marketing. The goals you set years ago might no longer be the right path for your business to take, especially given the changing circumstances small businesses are facing today.
Check in on your marketing and sales goals. Most small business owners set marketing and sales goals when they establish their business. But after you're up and running, the day-to-day of actually managing your company is time consuming, which is why most big-picture marketing tasks tend to get put off. When you review those goals, make a plan to evaluate your marketing at regular intervals going forward.
Set an unbreakable meeting in your schedule for weekly and/or monthly check-ins. Speaking of regular evaluation, use these check-ins to go over your goals and how your marketing supports them. Have an honest conversation with yourself about what is working and where you need to look to delegate.
Scope out your competition's marketing. Are they using strategies you aren't? Does it seem to be working for them? Make note of any that interest you and consider adding them to your own marketing plan in the future.
2. Take stock of what you're already doing.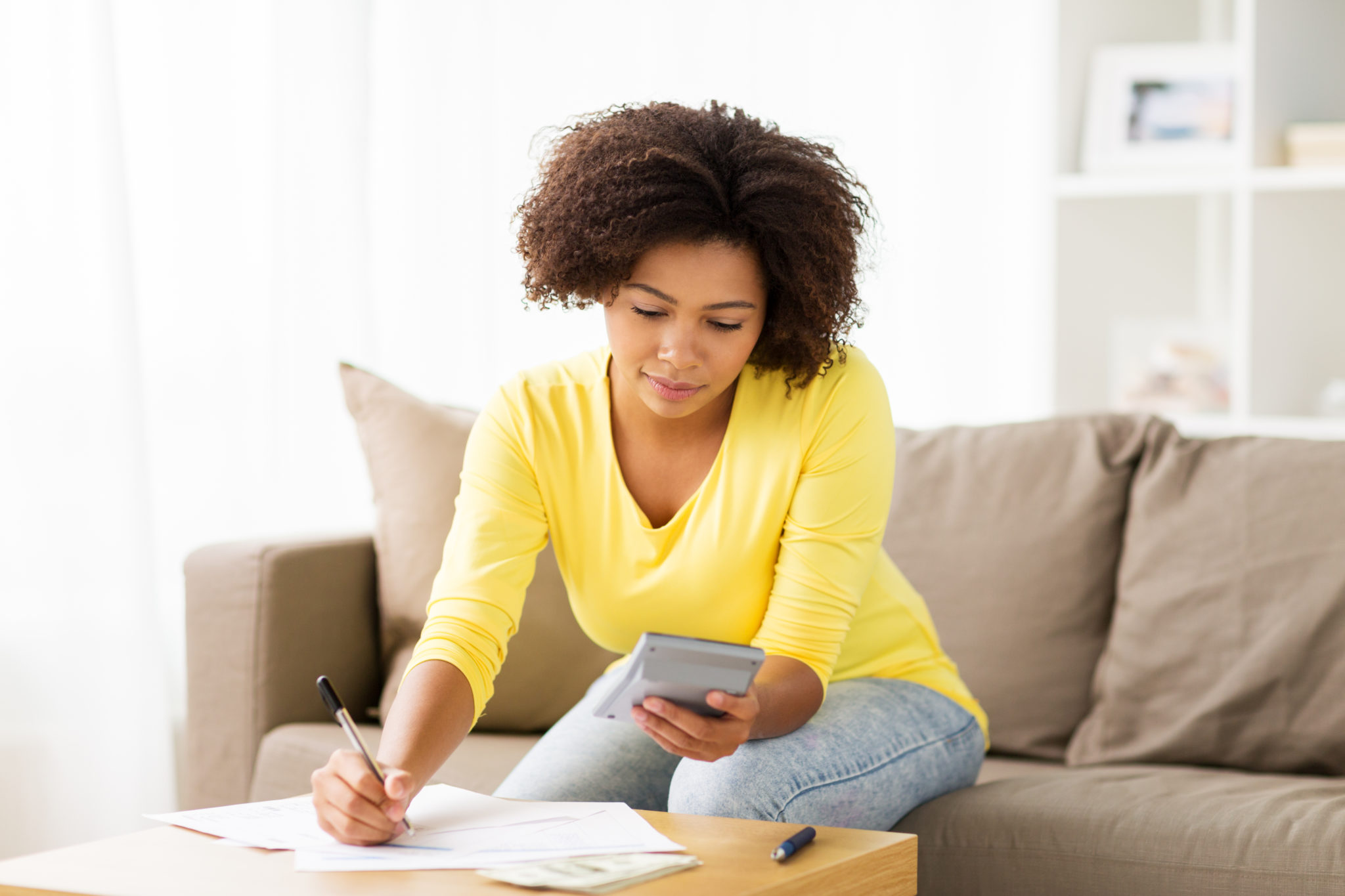 Your resources are precious. The best small business marketing strategies revolve around helping you save in one or more of these areas. Take inventory of your overall marketing plan and pay attention to what you're investing versus what you're getting back.
What do you spend the most time on for your marketing? How about money? Does that one small business marketing tactic you dread doing every day really produce results that measure up to the effort?
The most effective small business marketing strategies are the ones that produce tangible results, don't take up too much time, and fit within your current budget. Focus on those and eliminate the rest for now.
3. Follow up, follow up, follow up.
As far as small business marketing strategies go, it's much more productive to follow up with leads you've contacted before than it is to reach out to new ones. Try some of these follow up ideas to get new business through the door sooner than later:
Follow up with happy customers. See if they'd like to work with you again or ask for input on what services they'd like to see offered by your business.
Ask current or past clients for referrals. Referrals have a higher conversion rate and close faster than other leads.
Stay consistent with email communication. By maintaining consistent communication, you stay top of mind with your network so they think of you when they need your professional expertise.
4. Maximize your online reviews.
Review sites like Yelp create a powerful marketing opportunity for small businesses. Take control of your online presence by finding your digital advocates, streamlining review requests, and showing off your best testimonials.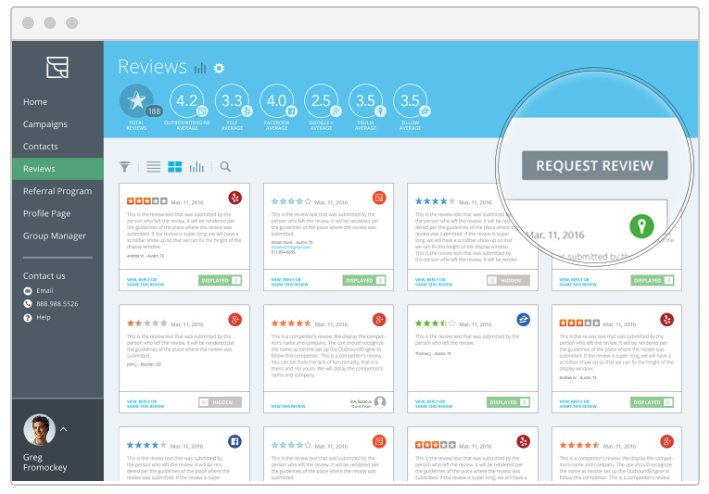 If you're worried about a lack of reviews, be sure to read our guide to getting more online reviews, and if you're facing negative reviews that you're not sure how to handle, check out How to Handle Negative Reviews.
And if you're already well reviewed, show off your success by featuring those reviews on your website. And speaking of your website…
5. Improve website performance.
If you have a website (and you should), one of the best small business marketing tactics you can use is to optimize it as much as possible. Here are a few ways to get more benefit from your small business website:
Use it to capture leads. Make sure you have forms available for getting in contact, referring a friend, requesting a quote, or whatever is important to your business. The websites we build for our small business customers have conversion optimized forms for getting in touch, submitting referrals and more.
Add live chat. Live chat (staffed by a person, not a bot) can triple your conversion rate and offer current clients a 24/7 support portal.
Showcase your business and brand. Share reviews from happy customers, interesting content, and anything else that shows how you stand out from the competition.
Make it mobile friendly. Mobile makes up more than half of the world's global web traffic. Google rewards websites who are mobile-friendly by featuring them before those that are not. Make sure your website works well across all devices.
Publish helpful content. When you include a blog or newsletter section on your website, not only do you give visitors a reason to return, you may even show up in more online searches.
6. Optimize your online business profiles.
There are lots of things to learn about Google Business Profiles. We'll sum it up by saying you should be sure your business has one, and that it's accurate. It'll give you a leg up in search results and a new avenue for sharing your brand.
While you're at it, take a look around at your online presence on other sites, like YellowPages, Yahoo!, Yelp, Bing, and so on. Does all of your information match? If not, you're likely losing business to competition that is easier to find. OutboundEngine has a feature that scans your business, syncs your information, and locks it in so you can stay in control of your business all in one place.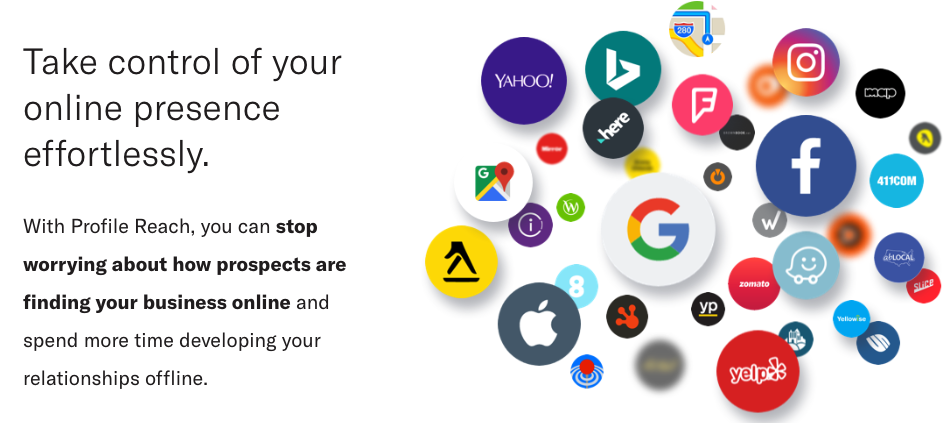 7. Automate your marketing.
One of the smartest small business marketing strategies a business owner can use is to delegate certain projects. Tasks like email marketing, social posts, and creating content are time-consuming but necessary. Consider working with a company that takes care of it for you so you can spend your time with clients instead of worrying about marketing.
8. Create and share video.
In a report on 2019 marketing trends, more than 50% of participants surveyed said they consume video at least once a week. Small business owners should consider including this medium in their marketing strategy to stay competitive. Consistently publishing high-quality webinars, YouTube videos, or live stream content can help more prospects find you.
9. Score speaking engagements.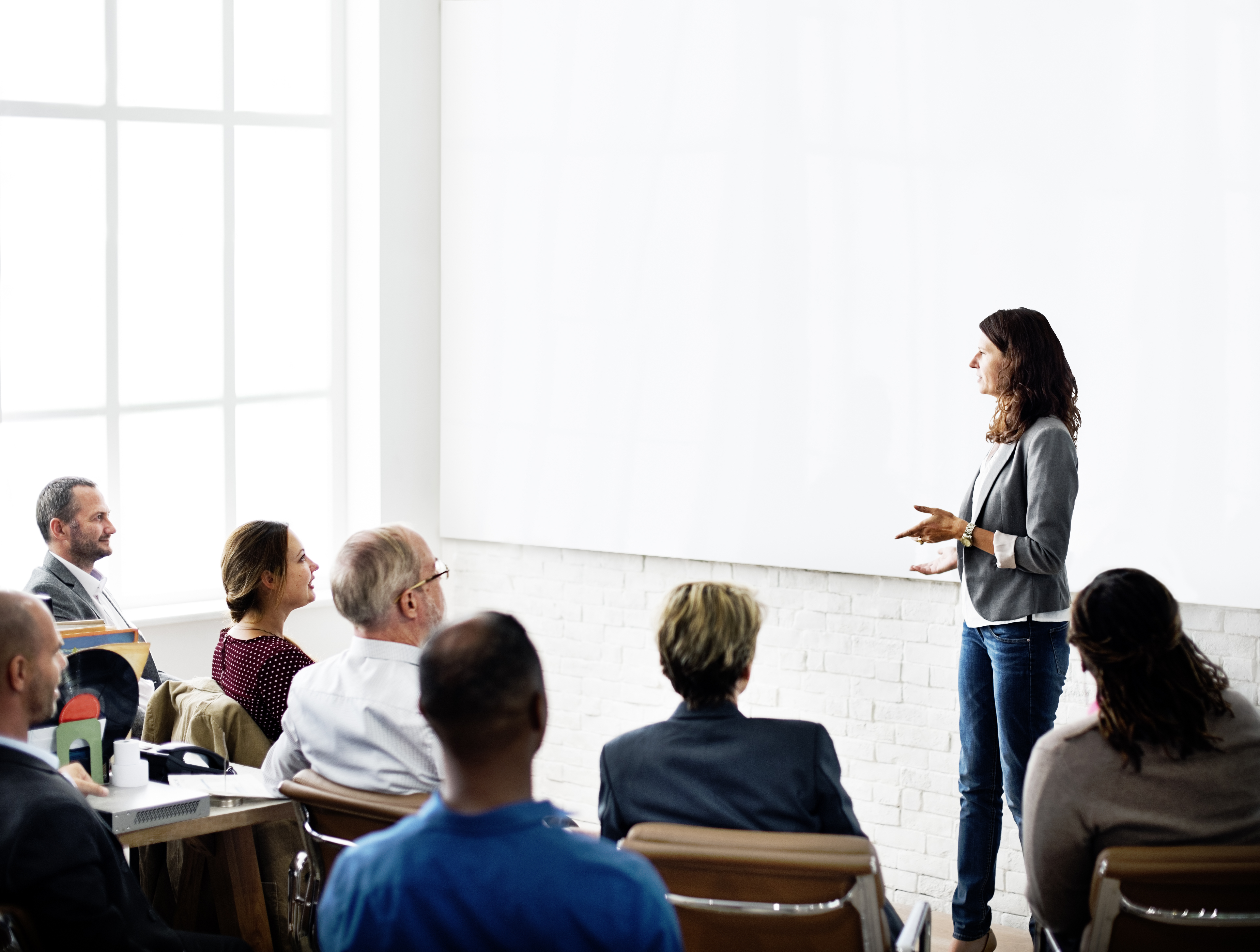 Having a strong reputation in your industry is one of the more effective small business marketing strategies. Being a featured speaker at a formal event shows prospects and clients you're an expert in your field.
Think about reaching out to local organizations who host regular conferences, festivals, and seminars. Pitch them your speech and get added to their programming for their next event.
You can also create your own speaking opportunities. For example, you could offer free lectures on retirement planning for people over the age of 50 or a first-time homebuyer mini boot camp. You can speak directly to your target audience and possibly see some leads and referrals.
10. Become a member.
No list of small business marketing strategies would be complete without tapping into local resources. Word of mouth marketing is a powerful tool and fellow businesses can help spread the word about your business. Professional development and networking opportunities can be found right in your neighborhood.
Here are a few groups you should consider joining if you want to improve your small business marketing:
Community groups. Real estate agents can join a local neighborhood council. You'll be tapped into the wants and needs of a local community, and solidify your interest in the community beyond just trying to make a sale.
Meetup groups. A quick search for "insurance agents" on Meetup.com yields multiple options. For example, in Los Angeles, those options include a monthly networking group, a series of career development workshops, and an improv group for building sales confidence.
Business associations. Wellness professionals can look into joining the International Association of Wellness Professionals. Members receive coaching and tutorials on a number of business areas specific to the industry.
Final Thoughts on Small Business Marketing Strategies and Tactics
As we mentioned earlier, the best small business marketing strategies are the ones that work for you. The only way you can figure that out is by experimenting and seeing what sticks over time.
Regardless of which of these small business marketing strategies you choose, remember that it's all about connecting with people. These connections happen online and offline, so be sure to include a mix of both of these tactics to engage with your entire network.
From setting up your online profiles to collecting your best customer reviews in one place to creating an optimized website, OutboundEngine can assist you with applying these marketing strategies to your business.