For some small business owners, buying leads sounds like a good idea. At first glance, it seems to be a shortcut to more business — after all, you're constantly struggling to get your brand in front of more people, so why not take the most direct route?
But all too often, small businesses get zero return on their investment. Buying leads is a gamble, so before you take the risk, consider what you're risking and what you could do with that budget instead.
The risks of buying leads
What are you truly getting when you exchange money for leads? While these factors may vary from industry to industry and seller to seller, we've found a few to be common.
1. Lead quality is unknown. You can't be certain that these are leads with any potential to become customers. Sometimes you can't even be certain their contact info will be correct. And even if it is, leads who have never heard of you are less likely to respond to cold outreach.
2. Exclusivity is rare. Most of the time, when you buy leads, you're getting the same leads that many, many others in your industry have bought. That means they'll already be receiving a flood of messages from your competitors. They may even have already chosen someone else. You're fighting an uphill battle from the start.
3. Reputation is elusive. There's usually not a lot of real information or reviews available for a particular lead seller. Can you trust that you'll get what you're paying for?
4. Customer service is nonexistant. Is there a working phone number you'll be able to dial after the transaction in case something isn't as expected? Or will you be out of luck?
5. It's expensive. Transactions can run into the thousands of dollars, with no guarantee of a return on that investment.
Many business owners turn to purchased leads because they think there's no better option. As long as you're doing it with open eyes and realistic expectations, you may want to try buying leads at some point. But before you do, make sure you've researched and tried some alternative strategies.
Alternative strategy #1: get more from your existing network.
Your existing network of past clients, referrals and prospects is your most important resource. It can be the source of not only repeat business, but referrals and positive online reviews as well. How much effort have you put into nurturing these contacts?
The best way to get the most from that resource is to stay in touch long-term with marketing touches that will keep you top of mind and brand you as an expert. Marketing automation can help you accomplish that goal.
HubSpot found that 80% of marketers using automation software generate more leads. There are a few reasons why marketing automation is so impactful. Here are three:
Helps build relationships. Businesses who nurture leads make 50% more sales and spend 33% less than non-nurtured prospects.
Increases lead numbers through content marketing. Content marketing gets three times more leads than paid advertising.
Captures prospect data for you. Marketing automation platforms like OutboundEngine provide an optimized website where marketing traffic is sent. It's a vital part of capturing interested prospects and re-engaging with past clients.
Alternative strategy #2: try social advertising.
Social media platforms are great for reaching your existing network, but running ads on social media will get your name in front of people who do not already follow you. People are spending more time on social media now than ever before, so this channel has become an even more reliable source of leads.
Another huge advantage of social ads: you can be sure you're reaching the right people. Facebook and Instagram allow you to target based on a number of factors, including interests and locations, so you're not spending money to reach people who will never become customers.
Many small businesses shy away from social advertising because they find it complex and intimidating. OutboundEngine's done-for-you social ads service takes care of the hard parts, like targeting and creative, so you don't have to.
Here's an example what that might look like: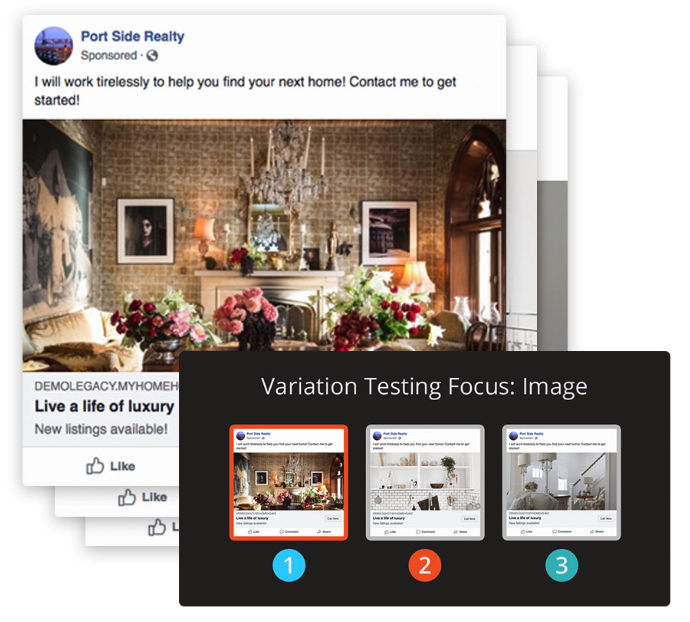 These are just a couple of ways you can spend your budget to generate business without taking the risk that comes with buying leads. If it sounds like too much work, OutboundEngine helps small businesses stay in touch effortlessly. Schedule a free, guided demo today to see how.