Have you ever heard the phrase "everyone's a writer"?
It's not far from the truth. Technically, anyone can write something. The question is, do you know how to write something great?
If you feel unsure about that last question, you've come to the right place. At OutboundEngine, we pride ourselves on writing engaging content for our customers every day. In fact, we have a team dedicated to this. We're called OE Studio and we stay on top of the latest content research and trends so that you don't have to.
Today, we're sharing our secrets. Use these tips from our experts to make sure the content you write wins over your audience.
1. Solve a Problem.
Relevance is the key to caring, and the easiest way to make your services relevant to your readers is to solve one of their problems. For example:
Imagine that you just inherited a family heirloom worth $100,000. Would you immediately start to worry that it's going to get lost, stolen or broken? That's a problem and you need a solution ASAP to put your mind at ease. Now your mind is open to suggestions.
One key to writing engaging content is to identify a common problem for your readers and then offer a solution quickly. Here are a few samples from real OE Studio newsletters to inspire you:
Example 1:
"Need help financing your green home improvements? A cash-out refinance could be right for you."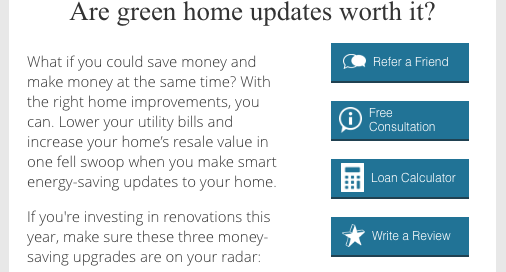 Example 2:
"Tired of hearing every little sound from your neighbors? Here's how to make your home quieter."
Example 3:
"Does the idea of moving have you frazzled? Moving can be a lot of work, but this checklist will keep you on track."
2. Tap into feelings.
To write engaging content, use words that will evoke an emotional response from your reader. Some marketers call these "marketing power words." Here are a few examples:
Don't shy away from using the word "you." It's a powerful word because it encourages the reader to insert themselves into the story you're telling.

Similarly, use the word "imagine" to encourage readers to imagine themselves really experiencing the story you're telling.
Trust is a very important emotion. Words such as "promise," "guarantee" or "proven" let them know you're trustworthy, especially if you also have real-life customer testimonials to back up your assertions. 79% of people trust online reviews as much as a personal recommendation, according to this survey. Don't be shy about using positive customer comments.
Sympathize and show the reader you understand their frustrations with phrases like "tired of," "never again" or "had enough."
Remember that if a reader is paying attention, it's probably because they really need a solution to their frustrating problem. Use words like "instant," "free," "fast," "easy" or "painless" to let potential customers know that your solution is simple, quick and no trouble at all.
One caveat: be careful when writing email subject lines as words like "free" can be spam triggers.
3. Inspire Action.
If your reader gets all the way to your call-to-action (also known as a CTA), then your content has achieved its purpose. You've given them relevant information and they're hooked.

Now that they're here, do you want them to say "well, that was interesting" and then immediately close their browser window?
No, definitely not. This critical stage is no time for your content to fizzle out. If a customer isn't clear on what to do with the information they've just consumed, then you are failing them. To avoid this:
Tie the information in the article back to a reason your reader should take the next step.
Make it clear what the next step is. In the content created by OE Studio on behalf of our customers, that next step is usually some form of "contact me."
Make it super easy for them to take that step. Provide a contact method for them to use right alongside the CTA. If a customer has to scour your website in search of your contact info or next steps, you're making it too hard. Good potential customers will take the easiest route, which is to give up.
Create a sense of urgency with words like "now," "today," "hurry," "limited time" or "don't miss."
Here are some real examples from the OE Studio team to help inspire you:
Example 1: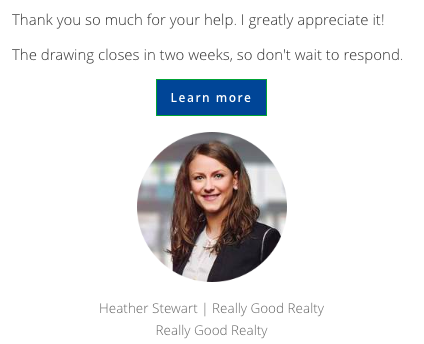 "The drawing closes in two weeks, so don't wait to respond."
Example 2:
"You can't always protect your car from potholes. But you can always reach out if you need help deciding how to manage pothole damage. Get in touch today if you have questions."
Example 3:
"Do you need help staging your home? Reach out today. Let's make sure we maximize the appeal of your home, simply and cost-effectively."
At OutboundEngine, every newsletter has a phone number and email address clearly and prominently displayed in the email template. But if you don't have that option, simply append the contact info to the end of your CTA.
4. One last thing…
Before you publish or hit "send," look your content over one last time to check for errors. Grammar mistakes can turn people off and can chip away at the perception of your brand. If you want to feel confident you're writing engaging content, making sure it's error-free is critical.
Don't undermine the point you're making by publishing a piece full of mistakes. Before you publish, take the time to spell-check. Then reread slowly to review for additional errors and correct any mistakes you find.
Pro tip: Find someone to be your content buddy. You proofread their work, they check yours for you as well. Everybody wins!
Ready to start writing engaging content?
Above all, we hope these steps make the process of writing engaging content feel possible. If not, our team of professionals can take over for you. OutboundEngine customers can expect interesting, informative and relevant content for both their email and social media marketing. Want to learn more? Get your free demo and see how great content helps your business.