There's no question that word-of-mouth referrals are effective — 92 percent of customers believe recommendations from friends and family over all forms of advertising. Yet so many businesses continue to focus their social media efforts on collecting new fans and followers rather than leveraging past clients for referrals. Where's the disconnect?
Perhaps the disconnect is literally a lack of connection. Too many businesses are forgetting to make that all-important connection with past clients and other social media contacts. The result is a loss of valuable referral business.
Why Connections Trump Collections
Social media is considered an effective marketing tool by 92 percent of small businesses. So it's no great surprise that everyone is striving to collect social media followers as quickly as possible. The problem with the collection method of social media marketing is that it doesn't place emphasis on the actual value of the followers.
Holding contests and offering free product giveaways are surefire ways to boost your numbers — and the numbers look great on paper. But what percentage of these new fans are legitimate business leads?
What good are 20,000 "fans" if there's minimal engagement? Wouldn't it make more sense to nurture relationships with an intimate following of legitimate consumers who have a true connection with your brand? Like past clients, for example?
Social networks are comprised of real people, and real people are worth knowing. Take the time to learn about your past clients and prospective customers. The more you know, the easier you'll make genuine connections, earn word-of-mouth referrals, and build a quality network.

The Other Side of the Funnel: Where Word of Mouth Happens
Traditionally, the basic sales funnel goes something like this:
Awareness – A potential client becomes aware of your business, either as a result of your marketing efforts, their own research, word of mouth or a direct referral.
Interest – Now that the prospect's interest is piqued, they start researching your products and services and exploring their options.
Desire – Once they've satisfied their curiosity, they decide they want what you have to offer.
Action – Finally, a transaction takes place.
If you want to take advantage of word-of-mouth referrals, the first step is to realize that marketing doesn't end with the completed transaction. There's more work to be done and more connections to be made on the other side of the funnel. This is where your referral business gets generated.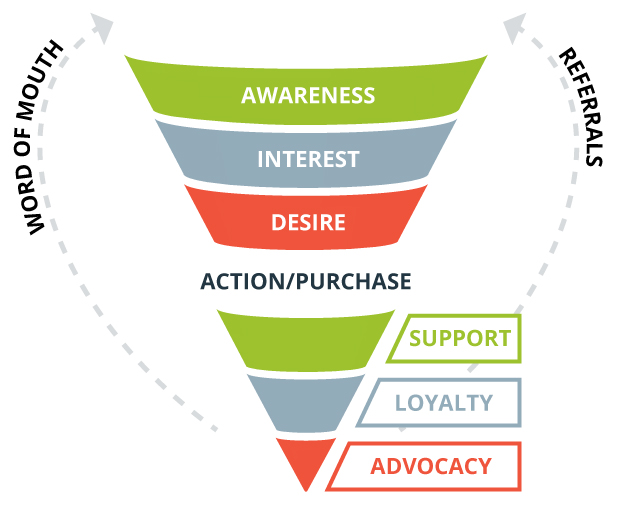 Once the transaction is complete, it becomes your job to provide support to your customer. This may be the most important step you take on the road to referral business. Stumble here and you're making the rest of the journey alone. Consider this:
According to a recent Credit Donkey survey, over 50 percent of respondents said they often or sometimes feel guilty about purchases.
AutoTrader.com found that 69 percent of consumers have experienced buyer's remorse after purchasing a car.
44 percent of new homeowners feel buyer's remorse, according to the Washington Post.
Buyer's remorse is a real problem. If you're not there to comfort your clients during their time of need and reinforce the positive aspects of their purchase, they won't be around to send word-of-mouth referrals to your business later on.
By providing support to a temporarily disgruntled customer, you build trust, strengthen your position as an industry expert, and lay the foundation for a long-term relationship. Effectively, you're escorting your client further down the funnel — to the loyalty stage.
A loyal customer is in it for the long haul. You've earned his or her trust and made a lasting impression. If someone asks for a recommendation, you can bet that client will give you the referral. Again, this is a great place to be, but it's not the end of the funnel.
Now that your customer is expressing a sense of loyalty, it's time to activate them to work on your behalf. This is what's known as the advocacy stage of the funnel, and it's here that you start to get business through word of mouth and direct referrals of family and friends.
The Importance of Staying Connected
Reaching the advocacy stage is the equivalent of winning the battle, but not necessarily the war. If neglected, even the most loyal of advocates can forget your name or lose interest in your brand. Staying connected helps maintain the relationship and keep you top of mind for referrals.
Staying connected can also maintain your credibility as a valuable resource, provided you have something of value to offer. Don't forget that:
In other words, when you provide your past clients with valuable content, free of charge, you're letting them know you still care. This maintains trust and loyalty and keeps them turning to you in their times of need. Better still, it keeps them talking about you, and word of mouth works to fill the top of your funnel.
One of the best ways to stay top of mind for business referrals is to keep your name in the spotlight. This can be done through email marketing and by leveraging multiple social media channels, providing a variety of relationship-building content through each. To be successful, you'll need to strategically consider your audience and the strengths of your chosen platforms.
Let's say you're a real estate agent and you're looking for new ways to provide value to your connections. Some quick research shows that 83 percent of home buyers find photos useful when researching a home. With the right strategy, you can use Instagram to provide your audience with new and exciting visual content, and you can share that content on multiple social media platforms.
Wrap-up
The road to word-of-mouth referrals and the referral business can be long and winding, but by making the right connections, you can ensure that it will always lead back to your door. Are you ready to trade in your collections for proper connections? Let us know how you're driving word of mouth and referral business to the top of your funnel!

Almost There!
Enter your information to download the guide.