If you work in the automotive industry, you're no stranger to change. As technology evolves, so does your business. But it's not just the products and services that have to change — it's also your approach to marketing.
If you're afraid your automotive business is falling behind the times, we've got your back. Here are eight marketing tips to help keep your auto shop relevant in today's high-tech world.
1. Expand Your Web Presence
Most likely you've already invested in a professionally designed website that's optimized for search. Great job! But there's so much more you can do to make your auto shop stand out online.
Small businesses that blog experience 126 percent more lead growth, and 95 percent say blogging has given their search rankings a boost. With that in mind, create a consistent schedule of useful, pertinent posts that showcase your expertise.
Putting your automotive business on the map (literally) using Google My Business can boost your search visibility. This simple task also ensures that search users find the most accurate information about your business, including your contact information, physical location and hours of operation.
And don't forget to claim your online profiles for social media, review sites and other business listings. This allows you to take full control of your online reputation. Just be sure to maintain consistent branding across all platforms. Using the same business name, photos, logos and colors helps make your auto shop instantly recognizable, regardless of platform. Take this local auto shop as an example:
The Auto Gallery on Facebook: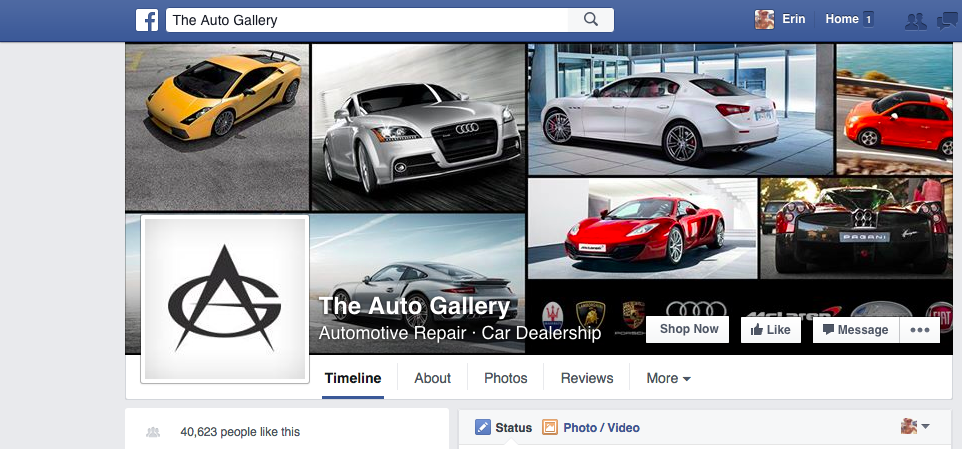 The Auto Gallery on Twitter: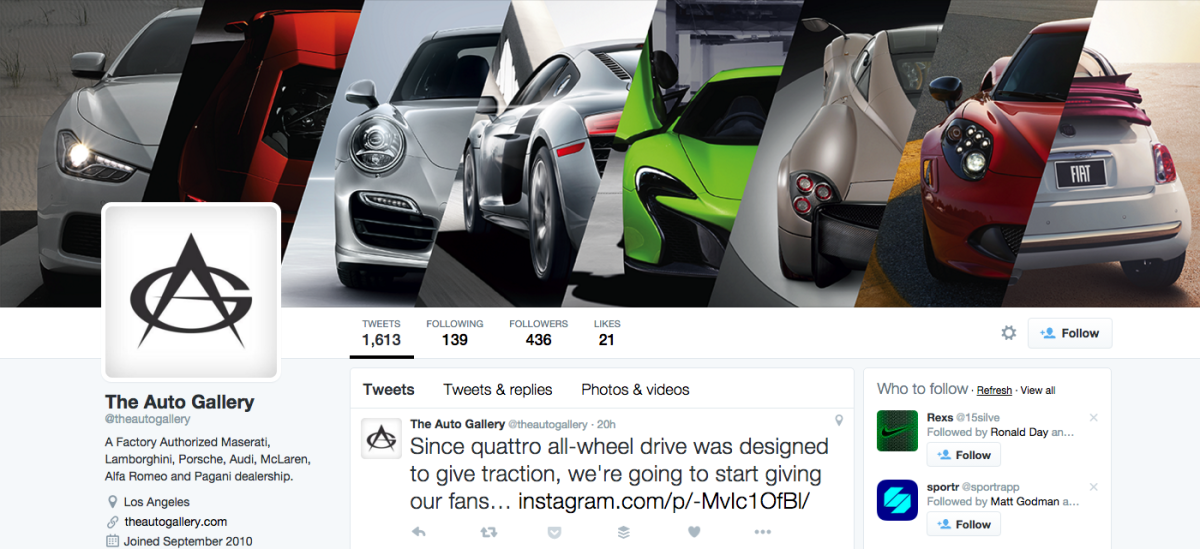 2. Focus on Content
All of the websites, social media profiles and email campaigns in the world won't make your automotive business more relevant if you're not offering something of value to your audience. That's where content marketing comes in.
For some business owners, coming up with content ideas is a struggle. Think about the questions you hear from customers on a daily basis. When someone asks how often they should change their oil, that's a blog post. Same thing when they ask about tire rotations. Ideas are all around, just waiting for you to take notice!
Granted, some questions will require more in-depth answers than possible with the typical blog post, but that's how long-form content is born. Create a white paper, FAQ or an e-book. Offer the content to email subscribers as a free download on your website.
And you don't have to stop there; consider the visual aspects of content marketing. Shoot a video demonstrating how to replace windshield wipers. Film a brief video introduction of your newest technician. Post before-and-after photos of your latest auto body repair. Anything that adds value for your audience is fair game.
Content marketing is not only a great way to keep your automotive business relevant to customers between transactions, it also introduces your business to new prospects. And statistics show it works, with 78 percent of consumers believing that businesses who provide custom content intend to build a strong working relationship.
3. Take Advantage of Email
You can't ask for a better automotive marketing tool than email. Ninety-one percent of consumers check their email at least once daily, and 70 percent say they always read emails from their favorite businesses. It's a direct line of communication and the perfect means of nurturing ongoing relationships, no matter where the customer resides in the buying cycle.
4. Become a Social Butterfly
According to Pew Research Center, 65 percent of adults engage on social networking sites. Shouldn't you be there to greet them?
You don't have to be everywhere at once. Figure out which social networking sites are most relevant to your audience and focus your attention there. For best results, post new content regularly. A stagnant social profile not only makes a bad first impression; it can also leave new prospects wondering if you're still open for business.
Just sharing content isn't enough. You have to engage your audience. Reach out and make a connection, pose questions and join in relevant conversations. If someone shares content you enjoy, let them know. Share it, leave a comment or simply "like" the post. This helps build your reputation as a trusted expert and thought leader.
And don't be afraid to have a little fun!
5. Integrate Email and Social Media
Add social sharing and email forwarding buttons to your email newsletters. This gives current subscribers the option of sharing your content with their personal networks. You can also use social media to recruit newsletter subscribers. Facebook CTAs and Twitter lead generation cards make it easy!
Here's our Facebook CTA.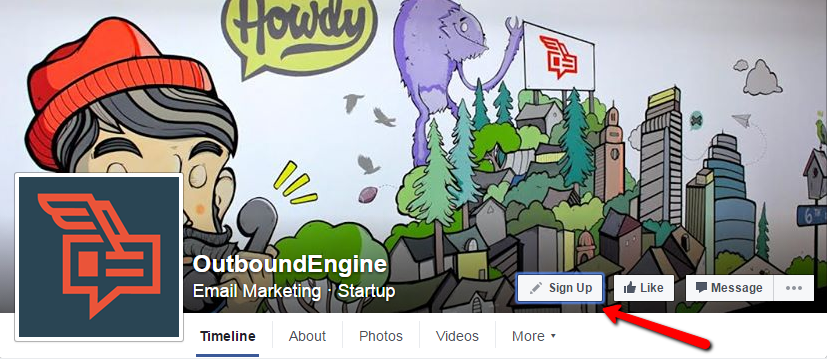 6. Create a Referral Program
According to Nielsen, 92 percent of people trust recommendations from family and friends more than any other type of marketing. But how do you get happy customers to spread the word?
Believe it or not, 91 percent of people are willing to give referrals, so it's really a matter of asking for them. This can be done in a variety of ways: face to face, via email, on social media or with a postcard. Special referral-based promotions can provide extra incentive, but often all it takes is a simple reminder that you'd appreciate the favor.
These days, it pays to ask for online reviews. After all, 92 percent of consumers read them!
Regardless of how you're asking for recommendations, the key to getting referrals and online reviews is to make the process as simple as possible. Whether you're adding URLs to your email signatures or creating a CTA on Facebook, give the customer everything they need to make the referral.
7. Monitor Your Results to Improve Your Marketing
Pay attention to everything, including Google Analytics, online reviews, social media comments and email campaign results. Every bit of information you receive can be used to improve your automotive marketing strategy. For example, analytics will tell you who's searching for what and where, and online reviews can help you gauge customer satisfaction.
Doesn't this guy sound satisfied with Bear's service?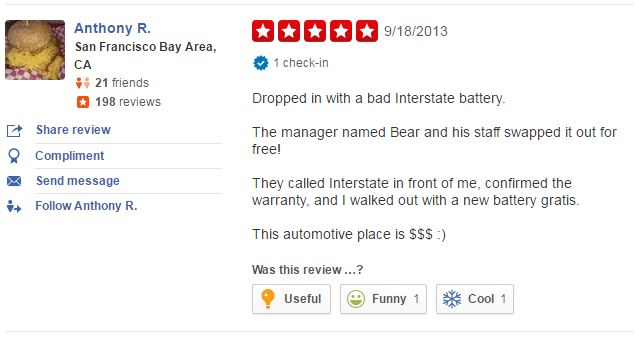 8. Consider Marketing Automation
If the idea of executing the first seven tips seems overwhelming, marketing automation might be more your speed. You can enjoy all the benefits of a fully nurtured, growing audience as well as repeat and referral business with none of the hassle. And as luck would have it, marketing automation is what we do!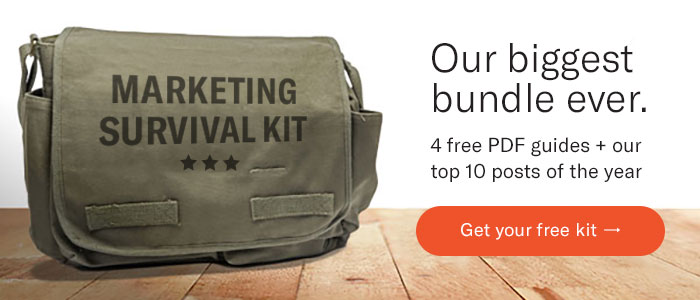 Almost There!
Get your marketing survival kit now.