Ever found yourself digging through a stack of business cards or scrolling through old emails to find the client information you need? You could save a lot of time and headache by investing in a CRM. A CRM helps small businesses perform tasks as basic as storing customer data and as complicated as automatically generating reports and submitting forms. Before we start talking about the ways CRM helps small businesses, let's first go to the very beginning and define what CRM is.
What is a CRM?
In its simplest form, Customer Relationship Management (CRM) software is technology or a system that helps organize customer information. This includes contact information, business interactions, meeting notes, appointments, calls, and more. It's a complete record of your entire relationship with each client and prospect.
How Does a CRM Help Small Businesses?
Investing in a CRM can help you streamline your day and improve your customer relationships. Let's look at a few ways to do that.
1. Replaces spreadsheets
According to a study of small businesses, 32% of respondents said they spend 31-60 minutes on data entry or manual tasks. 19% spend 61-120 minutes. That's up to two hours per day! If you're going to spend this much time on data entry, you should be confident you're able to make the most of that data.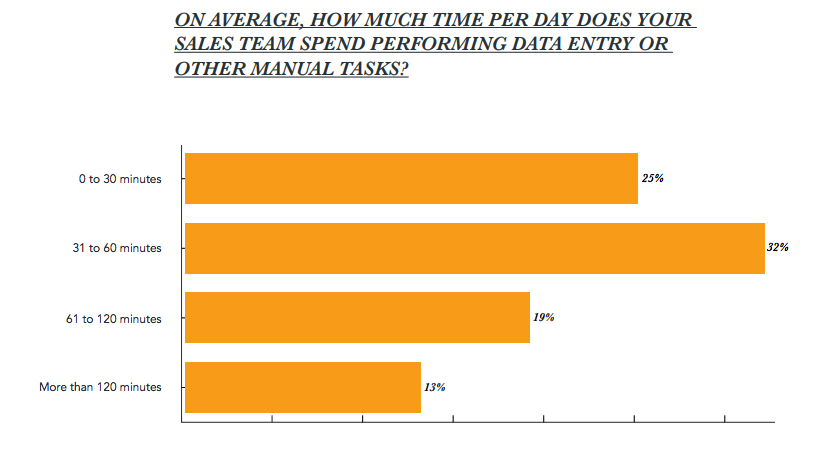 Updating a spreadsheet is how many companies store customer data, but this is not a long-term solution to keeping customer data organized. If you have any plans to grow or expand your business, a spreadsheet will not grow with you.
There are many reasons why a spreadsheet isn't a replacement for a CRM. Yes, both require the manual task of inputting data. But the payoff of inputting your data into a CRM is much higher than a one-dimensional spreadsheet.
It's likely your spreadsheet doesn't include all your client meeting notes, correspondence, call logs, and more. Your spreadsheet also won't list the interactions you've had with customers in chronological order, or help you develop standardized processes.
Updating one spreadsheet with contact information, a second document with meeting notes, and yet another spreadsheet with the status of your pipeline is not a smart use of your time.
With so many ways to be contacted and so many ways to save this information, staying organized improves productivity. A CRM helps small businesses by consolidating all of the contact information sheets, meeting notes, appointments, etc. into one place. There's no more worrying about where a spreadsheet is saved or when it was updated since everything lives in the same spot.
Got a CRM? Sync it with OutboundEngine.
Our marketing platform integrates with hundreds of business apps, including the most popular CRMs, to sync your customer details automatically.
2. Enhances customer experience
As all professionals know, keeping in touch with your customers goes hand in hand with having a successful business. Whether you're an independent business owner or part of a team, a CRM helps small businesses improve the customer experience by tailoring it to their specific needs and history with you.
For example: You made a note in your CRM during a call with Ms. Smith that her daughter was graduating from medical school. You set a follow-up activity in your CRM for the graduation date Ms. Smith mentioned, and a couple weeks later you send a congratulatory card.
Ms. Smith is so impressed that you not only remembered this detail but took the time to mail her daughter a card, that she tells the story at a graduation party. Now 25 of her guests have heard your name and associate you with an extremely positive customer experience. Even if only one person reaches out to you because of that simple act of quality customer experience, the ROI would be huge.
This is only one example of how a CRM helps small businesses enhance customer experience. You can also track a customer's spending history, pain points they've shared with you, birthdays, email correspondence, and more. These are all opportunities to check in, touch base, and start a conversation. All of these details go into making each customer experience personalized and effective.
3. Shares data within teams
Using the example above, a CRM makes the information about Ms. Smith's daughter available to anyone with access to that client, not just the last person who spoke with her. When you or your colleagues go into the CRM to look up a customer, everyone knows exactly where you left off with each customer.
In addition to team collaboration, a CRM helps small business owners who handle everything themselves. When you have customer meeting notes tucked away in drafted emails, stored in a note on your smartphone, or in files on different laptops, you're not exactly making it easy to access the information you need.
Centralizing data is especially important if you spend any time away from a computer or office. Having all of your information accessible via cloud technology is a must. Make it easy for everyone (even if it's just you) and store all of your data in one central location, accessible to everyone who needs it.
4. Decreases risk and increases efficiency
People change jobs and leave companies all the time. Storing customer information in a CRM decreases the risk that important knowledge will leave with any personnel changes. Information can be easily handed off to the next point person and built upon going forward.
Speaking of personnel benefits, another is that a CRM helps small businesses by increasing efficiency. Small businesses need to be as efficient and organized as possible. Using a CRM to track all customer information and interaction notes solves the mystery of who is doing what and what customers need attention.
This infographic by IBM shows just how much a CRM can impact efficiency. 50% increase in productivity and a 40% reduction in labor cost are two stats that should make all business owners very happy.
See every opportunity
The reason why CRM helps small businesses is right in the middle of its name. Relationship. Your business is built on the relationships you've established and the ones you are cultivating.
CRM technology helps streamline the important administrative tasks of keeping in touch with your customers. Once you have your customer data organized, marketing to them becomes a whole lot easier, because you can make sure they see the right message at the right time.
Got all of your customer data organized? OutboundEngine helps you turn it into more business. We'll keep you top of mind with engaging content delivered automatically to your customers on email and social media. And since we integrate with the most popular CRM tools, adding contacts to your marketing campaigns is a breeze. You can even use our business card scanner to add contacts and sync them back to your CRM.
Schedule a free demo and learn how OutboundEngine helps you get back your day and grow your business.