When you started building your business social pages, you likely had a number of goals in mind. Maybe you wanted to increase brand awareness, earn referrals or convert sales. But one thing you definitely didn't hope for was losing followers on social media.
It's unrealistic to think each social media post will be a viral sensation. You can't please everyone all the time. But if you're consistently losing more followers than you're gaining, or if you're simply not seeing the engagement you'd like to see, you may need to step back and look for areas of improvement.
Let's look at the various ways a user can unfollow you on social media and consider some of the top reasons they decide to cut ties.
How Facebook Users Unfollow
If a user doesn't like your content, they can "unlike" your page and disconnect from your brand entirely. That means they won't see any posts (unless they are sponsored posts) from your page anymore. Pretty straightforward.
But as social media platforms and capabilities have evolved, so have the ways users can disengage with your content.
Your content can be snoozed, hidden, or unfollowed altogether.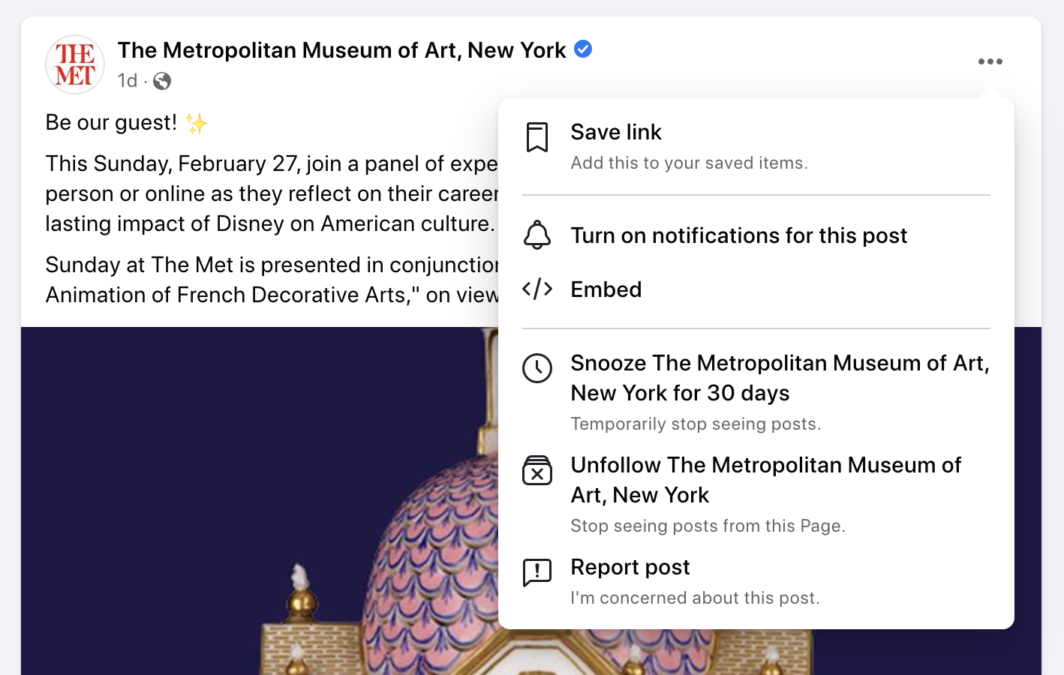 In fact, 21 percent of Facebook users hide branded content they find repetitive or boring from their news feeds according to a popular survey by Fractl and BuzzStream. Without being outright unfollowed, it's hard to know what content anyone is seeing.
There's another option as well that can hurt your page beyond losing followers on social media. If you manage to offend users, they can report your post and block you entirely. If your page receives enough of these, Facebook will take action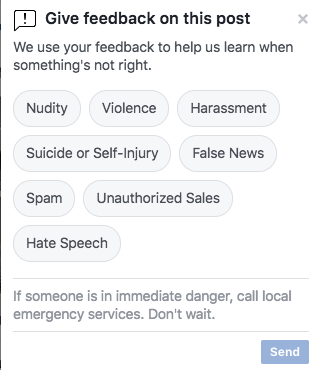 Why Facebook Users Unfollow
1. You're not sharing well.
Take an honest look at your posting habits.
Are you posting too often? If there are multiple posts a day, you are likely sharing more than you need to.
Are you not sharing at all? Look at your last few posts. Are there huge gaps of time between them? Your followers expect consistency and engagement.
What kind of content are you sharing?
Are you providing value to the reader or just posting photos from this morning's breakfast? Followers don't want a stream of unrelated, random content.
Does your Facebook page read like a sales pitch? Sprout Social found 57.5% of respondents said they would unfollow a brand for excessive self-promotion.
2. You're not being social.
Start and join conversations, respond to comments and complaints, and show your followers there's a real human being behind the scenes. It's important to remember that once you participate in a conversation, you need to continue it.
We always encourage our customers and partners to look at social media like a conversation. There is back and forth and give and take. If you are only ever talking and never engaging, you may start to see it translate into losing followers.
In addition, know that social media users expect quick responses. 83% of people expect a response within 24 hours, and 38% expect one in an hour or less. Even if you can't respond immediately to every comment, followers shouldn't be left hanging for days.
3. You don't have the "right" followers.
We've all seen these posts before. It used to be mostly "Like us on Facebook to be entered to win…" type of posts. More common now is the, "Follow us and tag three friends" approach to bump up exposure and be entered into a contest.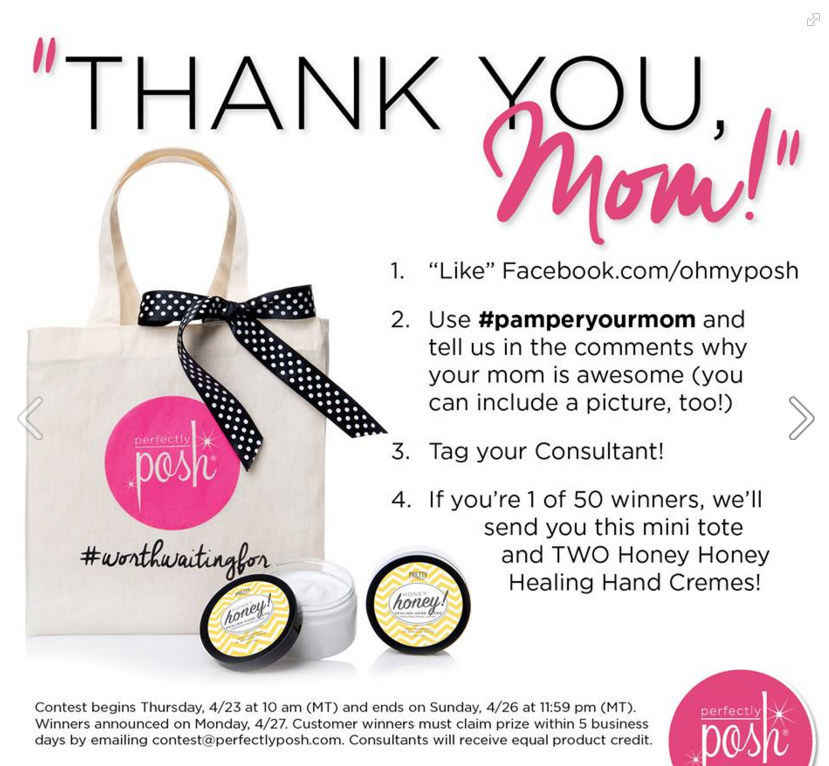 We're not saying you shouldn't try this every once in a while. Running contests can be a viable way to add new followers quickly or get some brand exposure, but the followers you gain may not be the followers you need. If they're not truly part of your target audience, they will almost certainly unfollow once the contest is over.
Buying followers is another quick way to get the wrong type of followers. You'll see engagement drop, your reputation could very well suffer, and most importantly, buying followers violates the terms of service for most major social media networks. Skip the quick fix and take the time and effort to build the right audience.
How Twitter Users Unfollow
Twitter users have several options for controlling what appears on their timeline. For example, they can:
Unfollow you entirely
Mute you so your tweets don't appear in their timeline
Report or block you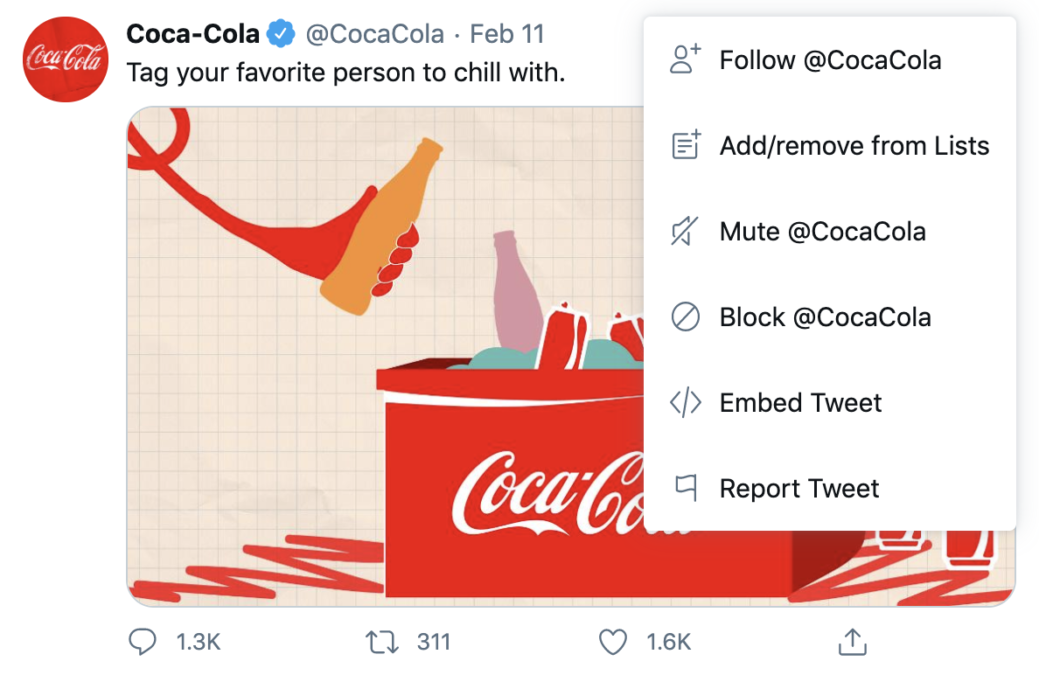 They can also now select that your content is something they are not interested in. When they do that, they are telling Twitter to change their experience so they see less content from you.
Why Twitter Users Unfollow
1. You're abusing the retweet (RT).
There's nothing wrong with retweeting content. In fact, you should! But it shouldn't be the core of your content strategy. Why should anyone follow you when they can go straight to the source instead?
Don't try to retweet everyone who mentions your brand or uses your hashtag. It's a well-intentioned mistake, but it can quickly clog up timelines and you will lose followers.
Also, don't ask for retweets. If your content is great, they will come naturally.
2. You're using the follow/unfollow strategy.
This is something most of us experienced within minutes of joining Twitter. Someone follows your account, so you follow them back. It's the beginning of a beautiful friendship… until you realize they've unfollowed you! This is no way for a business to build customer loyalty.
As mentioned above, this relates to the idea of building the right followers. Follow accounts that make sense for your business and brand. There's no need to follow every single person who follows you and try to keep a 1:1 strategy.
3. You keep changing your profile photo.
Twitter moves fast, and it's easy to get lost in the shuffle. One way your followers recognize you is by your profile photo. Unless you're a big-name celebrity, changing your photo can confuse your followers. Believe it or not, they may not remember who you are, especially if your profile bio isn't complete.
How LinkedIn Users Unfollow
When LinkedIn users tire of your content, they have two options. They can unfollow you (which keeps your business connection) or they can report your post. LinkedIn takes an interesting angle where they encourage sharing more than unfollowing by providing several ways to do so.
Why LinkedIn Users Unfollow
1. You're sharing personal content on a professional network.
Where other social networks continuously blur the lines of professional and personal, LinkedIn is a pretty straightforward professional networking tool. Yes, there are times when this line gets crossed, but for the most part, the content people share reflects the purpose of the platform.
LinkedIn is the ideal place to focus on your professional skills and relationships. Being human and real is an important part of being you, so add personal information to your updates when it makes sense. Here's an example of how you can weave your personal experience with a professional update: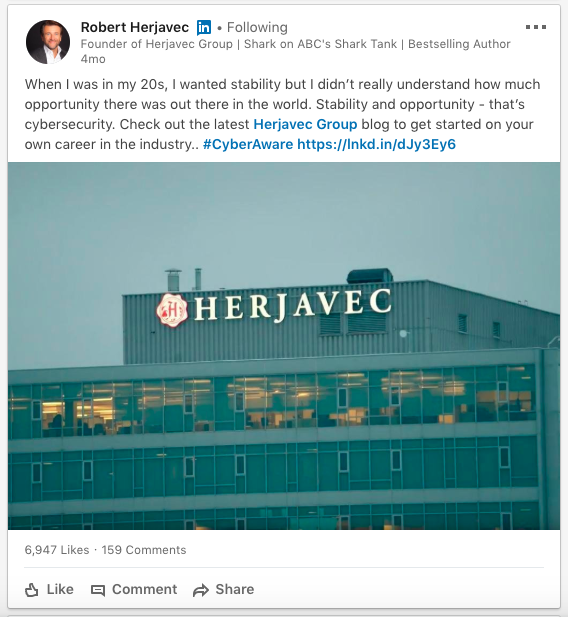 2. Your photo is missing.
Adding a profile photo should have been one of the very first steps you took when you created your LinkedIn account. If you still have a placeholder image or somehow forgot to ever complete this task, it's time.
According to LinkedIn, members who include a profile photo receive 21x more profile views and up to 36x more messages. Whoa! If you're a data person, this is all the evidence you need to load in that professional headshot, ASAP.
Ideally, you should use a professional headshot taken by a professional photographer. When that isn't an option, here are a few tips for making your photo the best it can be:
Use a clear, high-resolution image.
Be sure you are the only one in the photo.
Choose a photo without sunglasses, a hat, or anything that obstructs your face.
Keep your image current.
In summary, choose a photo that makes it easy to see you and only you!
Depending on how you've met your connections or how long you've known them, it can be hard to remember the name of each and every connection you've made. But with a nice profile picture, it's a lot easier to put names with faces. Don't risk losing followers on social media because you skipped adding a photo.
How Instagram Users Unfollow
It used to be all or nothing on Instagram. You either followed and account and saw all their content, or unfollowed them and saw nothing.
Now users have lots of options and control. At the top account level, they can restrict, block, or report your account.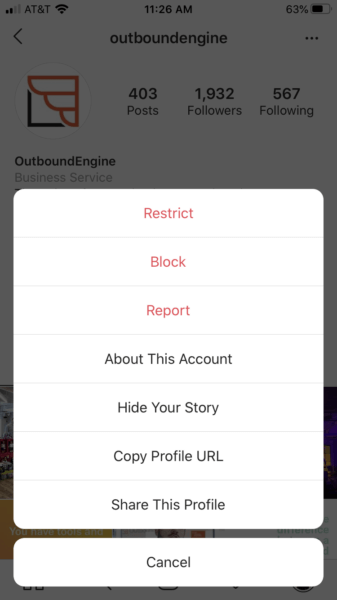 Regarding the content you post, there is now even more granular control over what users can opt to see or not.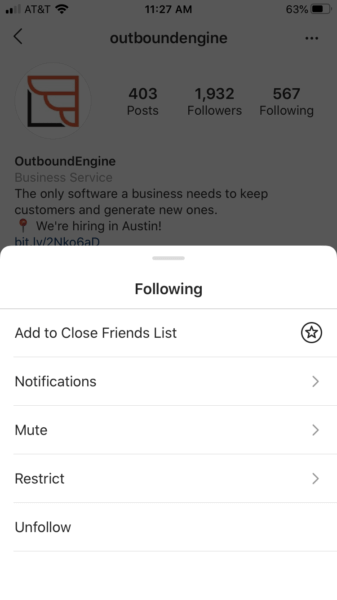 Altering these settings adds to the complicated reasons why some of your content sees high engagement and other posts are duds. Some people love Instagram stories, some never even check them. Relying on one route to be the answer will make your social media strategy feel incredibly frustrating when you see low engagement.
Why Instagram Users Unfollow
1. You post inconsistently.
If you post every month or two, you may be losing potential followers. You're basically allowing people to forget who you are and that they followed you in the first place. Not to mention the Instagram algorithm benefits accounts with engaged followers.
Be sure you're posting regularly enough that you stay top of mind.
2. You're clogging the feed.
Posting images, stories, and videos too frequently is overwhelming. If followers have to scroll through 10 of your posts until they finally see someone else, they're going to get annoyed quickly. Even if they don't unfollow, they'll likely mute you, which is just the same as unfollowing without seeing your count drop.
Save all this content for different days to avoid overwhelming your followers.
Stop losing followers on social media
If you're still feeling frustrated with losing followers on social media, we get it. OutboundEngine helps busy business owners by automating their social media marketing. That means writing, designing, and publishing interesting LinkedIn and Facebook posts on their behalf. We can also help grow your network with targeted social advertising on Instagram and Facebook. Learn how OutboundEngine works with a free demo.

Almost There!
Enter your information to download the guide.