Here's a quick multiple-choice question for you.
Scenario: your dryer stops working. It still turns on, but it looks like the drum inside isn't spinning. Do you:
A. Start Googling "local dryer repair" and see if someone can come out and fix it?
B. Start Googling "dryer drum won't spin" and see if you can figure out how to fix it?
If you answered B, then there's a good chance you may be interested in these free online learning resources to give yourself and your business a DIY boost without breaking the bank.
Online Courses
Googling "online classes" will give you millions of search results (no exaggeration). Start your search for free online learning resources in a more manageable way and go to LinkedIn. There are tons of helpful features on LinkedIn, but right now we'll just focus on the online courses.
LinkedIn Learning is especially convenient because you should already have a LinkedIn account. Once you're logged into your LinkedIn profile, you can find this feature in the top-right corner under "Work."
Topics range from technical skills like CAD technology to soft skills like leadership. You can sort classes by level of difficulty and time commitment needed, and save classes that sound interesting to you.
Need another reason to check this out? A couple of years ago LinkedIn acquired Lynda.com, an online learning platform that has been offering education courses taught by industry experts for decades. All Lynda.com courses can be found on LinkedIn Learning making it an excellent place to start your online learning.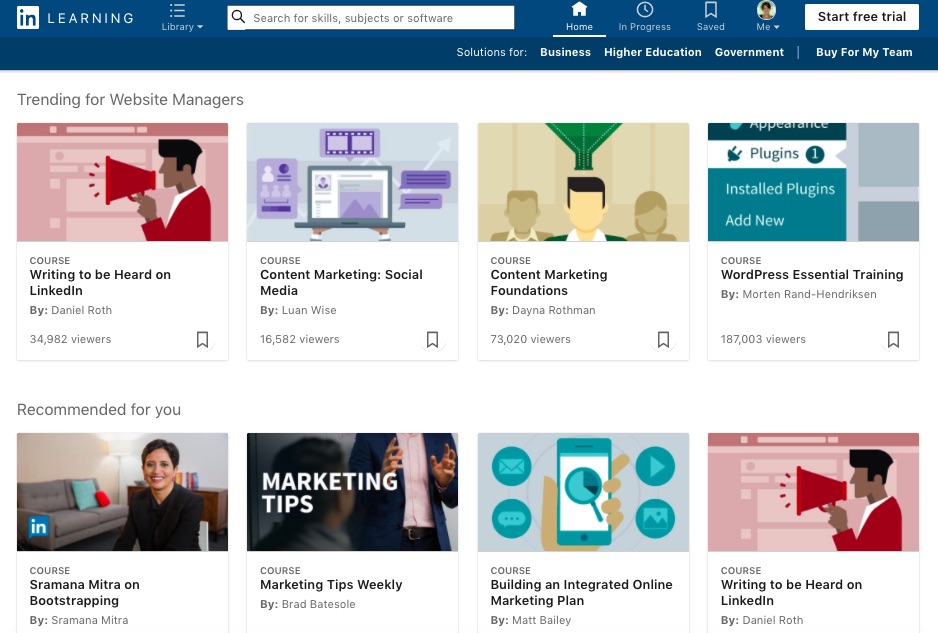 Learn to Code
If you're interested in learning a more technical skill, Codecademy is a great starting point. Their website has testimonials from learners around the world who started taking classes to strengthen an existing skill, start a side business, or shift career paths entirely.
Codecademy doesn't just want to help you learn new programming languages, they also want to help change the education system. One feature that we really like about this online learning resource is how it tells you upfront how long you need to complete each course and then tracks your progress with a percentage. Seeing that circle inch closer to 100% reminds you how much you're accomplishing!
Learn Graphic Design
To learn more about graphic design, Canva has tutorials. These tutorials can guide you through various design skills like learning about what fonts are best to use and how color impacts your message. Who knows, you may enjoy design more than you thought!
Try your skills out and make an infographic. Infographics are an awesome way to visually present data and interesting information. For those without graphic design skills or the time to acquire them, try free online learning resources like Canva or Visme. Share your designs on your social media platforms and see what your network thinks.
Learn From Your Audience
These two free online learning resources won't teach you a technical skill, but they will teach you about your audience. Surveys and polls are a great way to learn what people like, want, need, and so on because you're hearing it directly from the source.
The most popular and well-known online survey tool is SurveyMonkey. They provide already written questions and built templates if you're looking to get a survey together quickly, and you can measure and analyze the results.
SurveyMonkey also has the benefit of name recognition, which is often a tipping point when people are deciding on whether or not to respond. In addition, you can customize the surveys to include your logo and build unique thank you pages.
Facebook has made creating and taking a poll super easy. Since basically everyone you know is on Facebook, this is a great place to start.
The simplest way to set up a poll is to start making a post. When you click on the box, you'll see a bunch of post options below the text box. One of those is "poll." For a business, getting direct and more or less instant feedback from your audience is very helpful.
You can set up a poll with one question, multiple questions, make specific questions mandatory, and even add photos. Most people enjoy sharing their opinions, especially if the poll doesn't take too much time, so give it a try and see what you learn.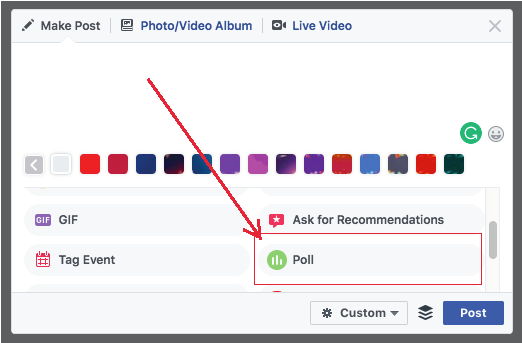 Learn to Create Videos
Video content is insanely popular and that popularity continues to grow. YouTube has over one billion users watching one billion hours of video daily. That's about 1/3 of all the people on the internet! Ask most small business owners if they know how to make professional videos and they will say no.
While it's easy to record a short video on your phone and upload it to Facebook or Twitter, you would probably classify 1% of those videos as professional content for your target audience. So how can you make polished videos without expensive equipment and extensive experience?
One of these free online learning resources is Biteable. Choose from existing templates or start a video from scratch. If you want to start with a template, narrow down the options by using Biteable's handy drop-down menus. Use their drop-downs to explain what your goal is and you'll be prompted with different templates.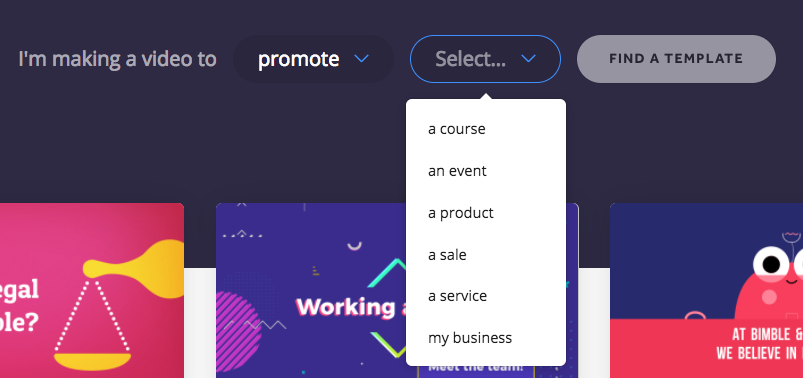 To get even more insight into the world of video, the Biteable blog is divided into categories: tips, inspiration, updates, and case studies. The "tips" category is chock full of helpful "how-to" information like how to write a video script, how to live stream, and how to get permission to use a song in your videos.
Learn More About SEO
Like each of the categories previously listed, becoming a master of SEO is a full-time endeavor. Very simply put, SEO, or search engine optimization, is how your content ranks higher within search engines.
In a nutshell, if you show up on the first page of a Google search, you've likely got the power of SEO behind you! Ask a handful of marketers for free online learning resources for SEO help, and they will likely direct you to Moz.
Moz has a self-paced SEO Training Course that is free for those interested in digging deeper into SEO. In addition to their training course, the Moz blog is full of helpful information about digital marketing subjects ranging from search optimization to data analysis.
Apply Your New Skills
While these free online learning resources can help add another layer to your marketing plan, they are not a replacement for building a strong marketing plan. Marketing is crucial to having a successful business. Like most important tasks, marketing takes time and effort to accomplish and do well. We believe all businesses deserve marketing. To learn more about how we can help you save time and stay top of mind with your network, check out what OutboundEngine can do for you.