LinkedIn, like all of the other major social media platforms, looks a lot different today than when it launched in 2003. It now as more than 722 million members and counting, and with all these eyes consuming content on LinkedIn, it's important to be present and take advantage of the tools at your disposal to grow your business, your skills and your reputation.
Here are five LinkedIn features that small business owners should try out:
1. LinkedIn Learning
LinkedIn Learning is the place to go if you're looking to get questions answered, are an avid learner, or want to develop a particular skill relevant to your career. You can search for skills, software and topics, and can save programs or presentations that are interesting to you. If you don't know where to start, scroll through what appears on your LinkedIn Learning home page. LinkedIn has segmented much of content into categories like Editor's Picks, learn within 30 minutes, and trends. They even offer a free trial so you can check out a few courses before you commit. Keep your skills and mind sharp – pick a course and start today!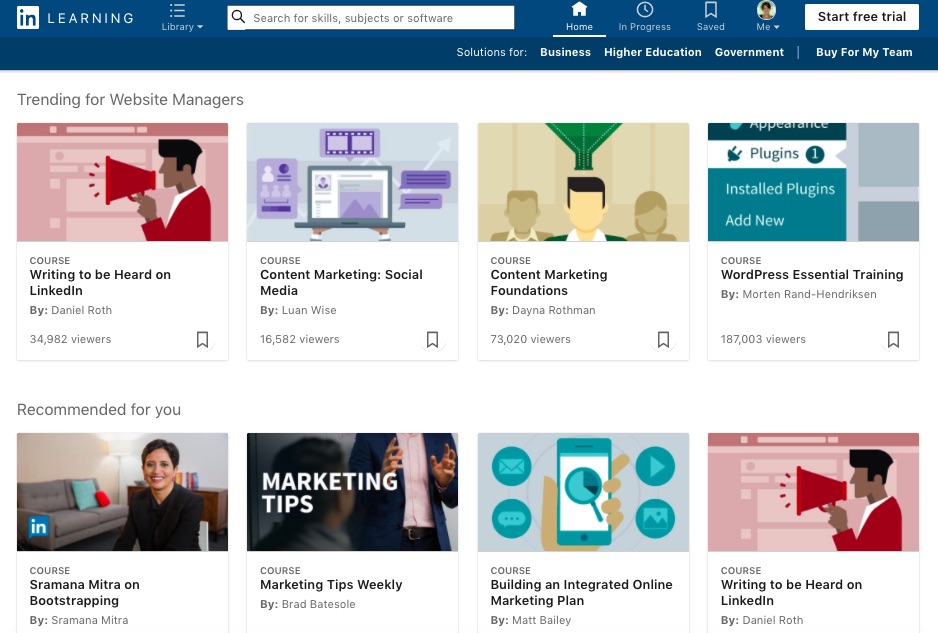 How this LinkedIn feature can help your business: There is really no downside to continuing education. Whether it's technical skills like HTML and SEO or soft skills like leadership, increasing your knowledge and strengthening existing skills is key to staying at the top of your field. By staying up-to-date on industry trends, popular topics, and what your competitors are doing, you'll be more confident than ever in your ability to support your clients' questions and needs.
2. LinkedIn Events
Did you realize LinkedIn offers an events feature similar to Facebook's popular events system? Many users aren't in the know, but on any given day you can find a wide range of virtual meetups, webinars and other events happening on LinkedIn. Just search via the top navigation bar and click on the "events" button to limit your query to events.

How this LinkedIn feature can help your business: LinkedIn Events serves as a handy networking and learning hub — there are events available for just about every industry for you to connect with peers and learn from them. You can also get a peek into the events your competitors are hosting for their clients and prospects, in case you want to try your hand at hosting one yourself.
Some examples:
Real estate events
Insurance events
Mortgage events
Small business events
3. Active Status
Facebook and Google have been using this little green dot for years to make it easy for users to chat with each other when they are online. You can now do the same on LinkedIn! When you go to a connection's profile page, Active Status shows a green dot next to their photo if they are online.

There is a slightly different dot if they are not currently active but have mobile push notifications enabled.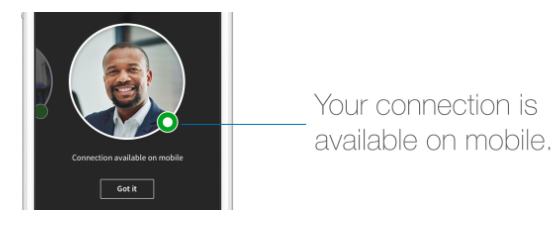 How this LinkedIn feature can help your business: When you only have a few minutes to check in, knowing someone is online and available increases the chances of them seeing and responding to your note. Same goes for having your active status seen. On that note, be sure that your active status is on.
Follow these steps:
Under your photo in the upper right, click "Settings & Privacy."
Under the "Visibility" section, click on "Visibility of your LinkedIn activity."
Then click "Manage active status" to make sure your connections can see when you are online.

4. Advanced Search
Anyone who shops online knows the difference between a good search and a bad one. When you are digging through hundreds of search results, endlessly scrolling is ineffective and leads to most people giving up and moving on. The best searches have multiple filters you can apply quickly to sort through and narrow down your results. LinkedIn has made their Advanced Search easier to find exactly who and what you are looking for by including filters to appear once you submit a term in the search bar.

How this LinkedIn feature can help your business: They can't contact you if they can't find you, right? These filters make it easier for people to find you if you have a complete LinkedIn profile. Keep your account and information up-to-date and accurate and you'll appear within various filters.
5. LinkedIn Publishing
After discussing some newer LinkedIn features to help your business we have discussed, we're ending on a feature that has long existed but is more polished than before. Writing and sharing content has been available to users for some time, but LinkedIn has made it easier than ever for users to publish original content that can expand your reach beyond your existing connections.
There is one newer advancement in LinkedIn publishing worth noting. Users can now adjust their settings so posts shared to "Public" can be viewed by anyone even if they are not signed into LinkedIn. This means the content you publish can be read by others who aren't logged into LinkedIn.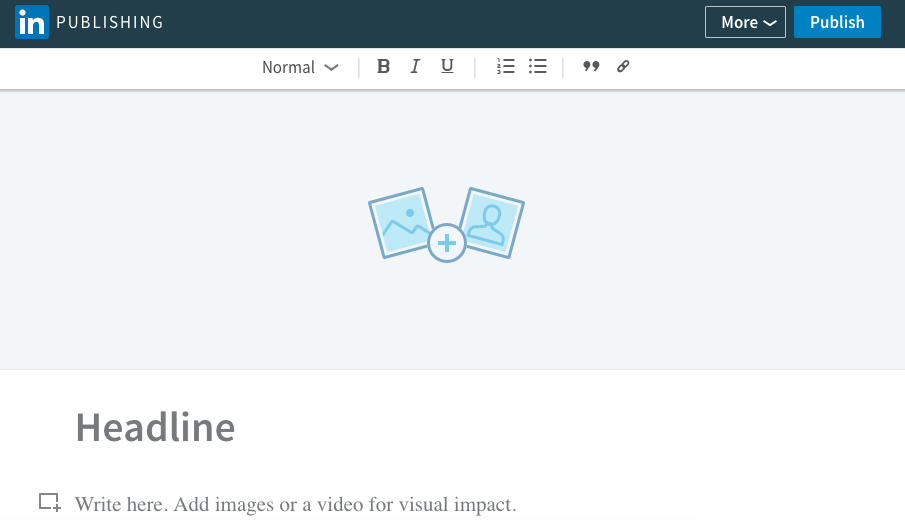 If you get stuck once you're on that page, check out this post about LinkedIn ideas you can do now.
Use this LinkedIn feature to help your business: As a result of sharing your thoughts and expertise, you are starting and continuing conversations that may lead to new connections and opportunities. Being able to direct clients to an article you wrote adds another level of credibility to your business.
Wrap Up
Yes, you should be using LinkedIn as part of your marketing strategy. No, it's not enough to just set up a profile. If you are only occasionally connecting with people you meet and doing nothing more, you are missing out on using many LinkedIn features to help your business.
Finally, know that LinkedIn will continue updating and improving its experience for users. Be sure you stay current on what's new. This list of LinkedIn features to help your business is a good start, but by no means all-inclusive. If you need a hand in the world of social media marketing, we're here to help take that off your to-do list.
To learn more on your own, check out our Social Media Field Guide below. It's chock full of information on how to get started, marketing trends, where to focus your efforts, and so much more.

Almost There!
Enter your information to download the social media guide.