Getting your email marketing in order can seem like a daunting task, but it's easy if you have the essentials: a content calendar, carefully crafted newsletters specific to your industry and, most importantly, a solid contact list.
OutboundEngine covers two of those three for you, but you still need to put together a quality email list to market to (see: How to Build an Email List).
So, who should be on your email list? The purpose of your email marketing is to stay top of mind with your network and surface referrals and repeat business. Therefore, the contacts in your list should be people who know who you are and what you do.
That's why LinkedIn, Facebook, and your email address books are great places to source contacts from. Between these three sources, you've got a complete spread of your personal and professional connections.
Side note: Using a purchased email list is not advised for email marketing — these contacts have no idea who you are or why you're marketing to them. If too many people unsubscribe or mark your emails as spam, you risk being banned from sending emails.
Here are some helpful, step-by-step instructions on pulling contacts from these platforms. Let's get that email marketing list together!
Exporting Your Contacts From LinkedIn
LinkedIn is a social networking site that is exclusively used for professional networking, so it's a great list to export. Remember, not all people who work in your industry are competition. If you have a positive relationship, they could be a great source for referrals.
1. Log into LinkedIn, then click on "My Network" > "Connections" at the top of the page. Select the gear icon in the upper right-hand corner of the resulting page.

2. Next, click "Export LinkedIn Connections".

3. Export your contacts to an "Outlook CSV" file on the resulting page. This will organize your contacts in a spreadsheet that you can upload to your CRM or OutboundEngine account.
Exporting Your Contacts From Facebook
Facebook requires a couple extra steps to get those contacts in your hands, but it can be well worth it if your Facebook friends know who you are and what you do.
1. Sign up for a free email account at Yahoo.com.
2. Access your Contacts tab in the Yahoo Interface — it looks like an address book on the left-hand side of your screen.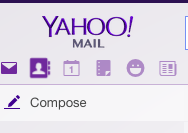 3. Choose to import your contacts from Facebook on the Import page, then enter your login information when prompted to authorize the import.
4. Select all of your contacts, then choose to "Print" the list — not "Export".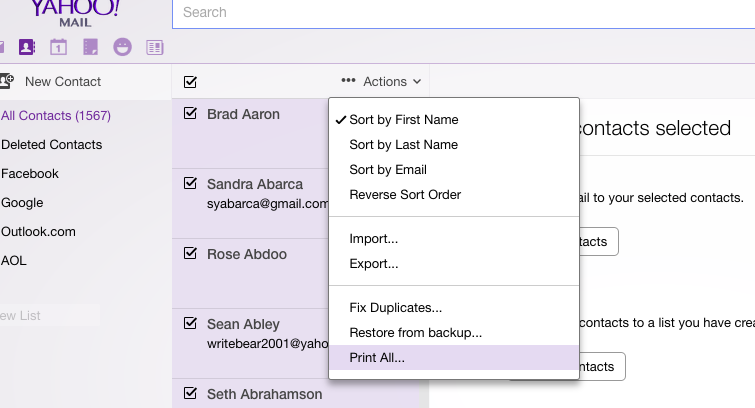 5. Print them to the "Basic View". This will export your contacts to a list that you can print to a PDF, copy to a word document, or print on paper to have transcribed into a spreadsheet.
Bonus: If you're a partner with OutboundEngine, transcribing contacts for you is part of our partnership! Click here if you'd like more information on how we help do this for you.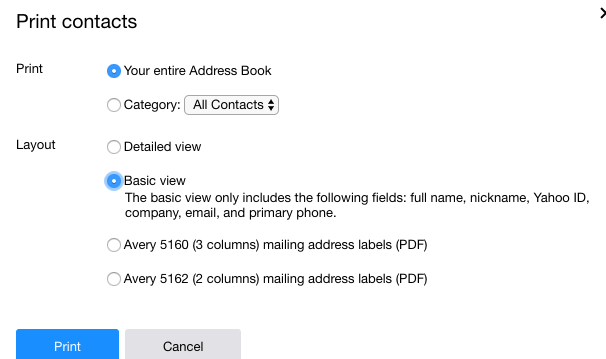 Exporting Your Contacts From Gmail
1. Log into your Google account or Google-based domain at www.gmail.com.
2. Click on the "Contacts" tab in the upper left-hand corner of the Gmail drop-down menu. Select "Export" on the next page.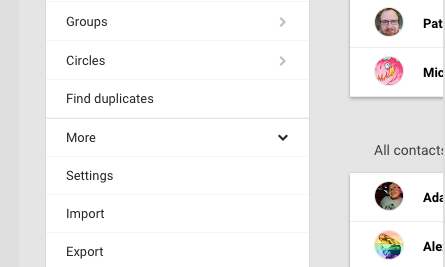 3. Continue to the next page when prompted to export your contacts.
4. Select "All Contacts", then "Export".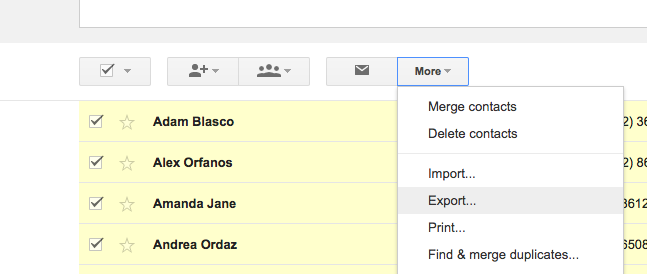 5. Use the following settings to export all of your Gmail contacts, unless you have them filtered into organized groups: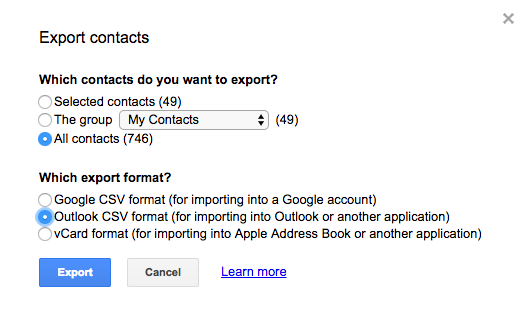 Exporting Your Contacts From Outlook
There are several versions of Outlook out there, each requiring slightly different steps in order to export your contacts. Here is a link from Outlook Support to help you identify which version you have, and pick the right instructions.
Important note about exporting email contacts: Remember, you only want to market to contacts that might refer business your way or become a new or repeat customer. If your email database has lots of generic email addresses ([email protected], [email protected], [email protected], etc.), one-time addresses like Craigslist correspondence, cold leads, or people you haven't communicated with in a long time, you may need to clean up your exported contacts before marketing to them. The results will be worth the extra scrutiny – trust us.
Wrap-up
Creating an email marketing contact list isn't as hard as you might think. You have a lot of potential contacts right at your fingertips just because you use social media and email.
If you're partnering with OutboundEngine and need help exporting your contacts, just give us a call! Our Customer Success team will help you get those contacts into your account — regardless of what platform they're on.

Almost There!
Get the latest Email Marketing Roadmap now.