Communication is the foundation of any plan to nurture existing customers. Existing customers trusted you once before; now you need to maintain that connection by staying top of mind so they come back to you in the future. But what communication methods work best?
Whether your nurturing efforts are aimed at new prospects, existing customers or both, the goal is twofold. Your intention is to keep your name and expertise at the forefront of customers' minds so when they do need your services, they come right back to you. You also want to show people that you have expertise in your industry. Let social media play a part in this nurturing mix.
Here are a few ways you can use social media to nurture existing customers:
Improve Communication
Small businesses commonly embrace phone calls, face-to-face meetings, and targeted email marketing. Person-to-person communication helps customers remember you and your business, particularly throughout longer sales cycles. And email newsletters are useful because they can reach hundreds of individuals at once while maintaining a more personal client/customer relationship over the long-term. But where does social media fit in?
Many small businesses shy away from social media simply because they're unfamiliar with it. In fact, 34 percent of small business owners across the U.S. don't think social media impacts their sales efforts at all. But there's a lot of nurturing power in this technology, especially when you consider that you have a much greater probability of selling again to an existing customer (60-70 percent) than you do of closing a sale with a new prospect (5-20 percent).
Research shows that about 30 percent of consumers would choose to deal with companies via social media rather than over the phone and, perhaps more surprisingly, nearly half of social media users with annual incomes over $200k prefer social media interaction over live customer service. Now, do you see why social media matters to your business?
Be Active Where Customers Are
If you're not involved in the right social media channels, any efforts you're putting into how you nurture existing customers may be a wasted effort. Luckily it's pretty easy to figure this out. Facebook continues to be the largest and most popular social media platform with more than 1.49 billion users worldwide. You can't afford to sit this one out; customers expect small businesses to have an active Facebook Business Page along with an up-to-date website.
Don't make the mistake of thinking that a Facebook page is the only social media you need to keep up with your customer demographic. There are two other platforms that are also influential: Twitter and LinkedIn.
Where are your specific customers most active? When you're meeting with them, ask! What social sites do they use regularly? Once you know, invite them to connect with you for informative, worthwhile updates. You can also seek them out by connecting your email accounts in each social media platform and seeing who's active. Twitter and LinkedIn will match customers' email addresses to their profiles. Then you follow them on Twitter and connect with them on LinkedIn.
Share the Right Content
Social media works a lot like the DVR you have at home. You can skip the ads and commercials (or in this case, content and social commentary) you don't want to see. It's an awesome perk, but it also means small businesses don't have the latitude to bore or annoy social media audiences with continual sales pitches or uninspired content. If readers can't connect with the messages you share, they can quickly and easily unfollow.
What do your customers want to see on social media? They want to be inspired, entertained, engaged and informed. The last thing they want is a sales pitch. Keep this in mind as you create posts. Share content that reinforces your expertise or is adjacent to your industry. If you're in real estate, share a cool weekend DIY project you come across on a design blog. If you're a loan officer, write a quick post about your favorite financial app. Insurance agent? Share useful tidbits about your area, like new restaurant openings, favorite coffee shops and more.
Engage With Followers
As you're considering your customer nurturing strategy for social media, keep in mind that it's a lot like real life. Friends, fans, and followers appreciate small businesses that are approachable and easily engage with customers. Now how exactly do you do that?
On Twitter, keep an eye out for interesting tweets from your customers and either retweet them to share their message with your audience or reply to their tweets to start a conversation.
Here's an example of a retweet on the topic of interior design: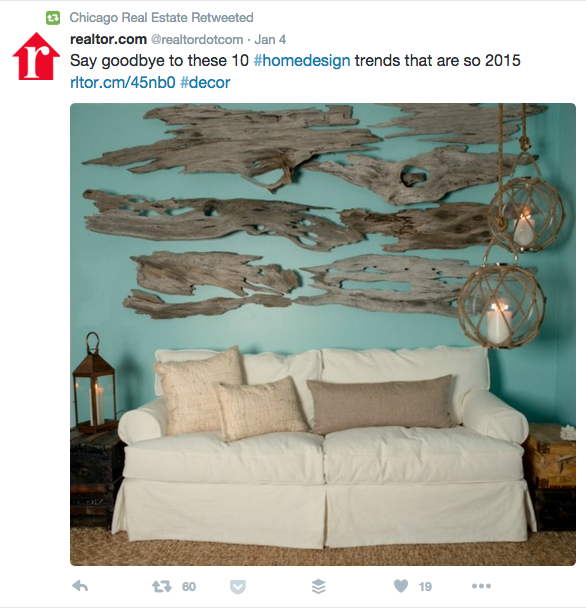 With Facebook, try posting photos with questions or throw out an occasional caption contest. When followers comment, respond in a way that reflects your business's personality.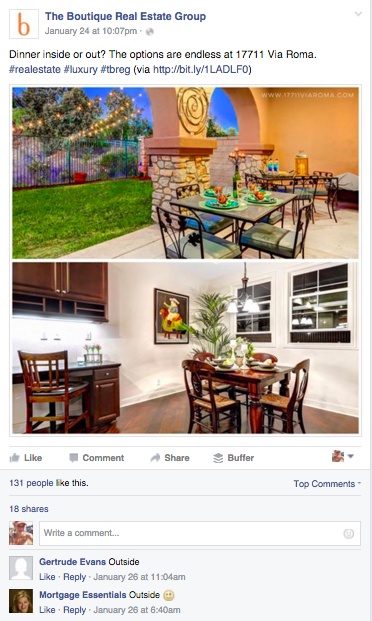 LinkedIn is the perfect arena for congratulating connections on changes pop up on your news feed, like a promotion or another big achievement. You can also post articles that are relevant to your industry. If someone shares a piece you find interesting, engage with them and comment on why you liked it.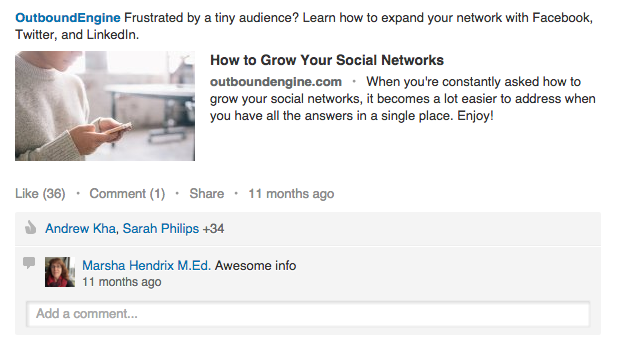 Show Your Community Involvement
Small businesses that give back to their communities can benefit in the form of new and repeat customers who appreciate humanitarianism. In fact, 90 percent of consumers said they would likely switch brands to one associated with a good cause (assuming quality and price were similar). But your customers only know about what you share, so spread your goodwill efforts on Facebook, Twitter, and LinkedIn for maximum effect.
Curious about how you can get involved? Many small business owners participate in various philanthropic opportunities throughout the year. Whether you're volunteering for a 5k or sponsoring a charity art event, make sure you do your part promoting the occasion. Publicize the event on your social media feeds days in advance, and don't forget to post photos and updates on the big day. These communications not only help the cause, but they also showcase your business as a committed part of the community.
You can also set yourself up as a local thought leader by becoming a go-to for all things new and exciting in your town. Whether it's a sushi restaurant you just discovered or the farmer's market you frequent, there are tons of opportunities to share with others in your city. Use your social media channels to start community conversations, upload photos and show that you're an excellent community resource.
Be Real
Lastly, don't forget to be human. At the end of the day, when someone clicks "like" on your photo or retweets an update you posted, there's still a person on the other end.
If you choose to automate your social media efforts, be ready to hop online and engage when someone (virtually) reaches out to you with a comment, tweet or direct message. A response is imperative to a successful social media strategy. If you make a point to reply to comments quickly, you'll be ahead of the game. (A 2015 study found that 7 out of 8 messages to brands aren't responded to within the first 72 hours. That's a lot of missed opportunities!)
Wrap-Up
A plan to maintain and nurture existing customers is often the surest way to another sale, and regular communication is a key component. Most small business owners already keep in touch with customers via phone calls, meetings, and email newsletters, and social media should also be a part of that nurturing strategy. By engaging customers where they're most active and comfortable — on social media channels like Facebook, Twitter, and LinkedIn — you can stay top of mind and showcase your professional expertise.
While true social media engagement can take a decent amount of time, you don't have to do it alone. (In fact, you shouldn't if it's not your forte!) Let OutboundEngine help lessen the workload for you.

Almost There!
Enter your information to download the guide.