Small business owners need to make the most of every hour in a day. When you're wearing multiple hats, it's frustrating to feel your time is being wasted. We've got 5 ideas to help small business owners save time in 2019.
1. Plan ahead & plan better
Shifting from reactive to proactive can be hard when you're always busy, but planning ahead saves time in the long run.
For example, our in-house content team plans content for thousands of customers months in advance. A small business owner can apply the same plan ahead philosophy on a smaller scale.
Buffer helps small business owners save time by helping them plan ahead. With Buffer, you can write and schedule posts for multiple social platforms. Skip spending time every day, or even every week, coming up with content to post and do it in bulk.
Another way small business owners save time is to revisit how they manage projects. Asking the right questions, working backward, setting goals and following through are all parts of a successful project management strategy.
Project management can be easier with the help of Asana. Asana is a free project management app that helps organize and manage work. Individuals or groups can track progress and milestones, set due dates and assign subtasks. This is a favorite around the OutboundEngine office and help keeps teams track individual tasks and bigger projects.
By planning better, you will be more equipped to handle the work and events that pop up unexpectedly. All of this helps small business owners save time by using their time more effectively.
2. Put down the phone 
This is a tough one. The biggest distraction for most of us is within arm's reach at all times. Our phones.
The average American checks their phone 80 times a day. That's close to every 10 minutes! Talk about a time suck.
While some of that time is used to check emails and make calls for work, it's a major distraction. For many of us, most of that time is spent reacting and responding to a multitude of notifications and checking social media out of habit.
It may seem counterintuitive, but there are apps to help break phone addiction.
BreakFree tracks your app usage including how often you unlock your phone screen. Seeing the stats of your actual usage can be quite surprising. Once the harsh truth is in front of you, it may be time to get some support resetting your phone reflex.
That's where Flipd can help. This app will lock your phone for a set period of time and hides ultra distracting apps like games and social media. Restarting your phone won't disable the app, so if you need some tough love, try Flipd.
3. Tap into technology
Due to being always connected, setting some structure to your projects and communication can be very helpful for small business owners to save time. No time spent wondering who has been contacted, where the status of projects are, and who is working on what.
SignEasy

In today's mobile world, printing/signing/scanning/emailing documents that require your signature isn't exactly convenient. SignEasy helps small business owners save time on approvals and contracts no matter where you are.

Slack

Another heavily utilized collaboration tool at OutboundEngine, Slack allows teams to create and use various "channels" to discuss projects, share files, and communicate quickly. If you prefer texting to emailing, Slack may be the tool you're looking for.
Customer relationship management (CRM) software does more than house contact information. A CRM increases cross-team collaboration, enhances customer experience, and decreases risk.
Bonus Content: Work smarter, not harder.
Learn how with our free Big Book of Working Smarter.
4. Trade DIY for DIFY
That's "do it for you." Nobody has time for everything, especially small business owners juggling multiple job duties.
In addition to being short on time, there may be tasks you don't have the interest or expertise to accomplish. As a result, some business owners hire part-time help and some turn to software.
You may be surprised at what business tasks you can have done for you. Here are a few examples:
Budgeting: You Need A Budget

Time is money and small business owners can't afford to waste either. You Need A Budget (YNAB) uses their "Four Simple Rules" to help users gain control of their money, get out of debt, and save more money. They offer users the ability to set goals like saving for a certain occasion. YNAB can help small business owners save time worrying whether they are on budget for the month or year.
Legal: UpCounsel

UpCounsel helps you find legal counsel that matches your budget and specific needs. Their website also has advice on topics like how to start an LLC and free legal documents such as non-disclosure agreements.
Marketing: OutboundEngine

Wondering how long it's been since you reached out to your network or if you're posting on social media enough is not time well spent. OutboundEngine gives you the power to focus on running your business and the peace of mind to know your marketing is on schedule and on target.
5. Be okay with the unexpected
You can plan, schedule, and organize and things can still go sideways. So is life.
Save time you could spend on stressing and know that bumps in the road are normal.
Re-prioritize your to-do lists, adjust your project plans and keep going!
How would you use your extra time?
Instead of dreading the writing, editing, and sending process of an email newsletter, use that extra time to have coffee with a client or call a referral. Trade the hours you spend coming up with content for social media for a half-day to hang out with your friends and family. If extra time every day sounds good to you, schedule a free demo and see how OutboundEngine can help you make it happen.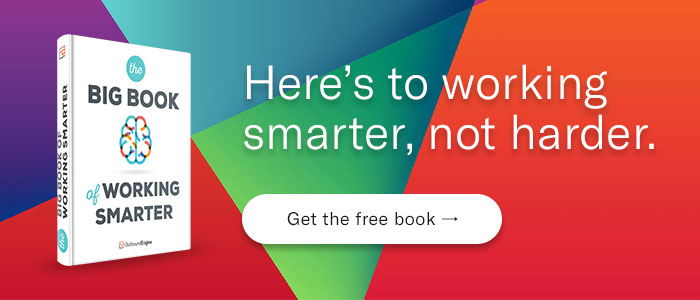 Almost There!
Enter your information to download the book.