Whether you're a one-person shop or a business owner managing a team, you probably have better things to do than come up with a marketing plan for your home services business. In light of this, we've put together a list of the top online marketing ideas for home service professionals in 2016. If you can't do it all, these five proven practices will keep your business in front of customers in the upcoming year.
Bonus Content: Your Guide to the State of Social Media.
1. Be Mobile-Friendly
Mobile made headlines in 2015 when Google announced that mobile-friendly sites would rank higher in search results than those that are not. People called this Mobilegeddon, but it wasn't the end of anything — it was actually just the beginning. Mobile-friendly sites will continue to be a must-have for your business going forward. If you haven't jumped on the bandwagon yet, now's the time. Here's why:
51 percent of Internet browsing happens on mobile devices
75 percent of Americans own a smartphone and use it as their main way of accessing the Internet
Facebook, the most popular social media site, reports that 38 percent of its users are mobile only
Not sure if your site measures up? To find out, follow this link, enter your URL and click "analyze." If everything checks out, you'll see the green "Awesome!" notification and an image of your site looking fantastic on a mobile device (pictured below).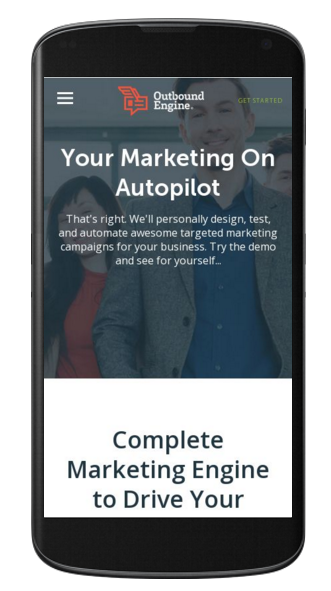 If your site isn't mobile-friendly, you have two options. You can launch a second site dedicated to mobile users or look into upgrading your current site to a responsive design that will adapt to a user's mobile device. Whether it's your website or reviews that your clients find, you can bet they're searching for your business from their mobile devices.
2. Clean Up Your Email Database
Your email list is only as good as its accuracy. It doesn't matter if you've got a monster size address book if only 30 percent of your contacts are valid. You should regularly sweep your send list and remove undeliverable, duplicate and incorrect email addresses. If your email sends get flagged with excessive spam reports and unsubscribes, you run the risk of having your account suspended.
A clean email database isn't just important for email deliverability, it also plays a major role in list segmentation, which in turn affects your marketing efforts on social media. If you want to expand your reach in a targeted fashion, you have to keep your email list up to date.
With an email list that passes the test, you're ready to use it to your advantage to grow your business, which brings us to our next tip…
3. Use Email to Grow Your Business
Coming up with enough content for your email and social media marketing is no easy task. Just keeping up with a monthly newsletter can be tough, but toss in blogging, reviews, and social media, and suddenly it's overwhelming! Hiring a third party to handle your content creation might help, but it won't solve your problem entirely. You will still have to design email templates, handle the database and schedule sends on a regular basis.
Wouldn't it be nice if you could just hand the whole thing off to someone else? Good news: That's what we do! We write, design and send email content so you don't have to. (And social media too, but we'll get to that here in a sec.)
Email is still the most effective channel for staying in front of clients, but it takes a lot of work. With email automation, you get the benefit of clean data, custom content and automated software without the extra hassle. And you stay top of mind with your past clients and future prospects thanks to a consistent and thoughtfully crafted email presence.
4. Get Social
Social is here to stay, and by now you've hopefully realized that maintaining an active presence on social media helps keep you in front of your customers.
As you move into the new year, you should double check to make sure that your pages are updated with the most relevant information about your business, including hours, location and services offered. You should also consider updating your cover photos consistently across all platforms — particularly Facebook, Twitter, and LinkedIn — to give yourself a fresh look.
See what we mean in these examples from a local plumbing business.
Victorian Plumbing on Facebook: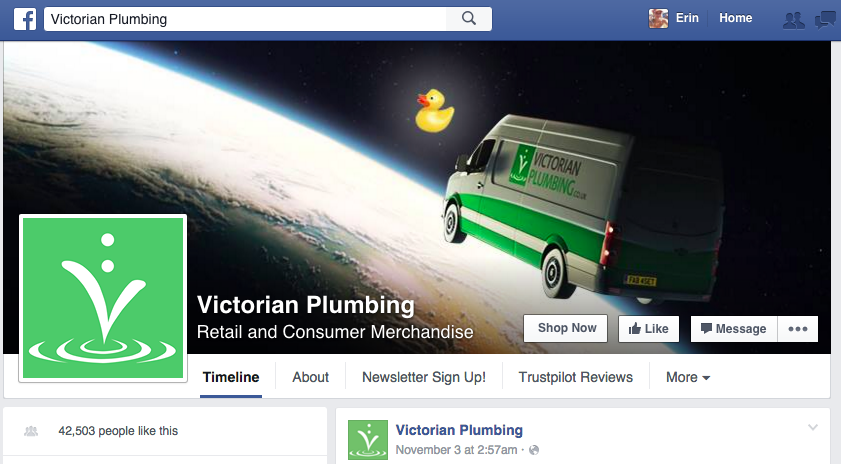 Victorian Plumbing on Twitter: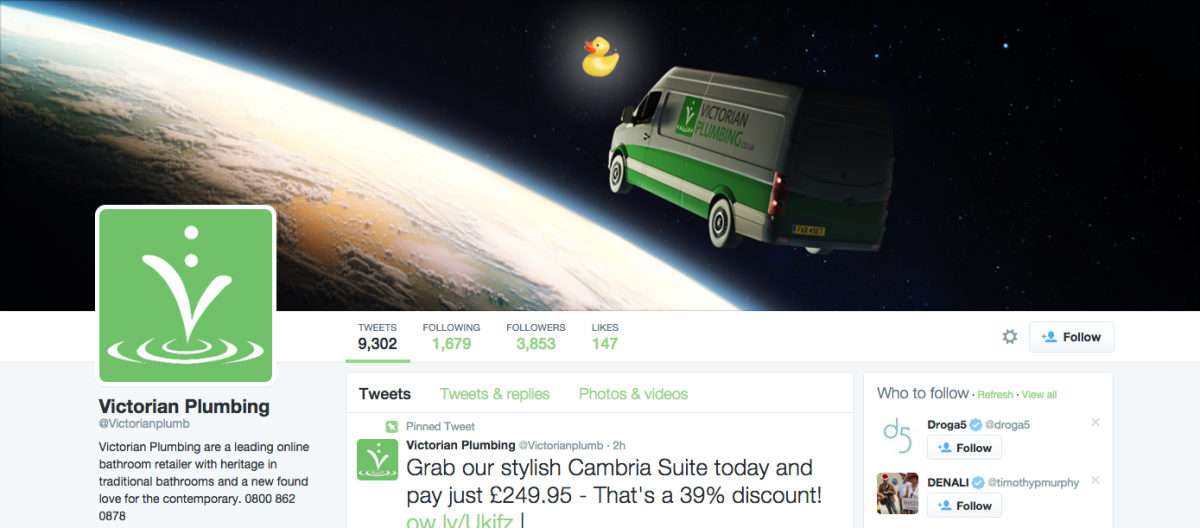 Just as important as maintaining consistent, up-to-date information is taking the time to keep up with a regular schedule for posts, tweets and shares across social platforms. If it seems like a lot of work to manage your social accounts in real time, it most certainly is! If you need some posting inspiration, here's a list of Pinterest boards you might like to peruse.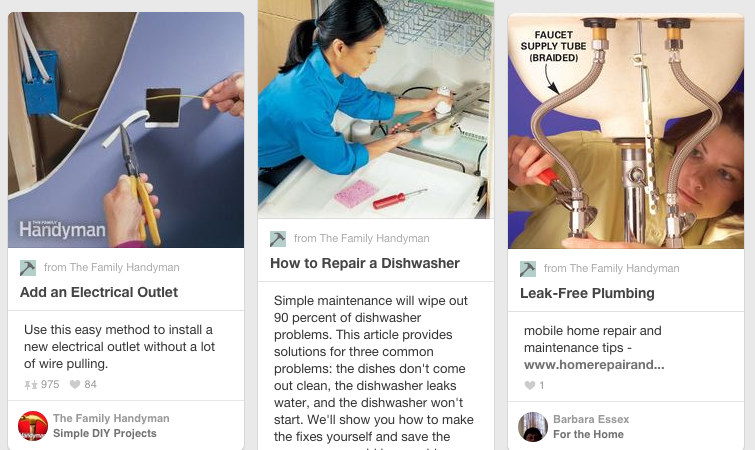 Once you're feeling inspired, consider trying out a social scheduling tool. Buffer lets you schedule posts to publish at a future date, so you can keep your audience engaged without spending too much time in front of a screen.
5. Build a Referral Program
You already know one of the best avenues for securing new business is referrals from your past customers. And that's backed up by a Nielsen study reporting that 92 percent of people trust recommendations from friends and family more than all other forms of marketing.
Referral and repeat business make up 83 percent of all transactions for small businesses. And if that's not reason enough to set up a referral program, then you should also know that while 91 percent of consumers are willing to give referrals, only 11 percent of salespeople ask for them.
Beyond a verbal ask, you can build referral leads by simply giving your customers a place to leave them. If you're looking to get a referral program set up but aren't sure where to begin, this 10-step guide is a great resource to get you started. We've also put together a done-for-you solution to drive new customer referrals to your inbox: an automated referral campaign program that does all the heavy lifting for you. Check it out if handling this yourself sounds like more work than you're ready to take on. But regardless of what you do, be sure that you're actively seeking out referrals — otherwise, you're missing some of your best opportunities to gain new customers.
Wrap up
Feeling more prepared for the new year? We hope so. Use these marketing ideas to refresh or ramp up your strategy and start the new year off on the right foot. We know there's a lot of information out there about how to market your business, and frankly, it can be a little overwhelming. But your business is your livelihood and you should feel confident that it will thrive in 2016. Try these marketing ideas, monitor your results, and if you ever need a little help, we'll always be here to lend a hand.

The State of Social Media
Get your instant download now.