No one knows what the future holds. In every industry, small businesses are facing uncertainty and upheaval. You likely can't do business the same way you did a month ago. You might be worried about your income, and maybe even about your business making it through.
Your business was built on staying connected with your network and customers. In today's world of social isolation, it's harder than ever to connect in person.
The good news is that it's not all gloom and doom. If history is any indicator, the businesses that tend to survive an economic hardship are the ones that keep marketing through it while their competitors go dark. A century of studies and examples have proven this theory.
We've put together a five-step plan for staying strong through this (or any) difficult market, and emerging on the other side way ahead of your competitors.
1. Stay connected consistently through digital marketing.
You've worked hard to build a book of business and establish a reputation in your industry. But that brand awareness isn't permanent unless you reinforce it. Your name, your logo, even the great service you provided will all fade in your client's memory eventually.
What if that happens before they need you again? What if someone they know needs your services but they don't think to refer them to you?
The beauty of digital marketing is that you keep your name in their minds even when you can't, or don't have time to, reach out one-on-one. It's the ideal way to maintain client and prospect relationships while social distancing.
But this strategy won't succeed if you do it once and then give up. Consistency over time is key — that's what OutboundEngine does for our customers.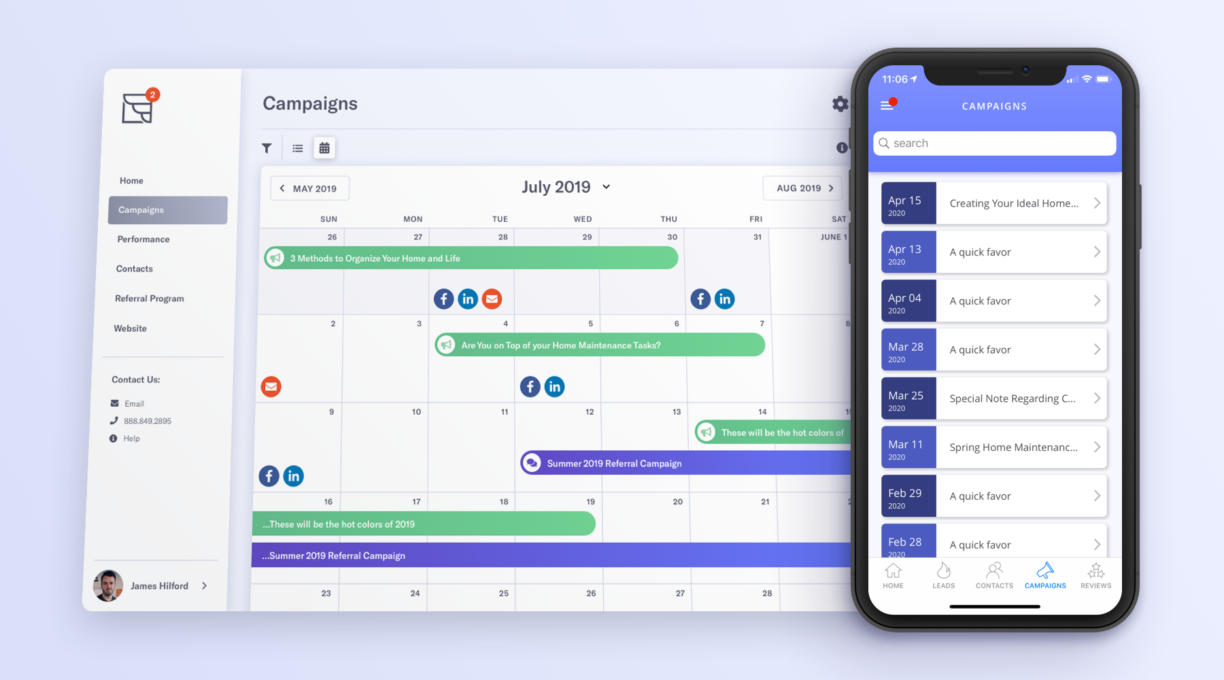 2. Use relevant content to keep contacts engaged.
Which are you more likely to click on: an intriguing article about a topic you're interested in, or an obvious sales pitch? That's what separates content marketing from other ways of promoting your business. It's much more welcome in a client's inbox or social media feed than yet another ad cluttering up their life.
Businesses also need to keep in mind that it's a sensitive time for many consumers. They may have lost jobs, lost income or even be ill themselves, so aggressive sales messaging runs the risk of making you look out of touch, or worse, unfeeling. Helpful, relevant, informative content avoids those risks while branding you as an expert your customers can trust in a confusing time.
To start building engaging content, you need to a) come up with topics that will interest your specific audience, and b) turn them into compelling newsletters, posts and articles. And you'll need to do it consistently over a long period of time. That's where most small businesses falter.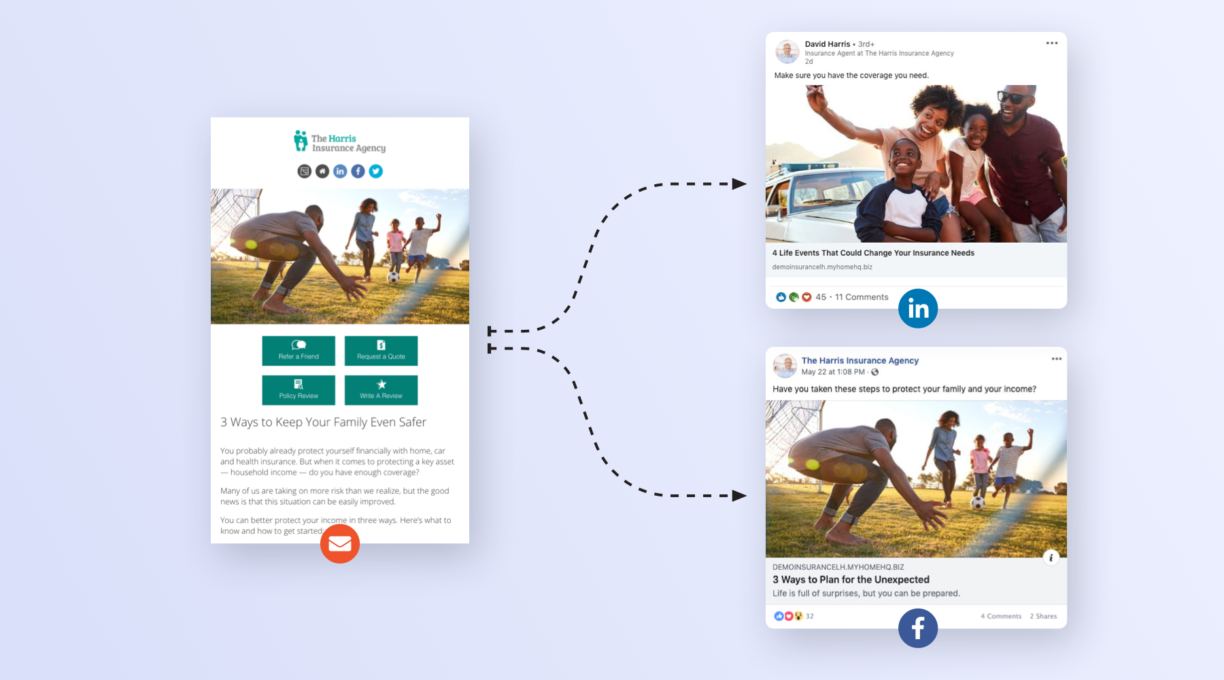 3. Share it where they spend the most time.
It's probably not surprising to learn that the public is hungry for news right now. The way they find their news, more and more often, is via social media. Facebook has reported a huge spike in daily usage, especially in areas hard hit by COVID-19. We're also turning to social media to maintain a sense of connection with our community in a time when that's hard to come by.
Once you've started developing great content, it makes the most sense to share it where people are already spending their time. And since your business is posting interesting, relevant information rather than constant self-promotion, your brand will be a welcome, organic part of the reader's experience.
Another place your clients and prospects spend time every day: their email inboxes. The need to check your email hasn't gone away — if anything, working from home just makes email more important. And once again, you're at an advantage because you're sending content they want to read, not ads they'll just delete.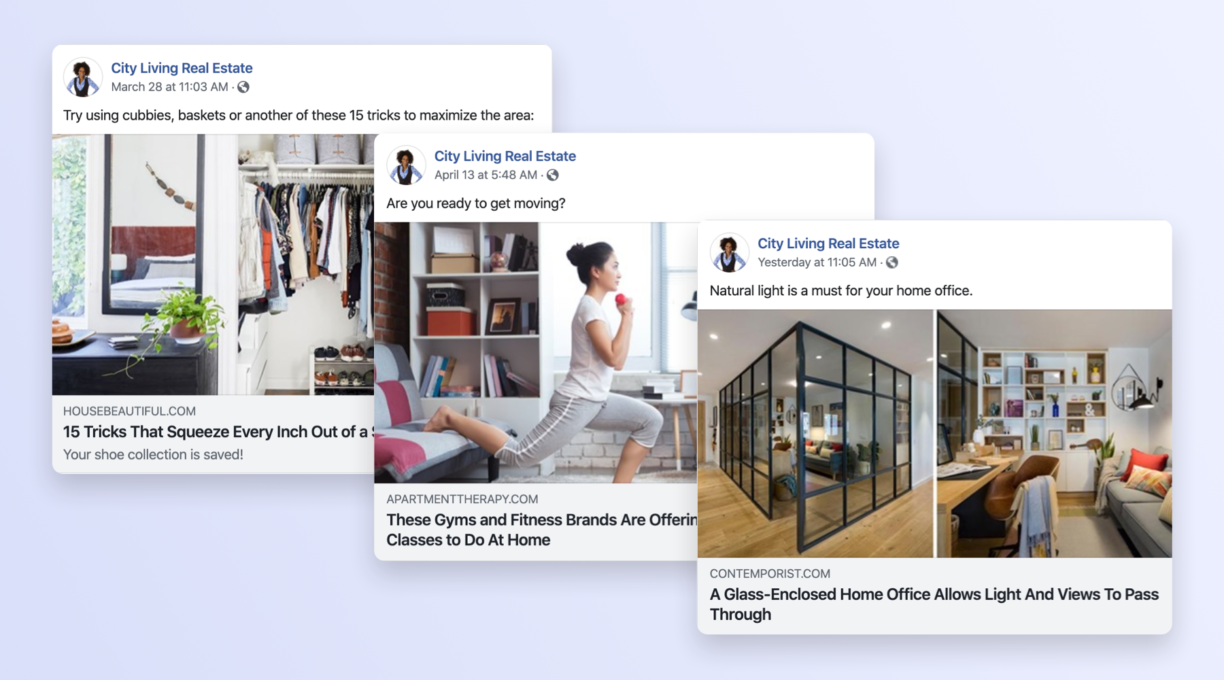 4. Treat every warm lead like a VIP.
Now that people are reading and engaging with your content, what's next? How do you turn that interaction into a more meaningful conversation?
If you notice that a particular contact seems to open, click on, like or share your content, reach out to them! Even if they haven't reached out to you yet, their increased activity is a sign they're more likely to need your services or be open to referring you to a friend. The worst that could happen is they don't need your help at the moment but will feel positively toward you thanks to the personal attention.
(And obviously, if someone reaches out to you first, treat them like they're your only priority.)
The hard part about this step is identifying your most engaged contacts. Most marketing software doesn't automatically surface those leads — but OutboundEngine does. We even give our customers a mobile app that notifies them of their best opportunities and lets them follow up with a library of templates.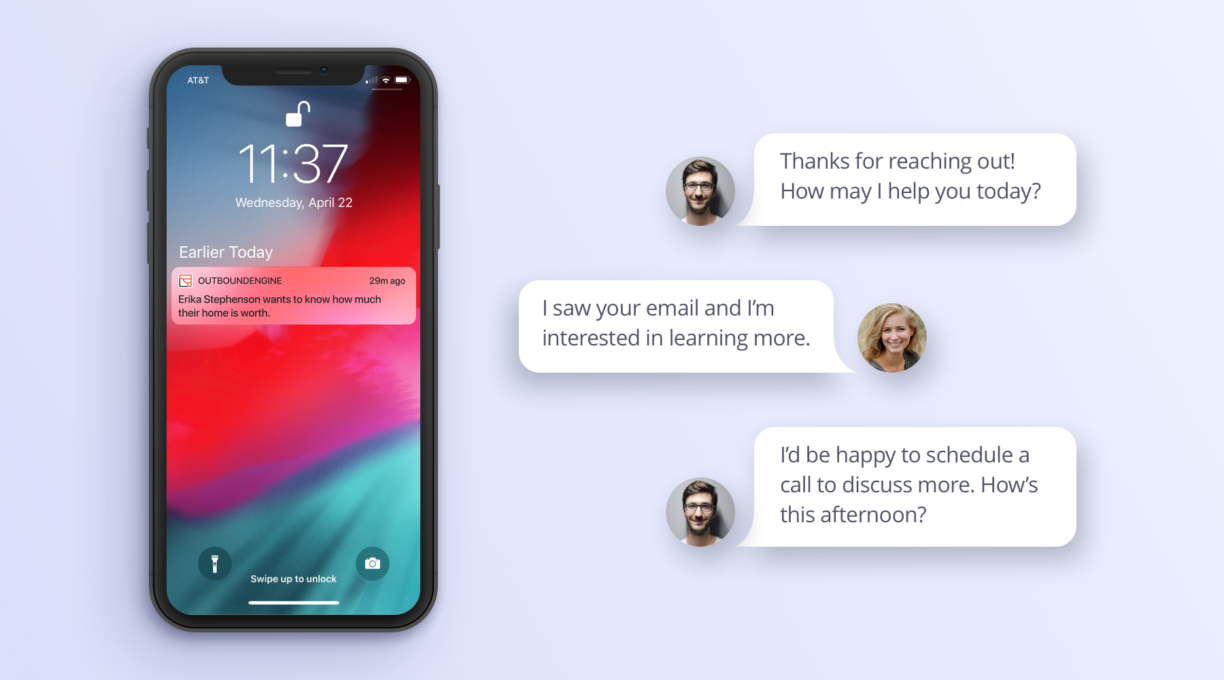 5. Make every marketing dollar count.
If your business needs to tighten its belt to stay in the black, take a closer look at any marketing spend that isn't generating results. Even before this crisis, SEO and search ads had gradually become too expensive for all but the largest brands. You can still spend money on those efforts, but they won't get you to the top of Google with a normal small business marketing budget. That should be an easy cut for most small businesses.
Another waste of your budget is buying leads. Not only are they often bad quality or outright fake, those leads are also sold to your competitors, so you have to fight your way through a flood of offers to be seen. You can safely call this strategy non-essential.
As discussed earlier, the right channels to invest in are email and social media, since that's where your clients and prospects already spend time. If you've got the budget to boost or advertise on social media, by all means do so. But just keeping up a regular cadence of clickworthy posts and emails will go a long way.
Lastly, if you currently use a patchwork quilt of marketing software and apps acquired over years in business, it's time to ditch them for an all-in-one solution. Not only will you save money, but you'll only have one login, one password and one destination for all your marketing, saving valuable time.
OutboundEngine is that all-in-one solution for our customers. We offer all the value at about a third of the cost. Best of all, we do everything for you, so you get consistent, high-quality marketing touches that keep you connected with none of the effort.
Talk to a small business advisor now.
We're already helping 10,000+ small businesses survive and thrive in tough circumstances with our five-point success plan. Find out how we can do the same for you.