In business, your reputation is everything. If your customers don't trust you, they won't return. They definitely won't recommend you to friends and family. One way to bolster your reputation is by taking advantage of various types of referrals—word-of-mouth, online reviews, social sharing, and email reviews.
Reputation matters, especially when you consider that most new business stems from customer referrals of one kind or another. With that in mind, let's look at four different types of referrals and what they mean to the success of your business.
1. Word-of-Mouth Referrals
For 85 percent of small businesses, the main method of attracting new prospects is with word-of-mouth referrals. This should come as no surprise since 92 percent of consumers say they trust the recommendations of friends and family over other forms of advertising.
But how do you get word-of-mouth referrals? Don't they just kind of…happen?
First and foremost, you must do high-quality work and provide excellent customer service. That's how you build a foundation of trust and customer loyalty. Then you have to actually ask for the referral.
Oddly enough, that's where a great majority of businesses make their mistake. While 91 percent of customers are willing to give referrals, only 11 percent of business owners bother to ask for them. Talk about a missed opportunity!
Remember, it's okay to give satisfied customers a little nudge now and then. While traditional word-of-mouth referrals will occasionally happen on their own, today's customer referrals go beyond the face-to-face, conversational approach of years past. Nowadays, word of mouth can travel exponentially faster thanks to the internet.
2. Online Reviews
Twenty years ago, a customer might sound off about a subpar experience to their friends, but that could very well be the end of it. Today, within seconds of completing a transaction, that same customer can log on to any number of online review sites and leave a scathing review that will last a lifetime. For example, let's look at this review by Peter D.: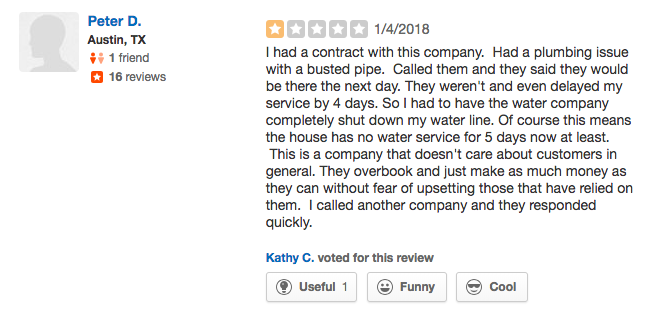 If you think a customer's online review doesn't matter, think again! For 88 percent of consumers, that online review is just as trustworthy as a personal recommendation from a family member.
Rather than ignoring online review sites such as Yelp (which reached 224 million reviews as of December 2020, by the way), take control of your online reputation. Claim all of your professional profiles on business listing sites, relevant online review sites, and social media. Monitor the conversations surrounding your brand.
Respond to dissatisfied customers and flex your customer service muscles. Fixing a customer's problem not only increases the likelihood that you'll retain the customer, but it also looks good to prospects who are researching your brand and find that online review.
Finally, learn how to ask for customer referrals in the form of online reviews. Consider using this simple 10-step process to make things easier for your customers.
Do it right, and you'll start getting reviews like this one: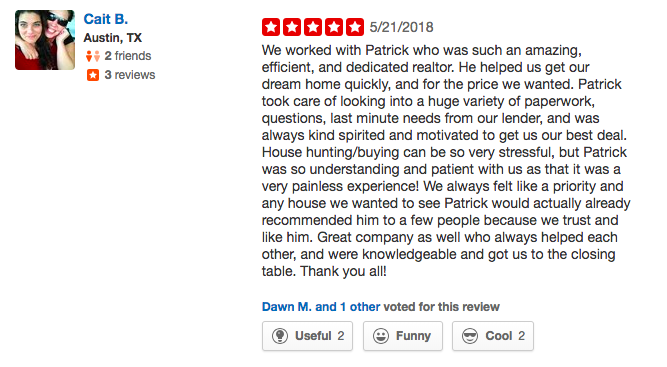 3. Social Recommendations and Sharing
Of all the types of referrals, social recommendations have quickly become the go-to for everything from hairstylists to auto shops.
Social media channels such as Facebook and LinkedIn allow you to see and contribute to the conversations surrounding your brand. They also let you build and nurture relationships by interacting with potential customers and sharing valuable content.
We've all seen these questions (below) pop up on our Facebook feeds. Wouldn't it be great if you were being added to the list?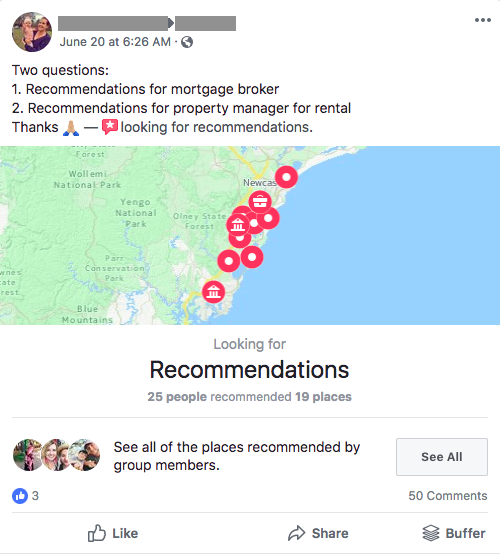 The best way to encourage social sharing is to be present on these platforms. Your customers look to you as an expert on all things relevant to your industry, but they don't want a hard sell. Regularly share content they'll want to engage with to remain top of mind when they're looking for a person who provides the type of services you offer, like so: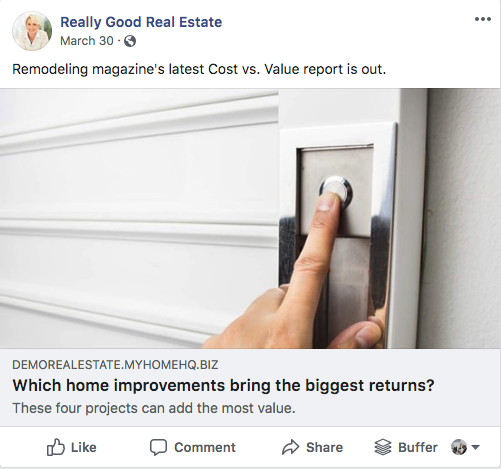 This sharing of helpful content that isn't always trying to sell is called content marketing. When done well, content marketing helps keep the lines of communication open with existing customers, even when you're not actively engaged in a transaction. It keeps you top of mind, helps build your online reputation and improves the perception of your brand. If you're wondering if your business needs a content marketing strategy, the answer is yes!
Best of all, the interesting content you share with your followers can be passed along to their followers and their followers' followers, exponentially expanding your reach. Add those to the list of types of referrals. If a customer trusts you, then you're instantly more credible to their social circle. Welcome to the new word of mouth!
4. Email Referrals
What works on social media can also work with email. In fact, it often works better! Email continues to rank as the most effective means of increasing awareness, acquisition, conversion and retention. And with a 4,400 percent ROI, it's not hard to see why.
The beauty of email is that it provides a direct connection to your customers. Sometimes, social media messages get lost in the constant stream of information. With email, you have a much better chance of standing out or being seen in a customer's inbox, assuming your email marketing strategy is on point.
If you're using catchy email subject lines and providing valuable content, you've got your customers' attention. After all, 70 percent of consumers claim to always open emails from their favorite brands. And if that content is share-worthy, you may have yourself an email referral.
Email can also be used to get multiple types of referrals. For example, you can add buttons for easy forwarding and social media sharing as well as links directly to your online review sites.


Start generating those referrals
As you can see, the nature of customer referrals has evolved. It's clear that your online reputation can make or break your business. Put the four types of referrals— word-of-mouth, online reviews, social media sharing, and email—to use thoughtfully and you're sure to see results.
If you're having trouble generating referral business through email and social media marketing, we can help.

Almost There!
Get the latest Email Marketing Roadmap now.