Email marketing is the perfect means of forging long-lasting relationships and driving revenue long term. But the success of your campaigns directly depends on the quality of your email list.
Luckily, building a targeted email list isn't as hard as it used to be. Here are 15 ways you can grow an email list that converts.
1. Use Your Website
Since your homepage garners the most traffic, it's the ideal location for an email capture form. For optimal results, make the form the focus of the page and couple it with an incentivized CTA that provides immediate value.
Here's an example CTA from Social Media Examiner: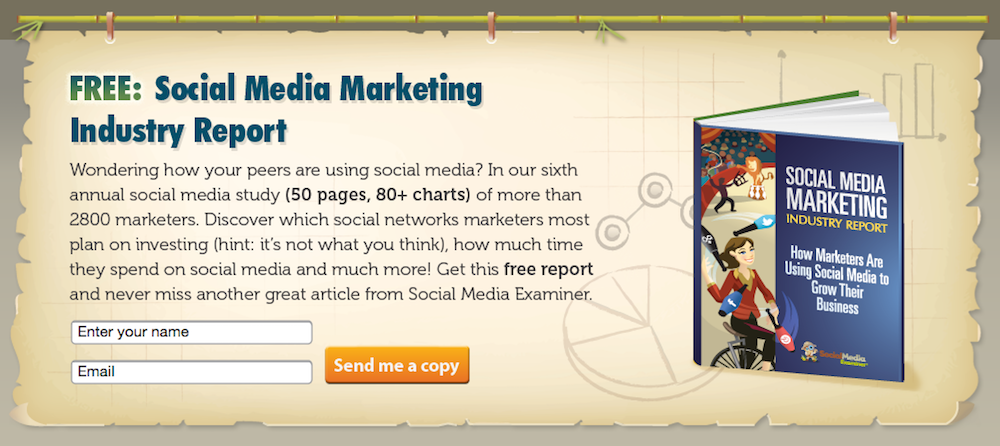 Pop-ups are a more aggressive strategy for email acquisition. Some visitors may not appreciate being interrupted. However, if you set the pop-up to appear just as viewers are navigating away from the site, you may snag a few additional subscribers.
There are a number of free online tools that allow form and pop-up creation, including OptinMonster and SumoMe. Here's a pop-up example from OptinMonster: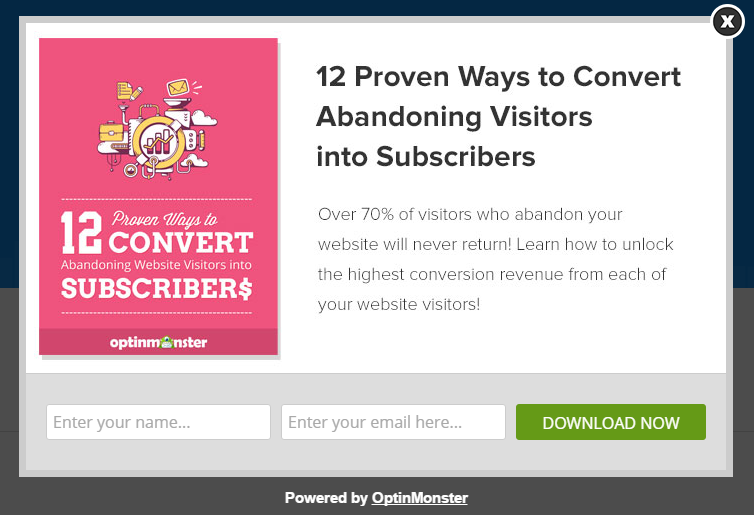 2. Ask in Person
Face-to-face communication still works, whether it's in a store, office, trade show or seminar, and old-fashioned sign-up sheets and fishbowl methods are still viable. But if you're more tech-savvy, you can use a tablet and app to collect email data. SignUpAnywhere is a free option.
3. Put It in Writing
Include a brief CTA for email sign-up on every piece of paper you produce, including letterhead, business cards, receipts, invoices and snail mail. Consider paying for a text-to-join service, or create your own QR codes (pictured below if you're not familiar with what those look like) using a free service like Visualead.
And don't forget to encourage customers to sign up for paperless communications!
4. Leverage Your Existing Email List
Light a fire under existing customers by running incentive-based referral campaigns. Make your emails more shareable by including social sharing and email forwarding options. Include a text-based opt-in link so new prospects can easily subscribe.
This example from Lands' End includes a referral offer, social sharing buttons, and an email subscription opt-in link.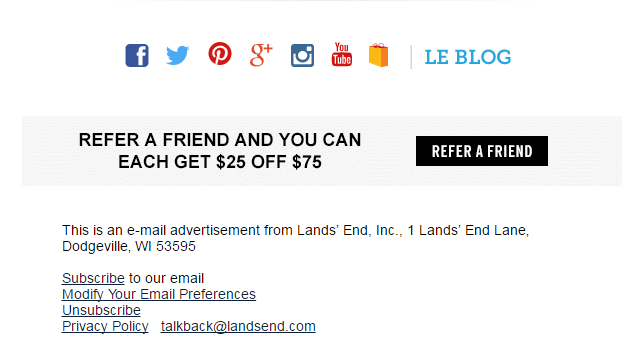 5. Be Social
Social media followers are already enjoying your content, so getting them to join your email list is usually just a matter of presenting the right offer. On Facebook, you can be even more direct, using CTA forms to sign up interested parties.
6. Spend Wisely
Paid ads can help put you in front of interested parties. Purchasing email lists, however, usually has the opposite effect. Purchased contacts haven't opted in, so they're much more likely to report your emails as spam. You could even end up blacklisted. Why risk your reputation?
Instead, consider promoting your email newsletter on social media. Here's an example of a promoted page on Facebook: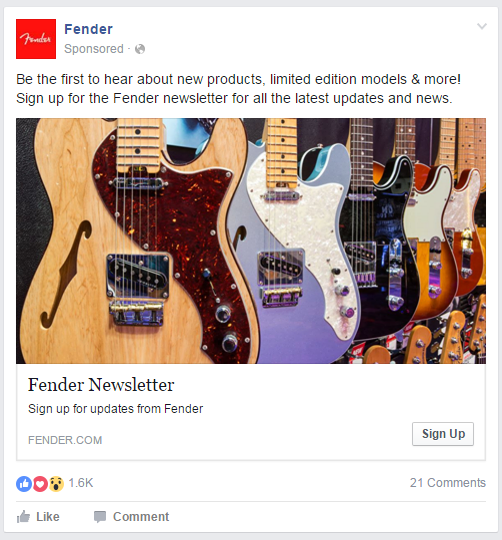 On Twitter, you can collect emails by creating a paid Leads Campaign. It's easy for subscribers, and you control your own costs.
7. Export LinkedIn Contacts
Chances are some of your LinkedIn contacts are already in your database, but others you've met in person, whether it was at seminars, trade shows or conventions. Now you can easily export LinkedIn contacts and add them to your email list.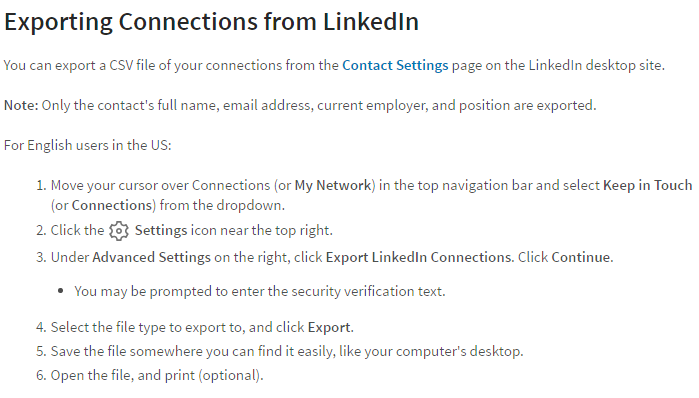 8. Provide Valuable Content
Every piece of content you create should provide value to potential customers. This is especially true of gated content that requires users to submit personal information. Whether you're offering a white paper, e-book, product guide or demo, the value must be in direct proportion to the information you're requesting, otherwise, you won't capture the data.
9. Incentivize Email Subscriptions
Everyone loves a reward. That's why it pays to incentivize the email collection process for everyone involved. Show your thanks to existing customers for providing referral email addresses, new subscribers for signing up and employees for collecting email subscriptions.
Here's a refer-a-friend example from an Ebates email:


10. Offer Multiple Subscription Options
By offering multiple subscription options, you not only allow subscribers to opt in to the content they most desire, but you also make it easier to personalize content for each segment of your list. Proper list segmentation can improve open rates by up to 13 percent, and segmented campaigns performed better than non-segmented campaigns in terms of opens, click-throughs, bounce rates, abuse reports and unsubscribes.
11. Become a Thought Leader
Use your industry expertise to influence and educate others. In addition to your own content, provide content for other websites, be a guest blogger, and conduct online webinars and offline seminars. Always offer value, and always have an opt-in method handy to grow your email list.
12. Make Email Acquisition Part of Your Transactions
Think of point-of-sale email acquisition as your real-life landing page. Ask customers for their email addresses as part of the transaction, explain the benefits of subscribing and let them know exactly what to expect in terms of content.
13. Ask for Emails While Helping Customers
Customer service interactions offer more opportunities for email acquisition. Provide an email contact form on your website. Ask for emails during live chat requests and offer to email chat transcriptions. You can even offer to follow up on customer service calls via email.
14. Don't Forget Friends and Family
Ask friends and family to help build your email list. Many will be happy to subscribe, share your content and provide referrals. After all, 92 percent of consumers trust referrals from friends and family over any other kind of advertisement. May as well take advantage!
Wrap-up
If you want to grow your email list, you have to ask for email addresses. It's as simple as that. There are many ways to go about it, some more creative than others, but it all comes down to the ask. And since 95 percent of people who opt in to business emails find the content useful, there's no reason not to!
And if you need help building a killer email contact list, don't hesitate to ask for help!

Almost There!
Get the latest Email Marketing Roadmap now.
Updated: 10/24/17; Originally Published: 5/5/15